Democrats Sweep Key 2017 Election Races, Reckless FBI Hacking Puts Us in Danger, German Court Rules for Intersex Rights: A.M. Links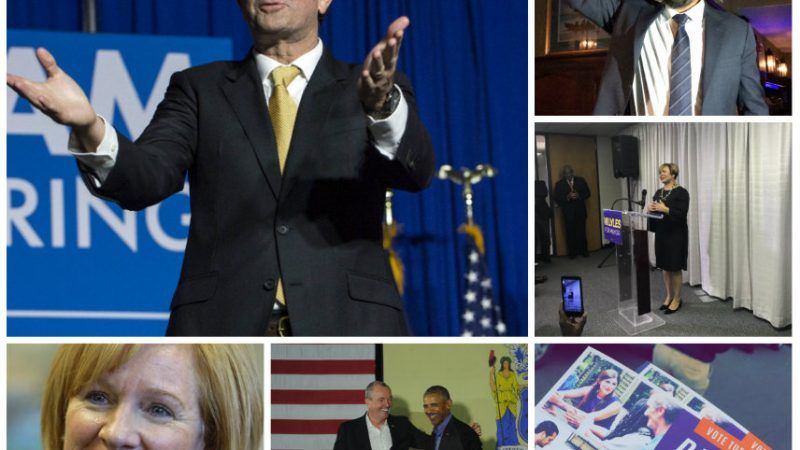 (Northam: Brian Cahn/ZUMA Press/Newscom | Bhalla: @RaviBhalla/Twitter | Lyles: @AishaThinker/Twitter | Durkan: @JennyDurkan/Twitter | Murphy: Dennis Van Tine/LFI/Avalon.red/Newscom | Roem: @avtorres4/Twitter )
Clockwise: Northam, Bhalla, Lyles, Roem, Murphy, Durkan

In one of two governor's races across the country, Virginia Democrat Ralph Northam defeated Trump-styled Republican Ed Gillespie. Northam is "a pediatric neurologist and Army veteran, in the Democratic-mainstream mold of Governor Terry McAuliffe" who has "resisted liberal pressure to embrace a national single-payer health care plan," Bloomberg reports.

In the country's other 2017 governor race, New Jersey Democrat Phil Murphy triumphed over Republican Kim Guadagno, taking the state back from eight years of GOP leadership under Chris Christie.
Democrats had a good showing in Tuesday's mayoral elections, too, with New York's Bill de Blasio, Boston's Marty Walsh, and Detroit's Mike Duggan keeping their seats and several big cities voting in new Democratic mayors. In Charlotte, Vi Lyles becomes the city's first black female mayor, while Jenny Durkan becomes the first female mayor of Seattle since 1928.
Virginia Republican Robert G. Marshall, author of Virginia's transgender bathroom bill, will be replaced in the state legislature by Democrat Danica Roem, a 33-year-old transgender woman. During the campaign, the 73-year-old sitting legislator—a 13-year veteran in the statehouse—refused to refer to Roem with female pronouns.
Hoboken City Councilman Ravinder Bhalla, a Democrat and Indian-American, becomes the first Sikh mayor of a U.S. city.
The election of Larry Krasner as Philadelphia's newest District Attorney signals good momentum for criminal-justice reform there.
"Investigators are increasingly deploying malware without first knowing which country their suspect is located in," writes Joseph Cox at The Daily Beast. And the FBI's use of such tactics could be inviting other countries to "unilaterally hack devices located in the U.S.," said Privacy International's Scarlet Kim.
Germany's highest court said citizens shouldn't have to choose either male or female on official records. The court's ruling recommends the creation of a third identity option or doing away with the category entirely.
The University of Notre Dame has backtracked on a decision to end birth-control coverage on employee and student health plans.
Follow us on Facebook and Twitter, and don't forget to sign up for Reason's daily updates for more content.