Behold the Work of Russia's Evil Advertising Geniuses
Satan is on Clinton's side, and check out this coloring book featuring a buff Bernie Sanders!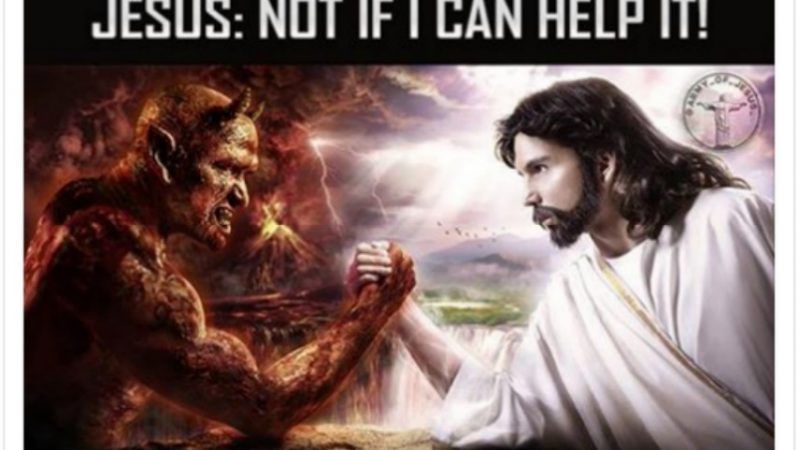 Today members of the House Intelligence Committee released some of the election-related ads placed on Facebook and Instagram by accounts linked to the Russian government. The sampling published by Politico seems inconsistent with the way politicians and journalists generally portray "Russian disinformation," which they describe as a plot to "reshape U.S. politics" and undermine our electoral process by sophisticated operatives who know how to manipulate American voters. In fact, the ads are so lame that I initially thought the Politico story was a prank.
Here is an October 2016 Facebook ad placed by "Army of Jesus":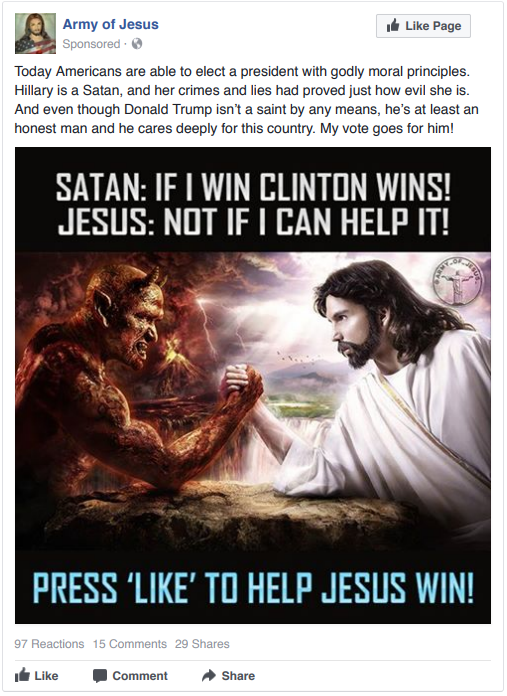 According to Politico, the ad, which targeted "people age 18 to 65+ interested in Christianity, Jesus, God, Ron Paul and media personalities such as Laura Ingraham, Rush Limbaugh, Bill O'Reilly and Mike Savage, among other topics," generated 71 impressions and 14 clicks.
This April 2016 Instagram ad, aimed at "people ages 13 to 65+ who are interested in the tea party or Donald Trump," did much better, generating 108,433 impressions and 857 clicks, although it is not at all clear how it might have influenced the election: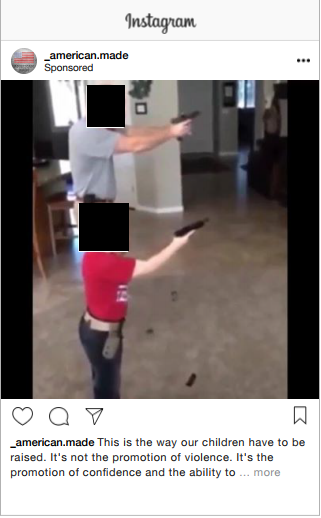 Politico also has an August 2016 Instagram ad, aimed at "people ages 18 to 65+ interested in military veterans, including those from the Iraq, Afghanistan and Vietnam wars," suggesting that Clinton is insensitive to the grief of Gold Star families. It generated 17,654 impressions and 517 clicks.
An anti-Clinton, anti-establishment, pro-secession ad placed by "Heart of Texas" in October 2016, aimed at people who liked that Facebook group, generated 16,168 impressions and 2,342 clicks. A March 2016 ad sponsored by the Facebook group LGBT United featured a "Buff Bernie" coloring book, "full of very attractive doodles of Bernie Sanders in muscle poses." Aimed at people who liked LGBT United, it generated 848 impressions and 54 clicks.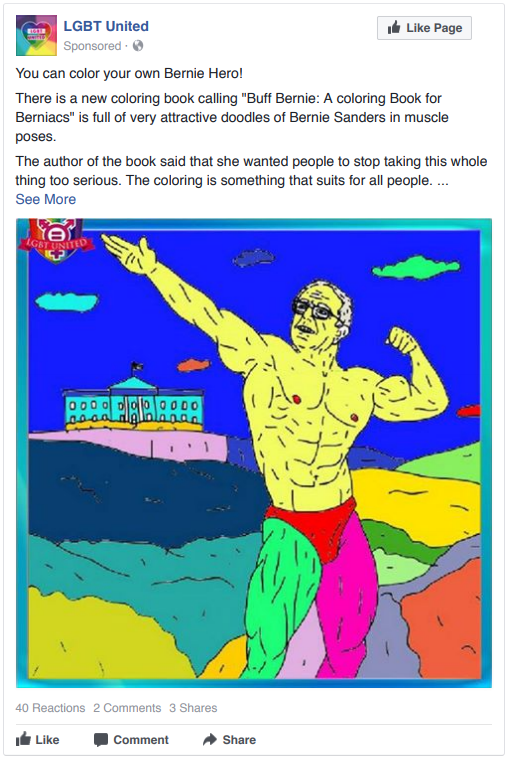 In addition to these crude and clumsy efforts, The New York Times has noted a hoax that anyone familiar with American politics would recognize as utterly implausible, language on the DCLeaks website that described Clinton as "President of the Democratic Party" and referred to her "electional staff," and a tweet promoting the website that said, "These guys show hidden truth about Hillary Clinton, George Soros and other leaders of the US." Such misfires suggest that the ability of Russian propagandists to destroy American democracy may have been exaggerated.