Deploy the Taco Copters! Trump Administration Looks to Loosen Drone Regulations
The Department of Transportation will experiment with expanding what commercial uses are allowed.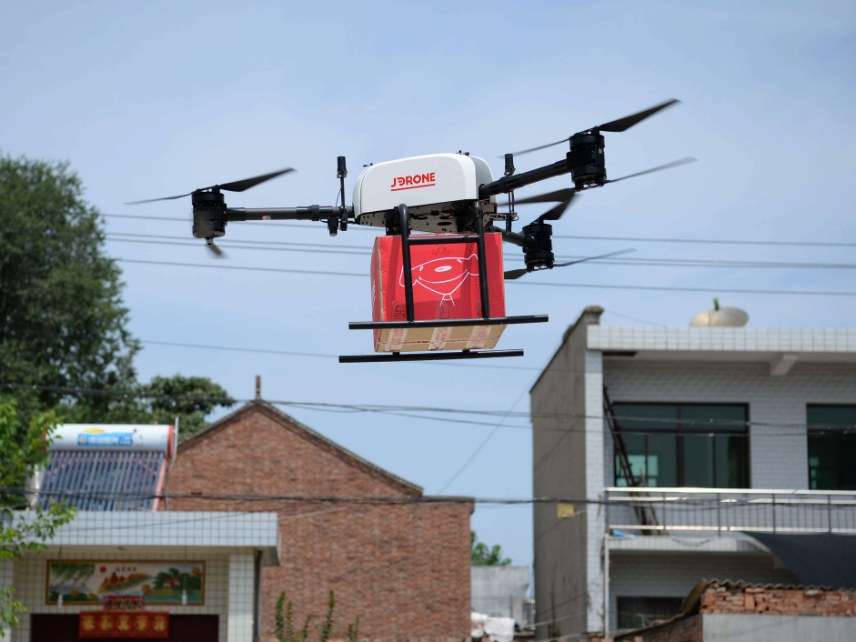 Will adorable little flying delivery machines soon be descending on your neighborhood with food, booze, and other products on demand?
Maybe, maybe not. But there's a chance! This week President Donald Trump released a memo to the Department of Transportation directing Transportation Secretary Elaine Chao to look for ways to expand the use of commercial drones domestically.
The Federal Aviation Administration (FAA) notoriously dragged its feet in developing regulations overseeing commercial drone use in American airspace, and it tried (and failed) to enforce a blanket ban in the meantime. When the FAA finally released proposed rules in 2015, the guidelines were extremely restrictive. They limited drone use to daylight hours, required them to fly below 500 feet, and required that the drone operator remain within visual sight line of the drone itself.
At the time those rules were first released, companies like Amazon said the FAA's demands would make delivery drones impossible within the United States. Since then we've seen efforts to scale back the rules' severity.
The memo calls on the Department of Transportation to work with a handful of local governments and private companies to experiment with currently forbidden drone operations. From a Department of Transportation statement:
The pilot program will evaluate a variety of operational concepts, including night operations, flights over people, flights beyond the pilot's line of sight, package delivery, detect-and-avoid technologies, counter-[drone] security operations, and the reliability and security of data links between pilot and aircraft. Industries that could see immediate opportunities from the program include commerce, photography, emergency management, precision agriculture, and infrastructure inspections and monitoring.
This is hardly going to be the wild west of commercial drones. They're looking at proposals and considering a minimum of five partnerships.
Nevertheless, it's a very strong indication that someday we will indeed see much more significant use of drones for commercial purposes. The skies will open up and the tacos will come raining down. Make mine al pastor, please.