Seattle to Amazon: Don't Leave Me, Baby
The city's leaders try desperately to reset relations with the company while it searches for a new headquarters.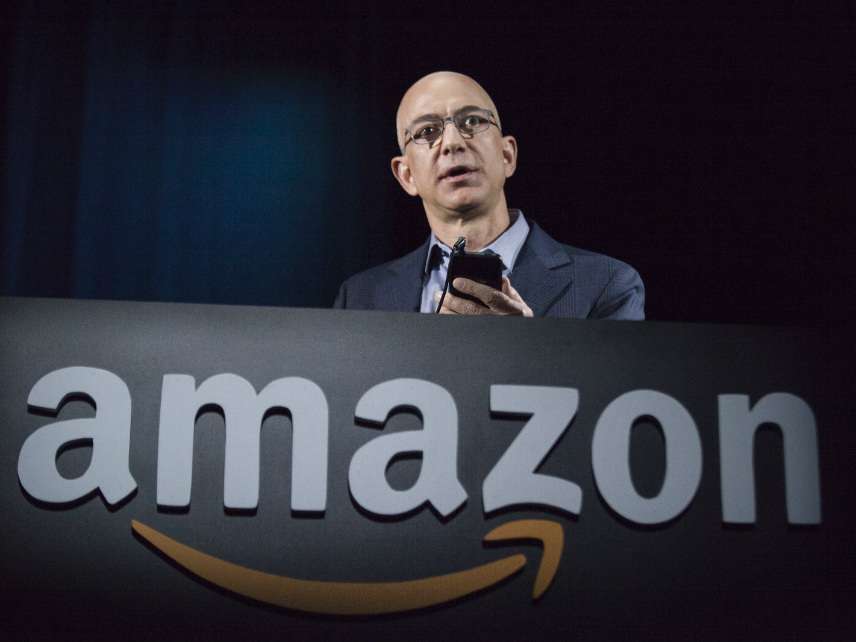 Cities hoping to host Amazon's second corporate headquarters have until Thursday to submit their bids. More than 50 jurisdictions have jumped at the opportunity already, promising increasingly extravagant incentives to the e-commerce company.
On Monday, New Jersey Gov. Chris Christie offered Amazon $7 billion in tax incentives to set up shop in the Garden State. Local officials in Georgia have offered to let the company incorporate its own city. Tuscon even sent Amazon's CEO a 21-foot cactus.
The only place not jumping for joy is the company's current hometown of Seattle, where politicians have reacted to the prospect of Amazon expanding elsewhere as if they were going through the phases of a bad break-up.
Local officials greeted Amazon's initial announcement with an "I'll never let you go" kind of rage. One councilmember, Kshama Sawant, reacted by yearning "to take these behemoths into democratic public ownership."
Some Seattle politicians are now expressing regret about such harsh words, and are promising to be a better partner to the company.
Last Friday, five out of nine Seattle City Councilmembers—along with a clutch of county and state officials—sent a letter to Amazon. To the extent that the company's decision to expand elsewhere was based on "feeling unwelcome in Seattle, or not being included in some of our regional decisions," they wrote, "we would like to hit the refresh button."
"Those of us who are signing onto this letter want you to know we have heard you," they added. "We also want you to stay with us and grow with us both in Seattle and with our sister cities across the state." To kickstart this new relationship, the politicians propose including Amazon in a series of taskforces targeting traffic, crime, and education.
This letter is no doubt heartfelt. But it also misses the point, says Erin Shannon of the Washington Policy Center. "There needs to be a much bigger reset button for that letter to have any meaning," Shannon tells Reason, adding that the "city's anti-business climate is playing very likely a strong role" in causing Amazon to look for greener pastures.
In 2014 the city passed one of the nation's first $15 an hour minimum wage laws. This was followed by onerous employee scheduling regulations, restrictions on running criminal background checks, and an infamous (and probably illegal) income tax. To draft this tax, Seattle hired John Burbank, director of the Economic Opportunity Institute, who once called Amazon a "sociopathic roommate" that the city was better off without.*
And these are just the policies that have passed. Also in the works is a so-called Amazon tax, which would levy a yearly $100-per-employee levy on large companies.
Amazon has tacitly acknowledged that policy factors are playing a role in its search for a home away from home. It lists "a stable and business friendly environment" as one of four key preferences for the site of its new headquarters. The company has also said it was looking for a good "cultural community fit" with "local government structure and elected officials eager and willing to work with the company", and it has encouraged bidding cities to include testimonials from other large companies.
The Seattle City Council's letter is remarkable in how little it seems to understand these concerns. Rather than offering to improve the city's business climate, officials are asking for Amazon's help in mitigating the problems its growth has supposedly caused.
For instance, the letter's section on the "gig economy" mostly bemoans the rise of contract workers in the tech sector, telling Amazon that "we would like to work with you, other employers, employees, and contract workers to establish new policies around fair work, schedules, and livable wages."
And this is coming from the city councilmembers that signed on to the letter. The signature of Seattle's interim mayor Tim Burgress is notably absent. Sawant, meanwhile, has called the letter "disingenuous and craven."
Needless to say, his confusing mix of hostile rhetoric and promises of greater cooperation is no way to change Amazon's mind about expanding its operations elsewhere—particularly given the sweetheart deals on offer from other cities.
Of course, those sweetheart deals are a bad idea too. Crony-capitalist giveaways are just as offensive to free market principles as Seattle's overregulation and taxation. If a city really wants to be a place that fosters companies as successful as Amazon, it should make its tax and regulatory burdens light for all comers.
CORRECTION: This article initially said that Economic Opportunity Institute Executive Director John Burbank drafted Seattle's 'Amazon Tax'.