The Justice Department Is Now Going After Chinese Fentanyl Manufacturers
The DOJ has indicted two Chinese nationals for sending fentanyl to the U.S. Now what?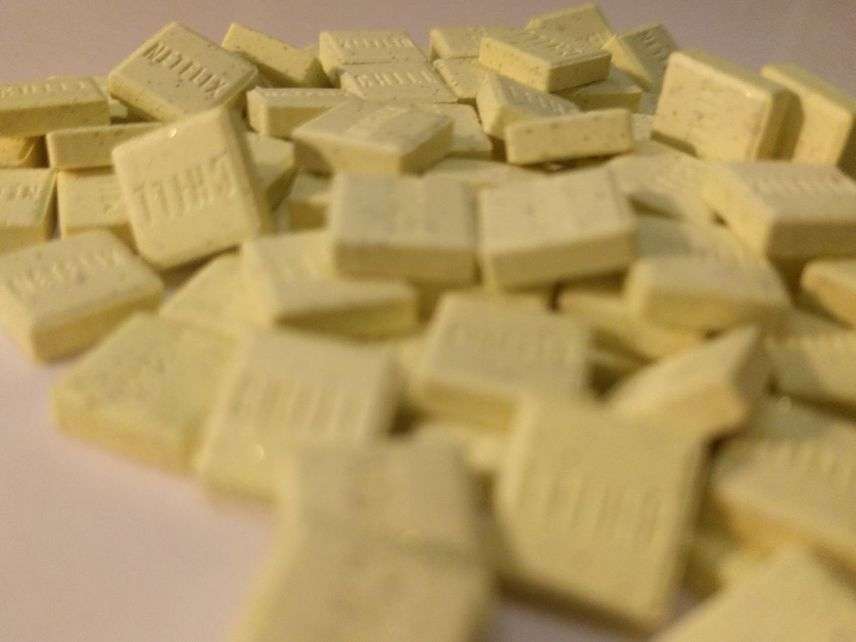 The Drug Enforcement Administration announced today that U.S. Attorneys in North Dakota and Mississippi have, for the first time ever, indicted two Chinese nationals for illegally exporting fentanyl and other research chemicals to the U.S.
Unsealed yesterday, the DOJ's indictments accuse Xiaobing Yan and Jian Zhang of running two separate international conspiracies intended to circumvent federal bans on various schedule I drugs and their analogs. In addition to Yan and Zhang, the DOJ indicted several American citizens and two Canadian prisoners who participated in the conspiracy from behind bars.
Here's the relevant information from the unsealed Zhang indictment:
Two suspects, Jason Berry and Daniel Ceron, worked with Zhang to arrange shipments from China to the U.S. while they were incarcerated in a medium security prison facility in Drummondville, Quebec. (Prisoners running things from the inside is not new, but participating in a global drug trafficking operation seems pretty novel to me.)
Zhang allegedly began exporting fentanyl and fentanyl analogs to the U.S. in 2013, and the DOJ says he was able to send thousands of shipments during a three-year period.
Drugs shipped by Zhang allegedly ended up in "North Dakota, Oregon, Florida, Georgia, North Carolina, New Jersey, California, South Carolina, Ohio, and elsewhere."
From the DOJ press release: "Zhang ran an organization that manufactured fentanyl in at least four known labs in China and advertised and sold fentanyl to U.S. customers over the Internet. Zhang's organization would send orders of fentanyl or other illicit drugs, or pill presses, stamps, or dies used to shape fentanyl into pills, to customers in the United States through the mail or international parcel delivery services." (For more than a year now, American journalists have been pointing to Chinese websites that sold fentanyl to the U.S. with horrified shock. Looks like DOJ wasn't blind, just investigating quietly.)
Yan's case is even more interesting, as the DOJ alleges he shipped not just fentanyl, but a spectrum of synthetic drugs that are analogous to substances banned in the U.S.:
In addition to fentanyl and fentanyl analogs, Yan's chemical manufacturing company is accused of shipping "research chemicals" such as synthetic cannabinoids (which mimic marijuana), cathinones (which mimic amphetamines), and synthetic empathogens (which mimic MDMA) to the U.S. None of the non-fentanyl synthetics Yan allegedly shipped have received nearly as much human testing as the drugs they're based on. Some of them are probably carcinogenic. As with fentanyl, the market for these research chemicals is entirely dependent on the prohibition of drugs that have existed for decades longer and are demonstrably safer.
Yan started shipping to the U.S. in 2010, which is the same year pharmaceutical companies rolled out their tamper-proof opioid formulations. I don't know if the two events are related, but the process by which international actors recognize and exploit opportunities in the American drug market is hugely under-researched.
From the press release: "Yan monitored legislation and law enforcement activities in the United States and China, modifying the chemical structure of the fentanyl analogues he produced to evade prosecution in the United States."
Also from the press release: "Over the course of the investigation, federal agents identified more than 100 distributors of synthetic opioids involved with Yan's manufacturing and distribution networks. "
I doubt this stops illicit fentanyl exports to the U.S., though it's likely to put pressure on the Chinese government, which is either incapable or uninterested in regulating its own chemical manufacturing industry.