Judge Threatens Arizona Prison Officials With Contempt For 'Pervasive and Intractable Failures'
The threat comes three years after officials agreed to improve the disastrous lack of healthcare.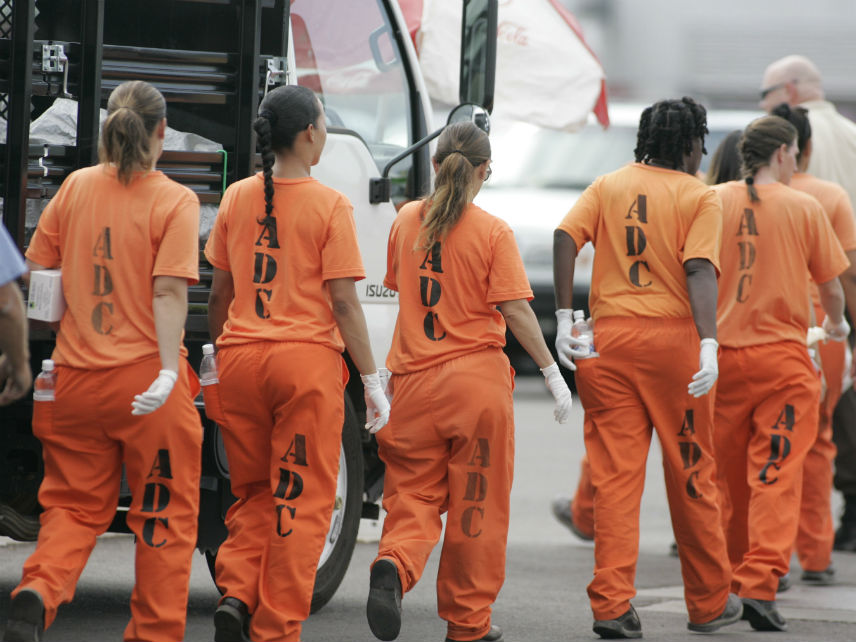 A federal judge said Tuesday he is considering holding Arizona prison officials in contempt of court for their "pervasive and intractable failures" to abide by a 2014 agreement to improve care of inmates in the state prison system.
Three years ago, the Arizona Department of Corrections agreed to settle a federal class-action lawsuit filed by the American Civil Liberties Union (ACLU) and several other law firms by taking steps to improve medical care inside its prisons. The lawsuit, filed in 2012, followed media investigations and persistent allegations of fatally inadequate medical care by the department's medical provider, Corizon.
Prison officials have been accused of defying court orders and intimidating inmate witnesses as they resisted complying with the settlement. An increasingly exasperated U.S. Magistrate Judge David K. Duncan issued an order Tuesday calling on the department to show why it should not be held in civil contempt for failing to meet the guidelines and benchmarks in the agreement.
Duncan's order came after he hauled Arizona Department of Corrections Director Charles Ryan into his court in August to address allegations that guards were retaliating against inmates who testified about poor conditions inside the state's prisons. When Duncan ordered the department to stop any such retaliation, Ryan sent an email to his staff saying the ruling was "disappointing," and that they "deserved better."
In another court filing in September, an ACLU lawyer says she overheard an Arizona correctional officer say to several fellow officers, "Those fucking ACLU lawyers. Who the fuck do they think they are telling us what we can and cannot do to inmates? I can do whatever I want, whenever I want."
"All of this disrespect for the rule of law," Duncan fired back, "is something I have never experienced or seen in nearly 30 years of being a lawyer, or in 16 years as a judge."
If Ryan is held in civil contempt, he would join the company of former Maricopa County sheriff Joe Arpaio, a fellow Arizonan and one of America's most anachronistic and cruelest lawmen. President Trump pardoned Arpaio this summer after he was found guilty of both criminal and civil contempt of court.
Andrew Wilder, a spokesperson for the department, says in a statement to Reason that it is "firmly committed to holding its current contracted health care provider, Corizon, accountable for its contractual responsibility to provide inmates the constitutionally-mandated health care to which they are entitled."
"Moreover, ADC already has taken significant and concrete actions to encourage Corizon to meet the specific performance measures under the Parsons Stipulation," Wilder continues.
However, in 2016, when the ACLU and other lawyers for the plaintiffs filed complaints that the Arizona Department of Corrections had failed to comply with the settlement, local media outlet 12 News reported that it was still being "inundated with emails and phone calls from families of prisoners alleging their loved ones are not getting the treatment they need."
The news outlet 12 News published an investigation in 2014 revealing that, despite Corizon's $125 million annual contract with the state, Arizona inmates faced disastrous delays in physical and mental health treatment. Separate reports by doctors touring Arizona prisons also found stomach-churning conditions and neglect. Courthouse News, summarizing the reports, described it as "an understaffed system in which an inmate died with infected lesions swarmed by flies, a man who ate his own feces was never seen by a psychiatrist, and a woman swallowed razor blades while allegedly under constant watch."
One of the doctors described a 30-year-old inmate who was given less than a year to live after extreme delays in detection and treatment of testicular cancer led to the disease spreading to his internal organs.
Corene Kendrick of the Prison Law Office in Berkeley, California, told the Phoenix New Times this week that her office is still getting "dozens of letters each week" from prisoners suffering from serious medical conditions. "This spring, four people committed suicide in three weeks, and our mental health expert's report indicated the suicides were tied to inadequate or nonexistent mental health care," she wrote.
In a press statement, director of the ACLU National Prison Project David Fathi says the Arizona prison system remains out of control.
"It was three years ago this week that the Arizona Department of Corrections signed the settlement agreement in this case over prison health care so inadequate that it leads to needless suffering and even death," Fathi said. "The fact that the Department of Corrections is still grossly out of compliance with the settlement is proof that the department is profoundly broken, leaving the thousands of prisoners under its control with scant access to medical care."