Why is YouTube Deleting Bump Stock Videos?
The video hosting website falls prey to a hysteria.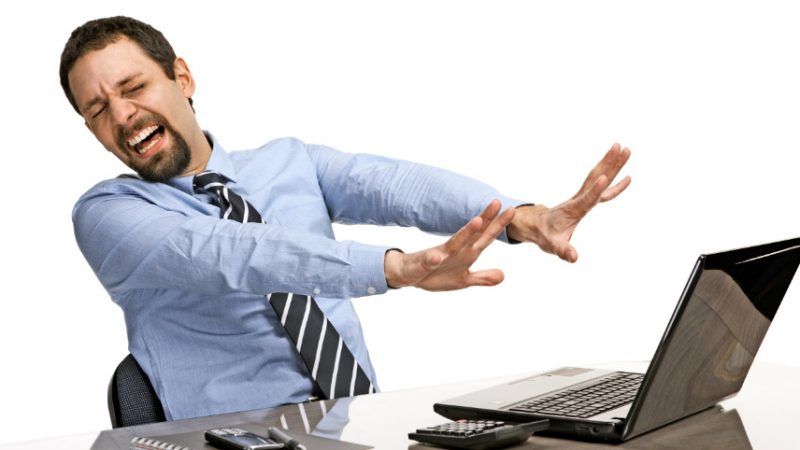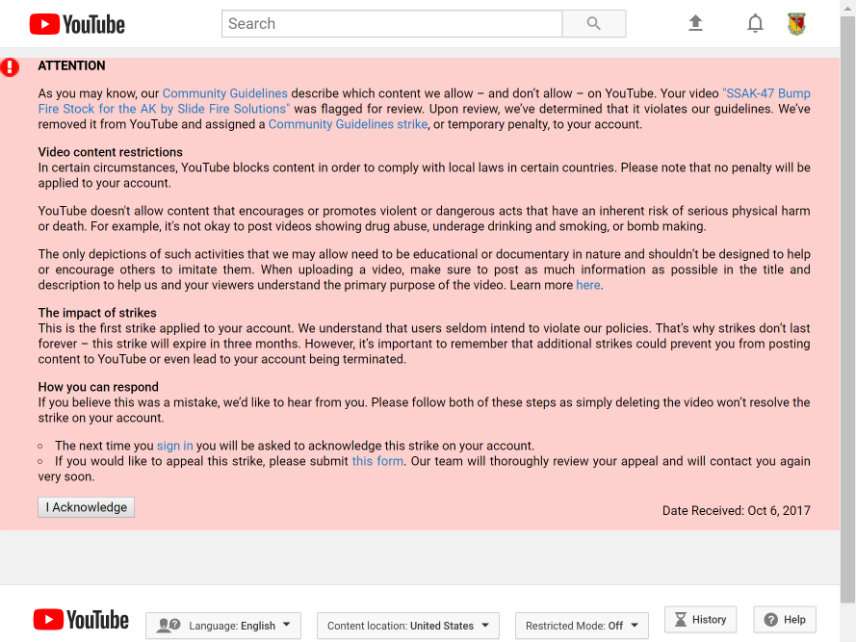 In the aftermath of the Las Vegas shooting, both Republicans and Democrats have said they'd support a ban on bump stocks, which allows a semi-automatic rifle to fire more rapidly. Even the National Rifle Association has semi-endorsed "additional regulations" on the devices.
Now YouTube is getting in on the action.
The video hosting website has been taking down videos depicting the installation or even the mere use of bump stocks. These removals appear to have started on October 6, when a number of prominent firearms channels received notifications from YouTube that their videos featuring bump stocks were a violation of community guidelines on harmful or dangerous content.
The channels were also awarded a community standards "strike," which comes with the suspension of features like live streaming.
"Three strikes and you're done on YouTube and that's my livelihood," says Tim Harmsen, owner of the YouTube channel Military Arms. For the past three years, Harmsen's main source of income has come from his channel, where he posts demonstrations and reviews of firearms and accessories.
Harmsen received a strike for his four-year-old video SSAK-47 Bump Fire Stock for the AK by Slide Fire Solution, which depicts the use of a bump stock. The penalty, he tells Reason, came as a shock.
"No warning. Nothing. I logged into YouTube on the 7th after traveling and I'm greeted with a big orange page telling me I'm in violation of community standards and offending videos have been removed."
Harmsen learned of the penalty at a gathering of other firearms enthusiasts in Atlanta. Many of the other attendees also maintain YouTube channels, and were likewise penalized for depicting bump stock videos.
The gun website TwangNBang reports that the popular firearms channels 22Plinkster and BigShooterist also received strikes for violating community standards. Instragram has also deleted pictures of bump stocks from Harmsen's account.
In a statement provided to Reason, a YouTube spokesperson said: "We have long had a policy against harmful and dangerous content. In the wake of the recent tragedy in Las Vegas, we took a closer look at videos that demonstrate how to convert firearms to make them fire more quickly and we expanded our existing policy to prohibit these videos."
YouTube is, of course, a private service, and it can moderate its content in whichever way it chooses. That said, it is sad to see the company react this way. As has been pointed out countless times, adding a bump stock to a weapon does not make it inherently more deadly, thanks to the device's sacrifice of accuracy for speed. A few YouTube videos remain that demonstrate this trade-off quite effectively. Removing such clips only inhibits people's ability to learn about the device, something that is particularly important given the nationwide debate about banning them.
Meanwhile, YouTube still features plenty of videos of people using actual automatic weapons. Removing videos of bump stocks, much like the calls to ban the device, is clearly more about pandering to a sudden political moment than about actually advancing safety.