Utah May Bring Back Porn Czar to Target 'Obscenity' Like Cosmo Magazine
From the man that helped Utah declare porn a "public health crisis."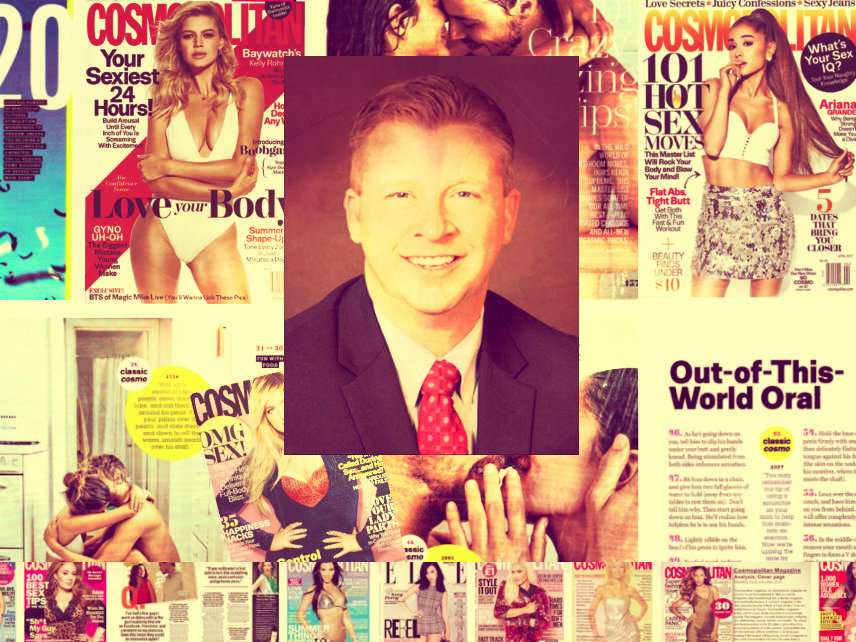 For the past 14 years, Utah has made do without a "porn czar." The position—officially known as the "Obscenity and Pornography Complaints Ombudsman"—has been vacant since 2003, though it was never officially eliminated. Now state Sen. Todd Weiler (R–Woods Cross) may revive it, even as the Utah attorney general suggests legislators strike it from the books.
Weiler has been on an anti-porn crusade for several years now. He's the architect of a 2016 declaration to declare porn a public health crisis (which passed the state legislature unanimously) and a proposal passed earlier this year to encourage "porn addicts" to sue porn platforms.
And Weiler's definition of porn is apparently broad enough to encompass mainstream women's magazines. Weiler "says he became convinced that the obscenity and pornography complaints office may be needed because of an ad campaign attacking Cosmopolitan magazine as illegal porn," The Salt Lake Tribune reports.
"I've received some complaints…that stores are selling Cosmo at eye level to a child," he told the Tribune. "There's no blinder rack on it, even though we have some blinder rack language in the state code."
Weiler suggests that an obscenity ombudsman could focus on things like providing guidance to retailers. But the position also has the power to monitor and punish business owners for daring to display magazines that mention sex.
Victoria Hearst, the public face of the Cosmo campaign that so inspired the Utah senator, thinks that Cosmopolitan should not only be kept out of the eyesight of children but also prohibited for anyone under age 21.
Opponents of Weiler's note that for all its seeming frivolousness, Cosmopolitan can be an important source of sex-positive information for girls. "Pornography isn't an issue in Utah, but shame definitely is," wrote Kyli Rodriguez-Cayro, an advocate with sexual-violence victims group Start By Believing, in a recent op-ed.
Weiler says that reviving the porn czar position isn't a priority for him, and he hesitates because of the cost of funding the office. But whether or not he brings back the position, Weiler—who also chairs the state's Senate Judiciary Committee—has pledged to keep up his anti-porn pursuits. He also continues to push insane ideas about porn's supposed harms, urging parents get "counseling or treatment or therapy for a child who has been exposed."