The Senate Will Try Again On Sentencing Reform This Year
A bipartisan group of senators has reintroduced one of the biggest sentencing reform bills in years. Can it pass this time?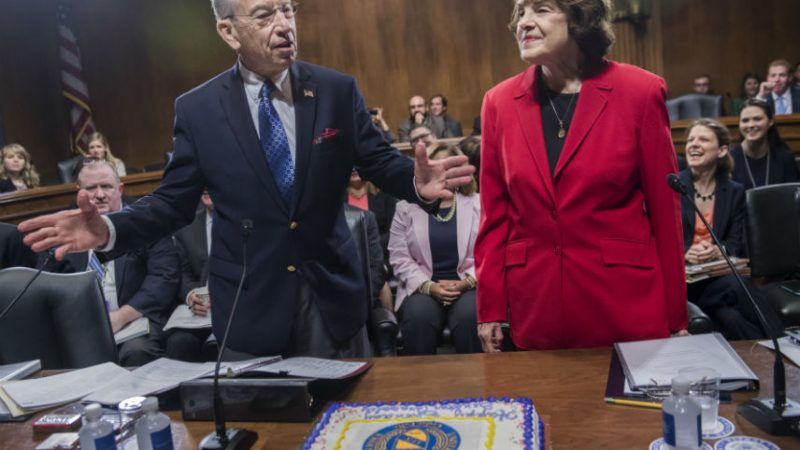 (Tom Williams/CQ Roll Call/Newscom)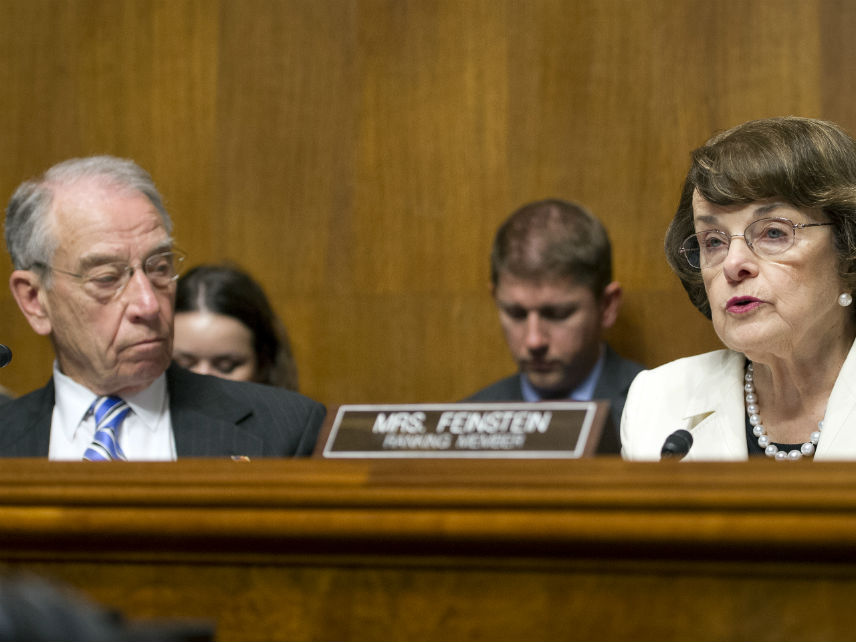 After major criminal justice reform failed in Congress last year, a bipartisan group of U.S. senators has reintroduced a package of legislation to reduce some federal mandatory minimum sentences and expand sentencing discretion for judges.
In a joint statement Wednesday, Republican and Democrat members of the Senate Judiciary Committee reintroduced the Sentencing Reform and Corrections Act. The bill would reduce, not eliminate, mandatory minimum sentences for certain nonviolent drug crimes and expand so-called "safety valve" provisions that give federal judges discretion to deviate from sentencing guidelines.
The bill is sponsored by Grassley, Durbin, Lee, Sheldon Whitehouse (D-R.I.), Lindsey Graham (R-S.C.), Patrick Leahy (D-Vt.), Jeff Flake (R-Ariz.), Tim Scott (R-S.C.), Dianne Feinstein (D-Calif.), Roy Blunt (R-Mo.), and Cory Booker (D-N.J.).
In one significant move for the federal prison population, it would make reductions in crack cocaine sentencing laws apply retroactively, a change that could potentially impact thousands of federal inmates. It would also add new mandatory minimums for crimes like interstate domestic violence and trafficking fentanyl-laced heroin.
In a statement, Sen. Chuck Grassley (R-Iowa), the chair of the powerful Senate Judiciary Committee, said the legislation "strikes the right balance of improving public safety and ensuring fairness in the criminal justice system."
"Our justice system demands consequences for those who choose to run afoul of the law, and law enforcement works hard to keep our communities safe," Grassley said. "This bipartisan compromise ensures that these consequences fit their crimes by targeting violent and career criminals who prey on the innocent while giving nonviolent offenders with minimal criminal histories a better chance to become productive members of society."
Grassley is a law-and-order Republican who has supported mandatory minimum sentences and stiff punishments for criminal offenders. But as his party began changing course on the issue, he tentatively started working with Democrats on sentencing legislation.
The bill is one of several pieces of criminal justice legislation expected to be introduced this week. A group of Republican senators, including Rand Paul (Ky.), introduced a bill Monday that would add mens rea requirements—that is, a requirement that defendants be aware of the law they are violating—to the federal code. Sens. Mike Lee (R-Utah) and Dick Durbin (D-Ill.) are also expected to reintroduce the Smarter Sentencing Act, which would go further in some respects in reducing federal mandatory minimum sentences and expanding safety valve provisions.
The Sentencing Reform and Corrections Act—a compromise between Democrats and libertarian-leaning Republicans on one side, and more conservative Republicans on the other—was considered by criminal justice advocates to be the best chance in more than a decade to get a major bill through Congress when it was hammered out last year.
Senate majority leader Mitch McConnell never brought the bill to the floor for a vote, due in part to opposition from a small, but vocal, group of Republicans.
McConnell said he was waiting for the House to pass a similar package of bills, but, in the middle of a contentious and bizarre election year, that package never received a floor vote, either, despite Speaker Paul Ryan's support.
It was widely expected the election of Donald Trump and his appointment of Jeff Sessions—a hardline supporter of mandatory minimums—would kill criminal justice reform in Congress. However, Jared Kushner, Trump's son-in-law, has emerged as a key supporter of the issue in the White House. Kushner has been holding private meetings with senators including Grassley and Durbin, and meeting publicly with lawmakers, advocacy groups, and conservative organizations that support criminal justice reform.
Advocacy groups praised the reintroduced bill. A spokesperson for Families Against Mandatory Minimums, an organization that opposes mandatory minimum sentencing laws, wrote in an email the organization "supports some provisions" in all of the legislation expected to be introduced this week, and that, if passed, they "would improve federal sentencing laws and prison programming."
Vanita Gupta, the former head of the Justice Department's Civil Rights Division and the current president of the Leadership Conference on Civil and Human Rights, said in a statement the Sentencing Reform and Corrections Act is "a good step to reform this unjust system, reduce the costs of incarceration, and make our system more fair."