Vegas Shooter's Dad, Patrick Benjamin Paddock, Was a Convicted Bank Robber Who Escaped Federal Prison, Tried to Run Down FBI Agents With His Car
Stephen Paddock was seven years old at the time of his father's arrest.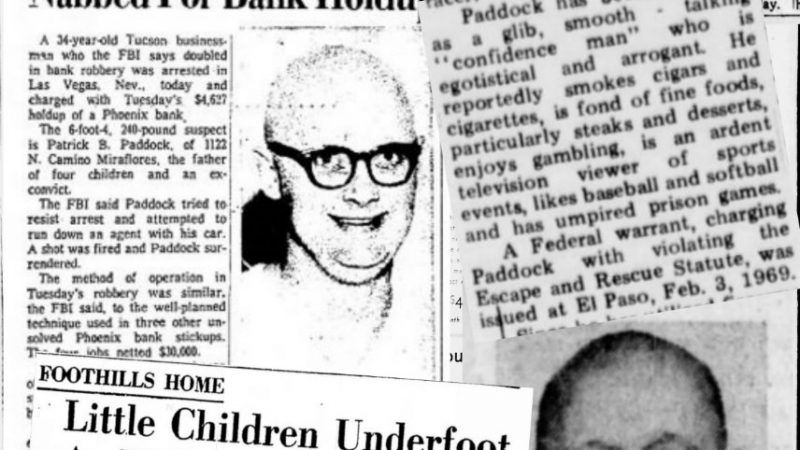 (Collage of Patrick Pollock newspaper stories/ENB)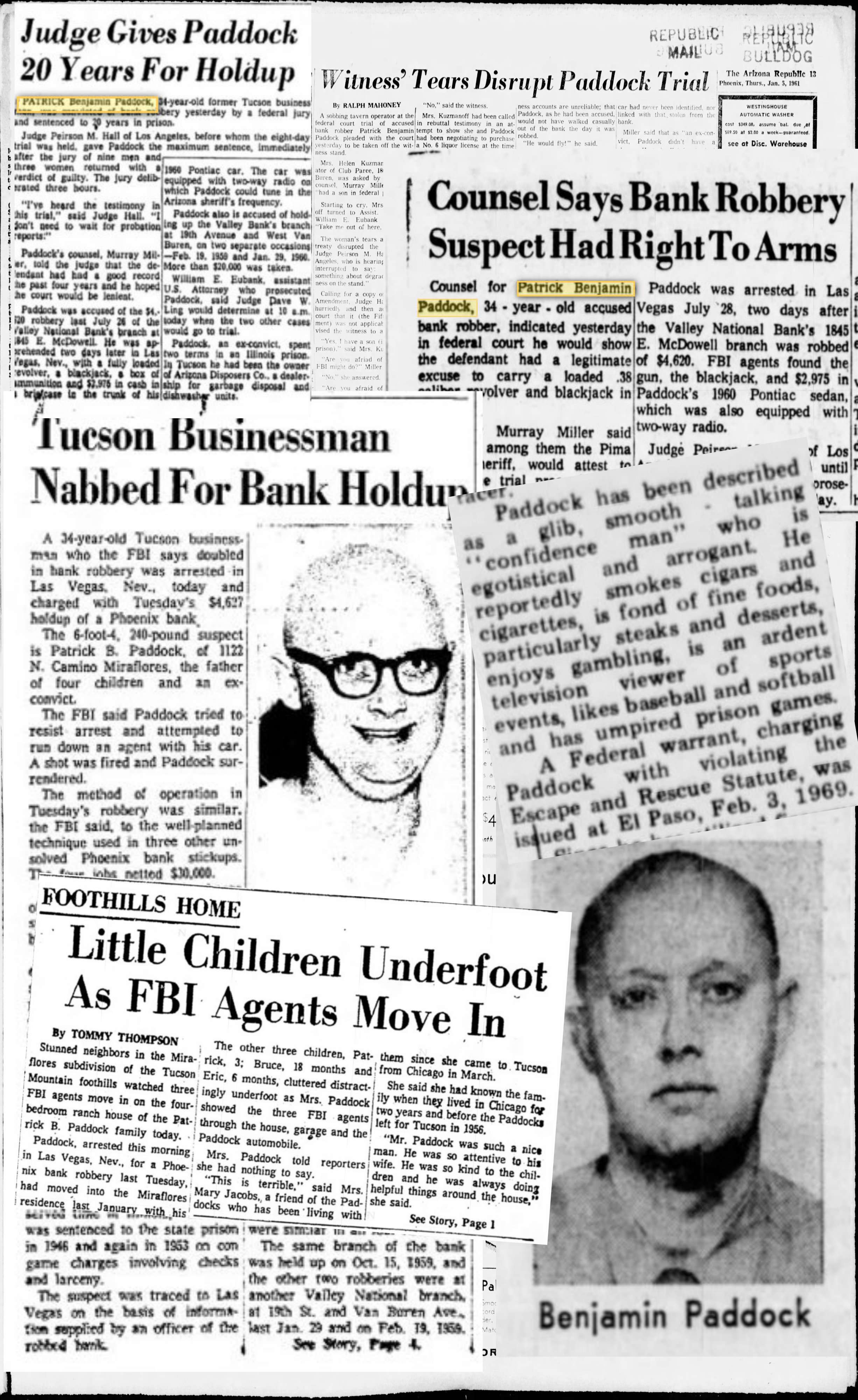 Patrick Benjamin Paddock, father of Las Vegas shooter Stephen Paddock, was a bank robber and prison escapee who once made the FBI's "Most Wanted" list.
Stephen Paddock's brother Eric confirmed Monday that Patrick Paddock was his father, and New York dug up his old "Wanted by FBI" poster, which reveals that Patrick Paddock also went by such names as Benjamin Hoskins Paddock, Perry Archer, and "Big Daddy."
His first run-ins with the law occurred in Illinois, where he went to state prison in 1946 and again in 1953 for stealing cars, writing bad checks, and running con games. "Paddock has been described as a glib, smooth-talking 'confidence man' who is egotistical and arrogant," the Daily Standard of Missouri would later report.
In 1952, Paddock married Dolores Irene Hudson at a ceremony in Reno. The following spring, Stephen Paddock was born.
When Stephen was around three years old, the family moved from Chicago to Tucson, Arizona. There, Dolores would give birth to three more children before her husband was arrested for bank robbery.
A July 1960 article from the Tucson Daily Citizen bears the headline: "Little Children Underfoot As FBI Agents Move In." It describes the scene at the Paddock home just after Patrick Paddock was arrested, as three-year-old Patrick Jr., 18-month-old Bruce, and six-month-old Eric "cluttered distractedly underfoot as Mrs. Paddock showed the three FBI agents" around.
Stephen would have been the only Paddock child old enough to understand what was going on with his father. The story notes that a neighbor had taken "Steve, 7, swimming with her own son so that the boy couldn't hear about the charges against his father today."
As far as the family knew, Patrick Paddock was a garbage-disposal salesman who had previously managed a nightclub and sold used cars.
"Mr. Paddock was such a nice man," a friend is quoted in the 1960 Citizen article. "He was so attentive to his wife. He was so kind to the children and he was always doing helpful things around the house."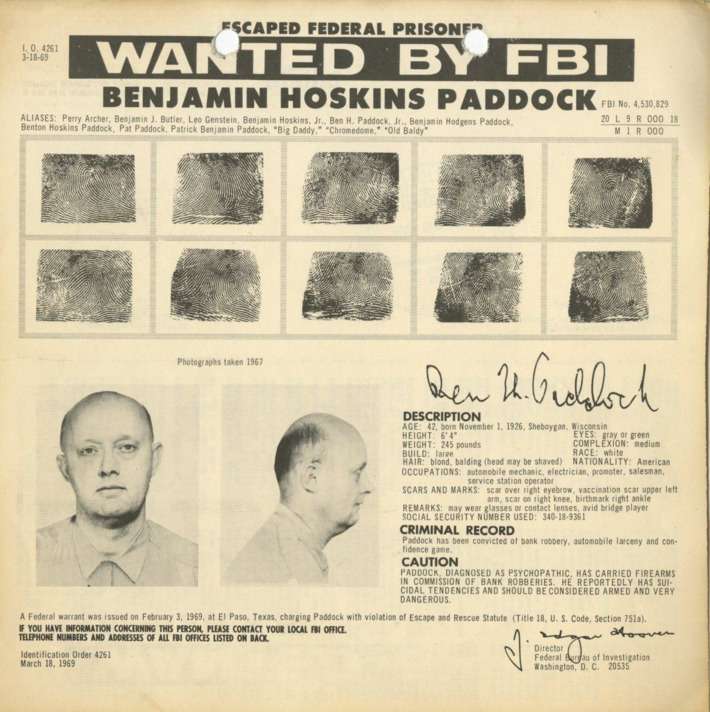 Patrick Paddock was arrested on July 28, 1960, in Las Vegas, where he had fled after the bank robbery in Phoenix. "The FBI said Paddock tried to resist arrest and attempted to run down an agent with his car," reports a July 28, 1960, article in the Citizen. "A shot was fired and Paddock surrendered."
The FBI agents found nearly $3,000 and a loaded .38 caliber revolver in his car.
Police suspected Paddock had committed several Phoenix-area bank robberies, netting him a total of around $25,000. But he was only tried for one of the robberies. In December 1960, a jury found Paddock guilty and Judge Peirson M. Hall sentenced him to 20 years in prison, the maximum allowable sentence.
While in prison, Paddock was apparently diagnosed as suicidal and psychopathic. After eight years of incarceration, Paddock escaped from a Federal Correctional Institution in La Tuna, Texas, and was placed on the FBI's "Most Wanted" list.
Paddock was removed from the FBI's list in the late '70s, after he was found living in the Eugene, Oregon, area under the alias Bruce Werner Ericksen, running a bingo parlor. He was again arrested in 1978 but got out on parole; he remained a free man until 1987, when he was indicted on seven racketeering charges in Oregon.
The judge eventually let him off with no jail time and a $100,000 fine. He returned to Texas where he lived until his death in 1998.