Republican Senate Candidate Austin Petersen Has His Personal Facebook Page Suspended
He doesn't know why, and the former Libertarian finds it worth noting Facebook COO Sheryl Sandberg is a maxed-out donor to his potential Democratic opponent.
Austin Petersen, runner-up in the scrum for the Libertarian Party's presidential nomination in 2016, is now seeking the Republican Party's nomination for a Senate seat in Missouri.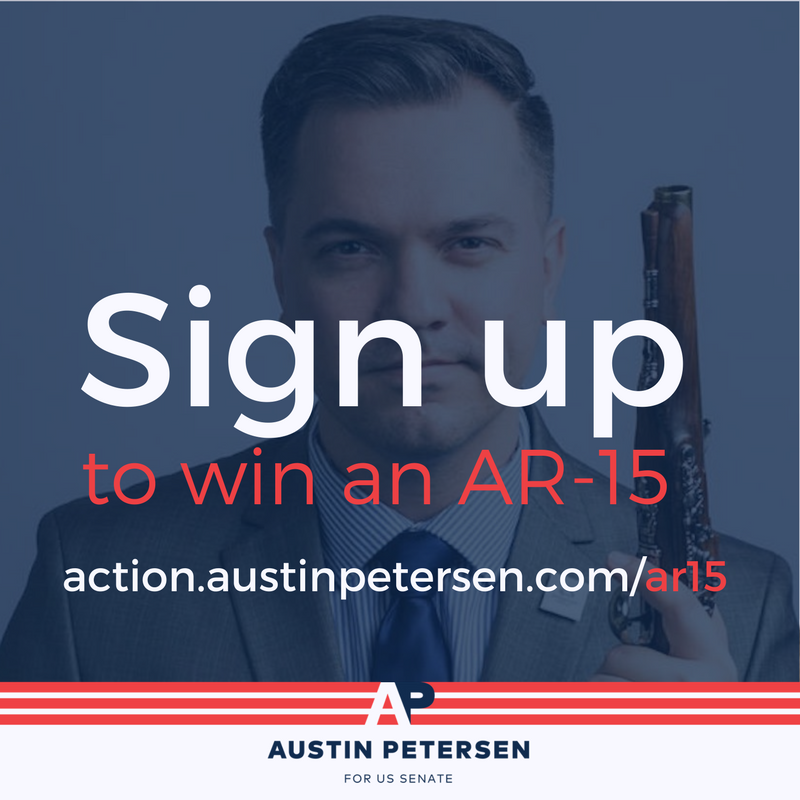 He's always used social networking extensively to communicate with and keep his potential constituents excited. So he feels especially hobbled now that Facebook has suspended his ability to use or update his personal page, for reasons he says he still doesn't understand. (His professional campaign-oriented page is still active.)
The suspension does not make the page disappear, but for now, Petersen writes in an email interview today, "I cannot post, like, comment, or use my personal page to post to any of the myriad facebook pages I am an admin of."
Facebook is in the midst of controversy over its potential role in shaping American politics in a non-neutral way, and Petersen wonders in an open letter to founder Mark Zuckerberg whether there might be a political bias involved in his still-mysterious personal suspension.
In that email interview today, Petersen writes that "I was signed out of Facebook on all my devices [last week], and when I signed back in, I received a message saying that my livestream had been the cause of me being banned for 30 days. This was a livestream done on my professional public facing account (Austin Petersen), but it was my personal account (Austin Wade) that got the ban."
The livestream in question was promoting a raffle giveaway of an AR-15 rifle. Fox News in reporting on Petersen's ban today thinks it found in Facebook's posted "community standards" a reason: "The purchase, sale or trade of firearms, ammunition and explosives between private individuals isn't allowed on Facebook." (Fox was not able to get Facebook to speak directly about the matter.)
Petersen says that in communication with Hines Digital, a company that helps his campaign with digital strategies, a Facebook official verbally insisted that there was not an inherent problem with giving away that gun, but hinted that an automatic AI may have interpreted a video about a gun as something potentially dangerous and worth immediate takedown. The "automatic" story might not hold water, Petersen says, since "the AI they state takes down videos almost instantaneously, while my video wasn't taken down until 24 hours after it was created."
As Petersen wrote in his open letter, "At the same time the block was affected, a Facebook Live video I had posted to my Official Page promoting my campaign's AR-15 giveaway was removed. A few days later, a Status Update posted to my Profile referencing the same giveaway was also removed." However, "several posts promoting the giveaway, including paid "Dark Posts," remain visible on our page."
Petersen wonders aloud in his open letter to Zuckerberg about the propriety of seemingly arbitrary clampdowns on a political candidate, especially considering that the company's Chief Operating Officer Sheryl Sandberg has donated "the maximum allowable amount to my opponent" (incumbent Democrat Claire McCaskill).
Petersen in his open letter to Zuckerberg writes that:
I've been following with interest your recent statements defending Facebook as an unbiased platform "for all ideas." I hope that's really true. However, blocking a candidate for the United States Senate for exercising support of the Second Amendment — especially when that candidate is challenging an incumbent favored by members of your board — is cause for concern and worthy of a larger conversation and a public explanation.
He prefaced his letter to Zuckerberg with assurances he would never use his power as a senator, were he to win the office, to "call for legislation to interfere with your ability to run your company, or set guidelines on user's behavior."
As of this afternoon, Petersen writes in the emailed interview that "We are still awaiting word from Facebook on if my personal account will be reinstated."