The Ninth Circuit's Foie Gras Blunder
A federal appeals court raises California's unconstitutional ban from the dead.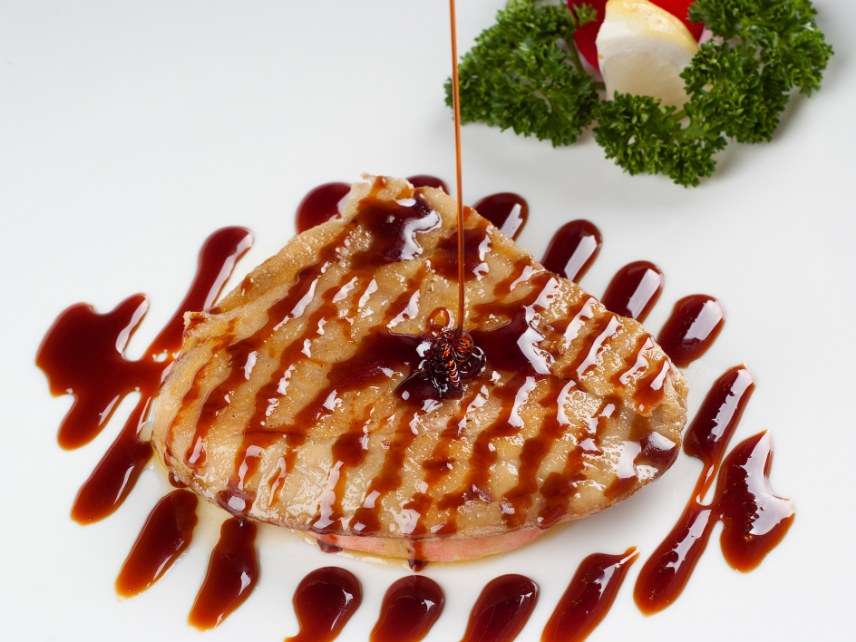 Last week, the Ninth Circuit Court of Appeals overturned a District Court ruling that had struck down California's dumb and unconstitutional foie gras ban. The plaintiffs are already planning their appeal. Technically the ban is back, but the law won't be enforced while the appeal is pending.
"It is unprecedented and unconstitutional that the California legislature can dictate how New York farmers care for their animals, produced in compliance with New York's strict animal welfare laws, and processed under federal inspection," said Marcus Henley, manager of Hudson Valley Foie Gras, a co-plaintiff that's based in New York State, in an email to me this week.
"States have the right to protect their citizens from inhumane and substandard products," said Paul Shapiro, spokesperson for The Humane Society of the United States, which wrote an amicus brief in support of the state law, in an email to me this week. "Rather than continuing to fight a losing battle, foie gras agribusinesses should join the 21st century and accept that the vast majority of Americans find violently force-feeding ducks simply too much cruelty to swallow."
To Shapiro's credit, he predicted this outcome to me in 2015.
While that prediction seems long ago, this case has been winding its way through the courts now for around five years. The plaintiffs, led by an association of Quebec-area foie gras producers and Hudson Valley, had argued that California has no authority to regulate out-of-state and international foie gras producers. But a federal court rejected those arguments, determining in 2012 that such "vagueness, Dormant Commerce Clause, and preemption arguments [we]re 'unlikely to succeed on the merits.'"
Ultimately, a U.S. District Court held in 2015 that the law was preempted by the federal Poultry Products Inspection Act (PPIA), which governs, among other things, poultry-product "ingredients." The Ninth Circuit decision last week disagreed about the ingredients issue and overturned the lower court's ruling.
"The PPIA prohibits states from imposing requirements on ingredients that contradict federal regulations," Reason's Scott Shackford wrote last week, in a post that nailed the details of the court's reasoning. "But this foie gras ban technically regulates a process, the manner by which the foie gras is made. Therefore, the judges ruled, the California law does not come into conflict with the PPIA at all."
"In our case, there can be no question that California imposes a requirement on the primary ingredient in my clients' USDA-approved foie gras products—i.e., that they may not contain any force-fed foie gras—which is a requirement that is 'in addition to or different than' those under federal law and is therefore preempted," said California attorney Michael Tenenbaum, who represented the plaintiffs in the foie gras case, in an email to me this week.
"The last time the Ninth Circuit tried this—i.e., reversed a district court's preemption finding in an effort to save a misguided state ban on USDA-approved products on the ground that 'states are free to decide which animals may be turned into meat'—it was reversed, 9-0, by a Supreme Court opinion that said (literally), 'We think not,' as it would allow states to 'make a mockery' of federal preemption," Tenenbaum says. (Case link added for reference purposes.)
Tenenbaum and Shackford are correct in their facts and analysis. Ultimately, though, this case isn't about statutory interpretation or ingredients or processes or the PPIA. This is a case—plain and simple—about a farmer's right to raise animals that consumers want to eat, and a big bully of a state working hand in hand with animal rights activists to impose its vague and burdensome laws on other states, and even other countries.
No state should have such power. Thankfully—hey!—the U.S. Constitution ensures no state has such power. But these federal courts have so far missed that point.
In 2015, just after the District Court ruling striking down the ban, I wrote that I was pleased with the case's ends, but not with the court's means of arriving there.
Does the PPIA in fact preempt the California law? I. Don't. Care.
"I believe strongly that even in the absence of a federal law that preempts California from legislating, the state has no authority to regulate interstate commerce," I wrote. "The foie gras ban isn't unconstitutional primarily because Congress has legislated in this area but because California cannot legislate in this area."
Ultimately, I hope a Ninth Circuit panel, the U.S. Supreme Court, or both will decide this case upon this and only this constitutionally sound rationale.
What are the case's prospects on appeal? Foie gras supporters are optimistic.
"We have every confidence that the unconstitutional law will eventually be overturned for good," Henley says.
"I have every confidence that we will prevail again," Tenenbaum tells me.
I do, too.