Appeals Court Sides with UVA Fraternity Brothers, Against Rolling Stone in 'Jackie' Rape Dispute
"A reader could plausibly conclude that many or all fraternity members participated in alleged gang rape."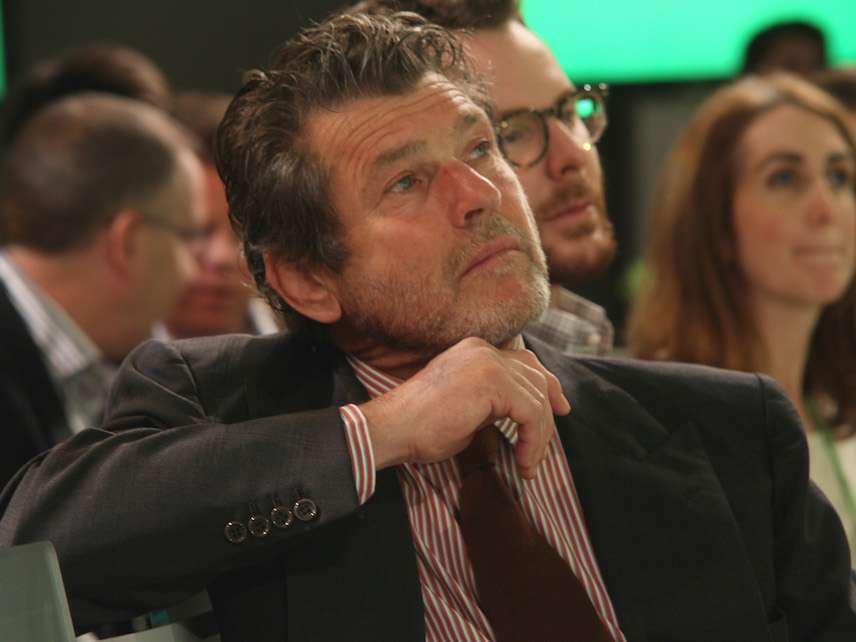 Two former members of the University of Virginia's Phi Kappa Psi fraternity have a strong enough defamation argument against Rolling Stone that the case should proceed to trial, an appeals court ruled Tuesday.
The decision is a major blow to Rolling Stone's publisher, Jann Wenner—who put the magazine up for sale earlier this week—and to Sabrina Rubin Erdely, the disgraced author of a now thoroughly debunked RS article about a gang rape on UVA's campus.
Wenner and Erdely probably thought their legal ordeal was over: RS has already paid out millions of dollars to former UVA dean Nicole Eramo for badly misrepresenting her, and also to Phi Psi for staging the fraternity as the scene of a crime that never happened. But three Phi Psi brothers—George Elias, Ross Fowler, and Stephen Hadford—also filed suit as individuals, arguing that the story specifically and individually defamed them. This suit was dismissed by a New York district court more than a year ago.
That dismissal was unsound, according to the Second Circuit Court of Appeals. In her decision to revive the case, Judge Katherine Forrest argued that the lower court had incorrectly ruled out defamation as a plausible verdict with respect to two of the three brothers, Elias and Fowler.
You will recall from Reason's exhaustive coverage of the story that a former UVA student, "Jackie," told Erdely that she was lured to an upstairs bedroom at the Phi Psi fraternity by her date, "Drew," a lifeguard and member of Phi Psi. At least nine frat brothers then allegedly beat and raped her, apparently as part of some frat initiation. This claim became the central element of Erdely's story on sexual assault; it collapsed when scrutinized by other journalists—myself among them—after Jackie's numerous lies came to light.
No one disputes that Jackie's story was inaccurate—RS eventually retracted—and that no such assault took place at Phi Psi. The question is whether Erdeley and her editors screwed up so colossally that the magazine can actually be held liable for defamation. And now, for a third time, a court has said, yes.
The story did not specifically name Elias, Fowler, or Hadford, so at first blush it might seem like their lawsuit is legally unmerited. Under New York law, a person can only be found responsible for defamation if their false statements were "of and concerning" the defendants. But the court of appeals thinks Elias and Fowler, at least, could plausibly meet that test, because "it is not necessary the world should understand the libel; it is sufficient if those who know the plaintiff can make out that she is the person meant," according to earlier decisions in 1980 and 1966.
Elias and Fowler contend that they were presumed to be involved in the crime by people who knew them personally, since key details relating to them appeared to match Jackie's descriptions. Elias lived in one of the only rooms on the second floor that would have been capable of holding 10 people. Fowler was, like "Drew," a swimmer and a senior member of Phi Psi responsible for initiating new members.
The court of appeals is also letting their "small group defamation" claim proceed. "Taking the allegations in the Article together, a reader could plausibly conclude that many or all fraternity members participated in alleged gang rape as an initiation ritual and all members knowingly turned a blind eye to the brutal crimes," write the judges.
This does not mean that the brothers are guaranteed to win at trial. Their case is in some ways weaker than both the suits filed by Eramo and Phi Psi itself, since the article called out both Eramo and Phi Psi by name.
"We are disappointed with the Second Circuit's ruling today, but are confident that this case has no merit," said a spokesperson for RS in a statement.
But there's no question whether the violent actions attributed to the fraternity brothers were invented, there's no question whether they suffered reputational harm because of this, and there's no question whether Rolling Stone should have known better than to trust a single source who refused to provide any evidence of her claims and who threatened to cease cooperating whenever Erdely came within striking distance of the truth. The only thing left for a judge or jury to decide is whether the three people filing this lawsuit were the ones defamed.
Good luck with the sale, Jann Wenner.