Fraternity Investigated for 'Free House Tours' Banner, a Possible Title IX Violation
At Wichita State University, the bar for sexual harassment is apparently very low.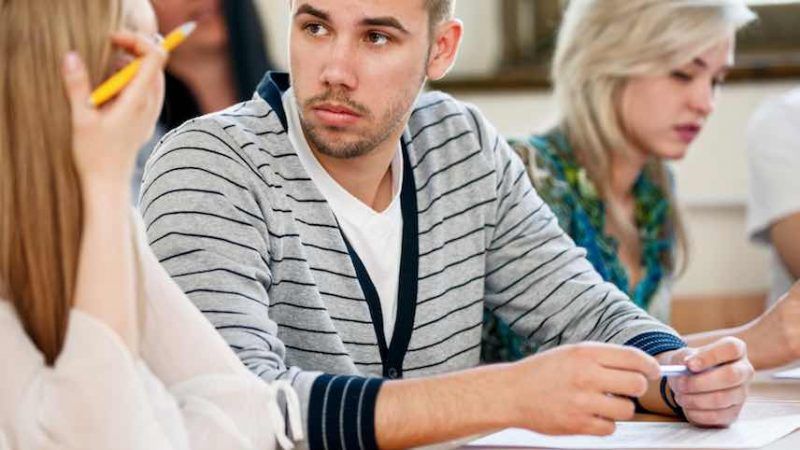 (Igor Mojzes / Dreamstime)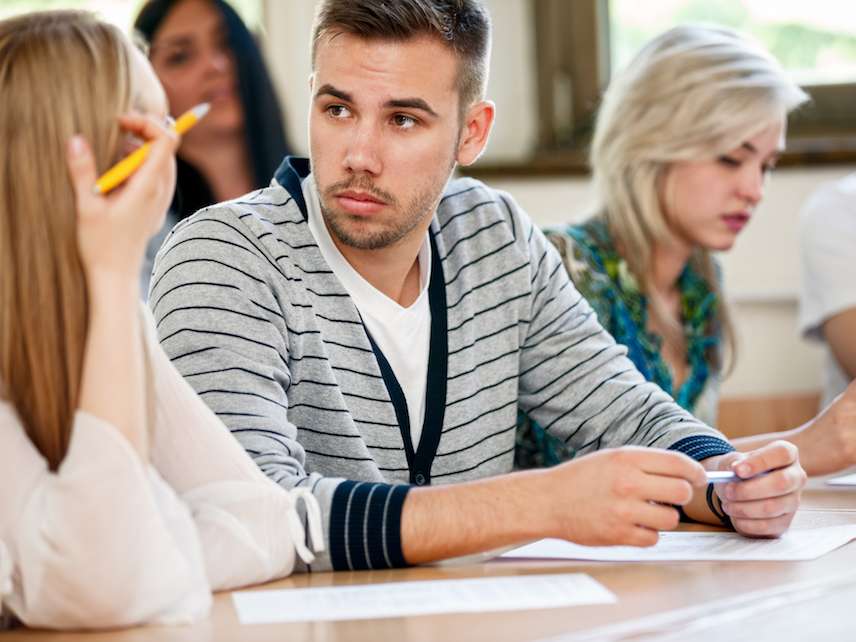 Those who doubt Education Secretary Betsy DeVos's contention that federal Title IX guidance has prompted college officials to violate students' rights should look no further than Wichita State University, and its particularly galling example of sexual harassment hypersensitivity.
The administration at the public university is investigating a fraternity, Phi Delta Theta, after two members hung a banner that read "new members free house tours" from a window for five minutes, which was enough time for someone to spot it and tweet a picture of it. That happened last Friday; the fraternity has already suspended the offending members.
"The incident is being investigated as a potential conduct violation as well as a potential Title IX violation," reported The Sunflower, a student publication.
But… why?
Student Affairs Vice President Teri Hall told The College Fix, "The reason that it was 'inappropriate' was because it was hung on the side of the house facing sorority recruitment, implying that women participating in recruitment should come to their house."
This is not a very satisfying answer. Do young men really violate university policy when they invite young women to come socialize with them? Read in a maximally unflattering light, the banner seems juvenile but harmless.
But these are not ordinary times, Hall told The Sunflower:
With recruitment starting Thursday night, Hall said the incident brought "a chilly climate to campus." While the banner was "absolutely inappropriate," Hall said, the timing escalated the incident, both with recruitment beginning and with the apparent rollback of Title IX by Secretary of Education Betsy DeVos.
"I think we're all a little more sensitive because of the statements Betsy DeVos made (Thursday)," Hall said.
University officials wrongly interpreting Title IX guidance to mean that they are required to quash any sexually-tinged expression is exactly the kind of insanity DeVos's speech is intended to counteract. But here we have an example of university officials citing the speech as justification for continuing the insanity.
The Foundation for Individual Rights in Education sent an open letter to Hall on Tuesday evening informing her that "the banner hung at Phi Delta Theta is clearly protected by the First Amendment and does not constitute sexual harassment." As FIRE's Ari Cohn explained:
Even assuming that the banner was in fact intended to be sexual in nature, it would still not constitute sexual harassment, as it was not so "severe, pervasive, and objectively offensive" that it deprived any WSU students of access to an educational opportunity or benefit. Indeed, according to WSU itself, the banner was only visible for five minutes. Such a fleeting occurrence, combined with the fact that the banner's relation to sex was tenuous at best, simply cannot reasonably be said to have impacted any student's ability to fully participate in campus life. Equally troubling and unacceptable is Hall's comment in relation to this incident that the campus community is more sensitive because of perceptions about Betsy DeVos' Title IX enforcement plans. To be clear: such subjective heightened sensitivity is not a license to violate established law.
The letter asks Hall to immediately suspend the investigation and re-affirm the university's commitment to protecting student's free speech rights.
Did the Obama-era Office for Civil Rights foresee that its 2011 "Dear Colleague" letter regarding Title IX compliance would eventually lead universities to investigate male students for expressing the slightest, fleeting, theoretical sexual interest in unspecified but presumably female students? Probably not. But whatever the intention, Title IX has become a hammer, and every problematically sexual statement is a nail. That's why DeVos was absolutely right to signal an end to the era of "rule by letter."
For more on the injustices birthed by Title IX overzealousness, read Emily Yoffe's can't-miss series of articles in The Atlantic: here, here, and here. (Reason's Elizabeth Nolan Brown expounds upon some of the points raised in Yoffe's second article here.)