The Trump Administration Is Cutting Obamacare's Advertising Budget by 90 Percent. Good.
Republicans have no responsibility to prop up the previous administration's flawed programs.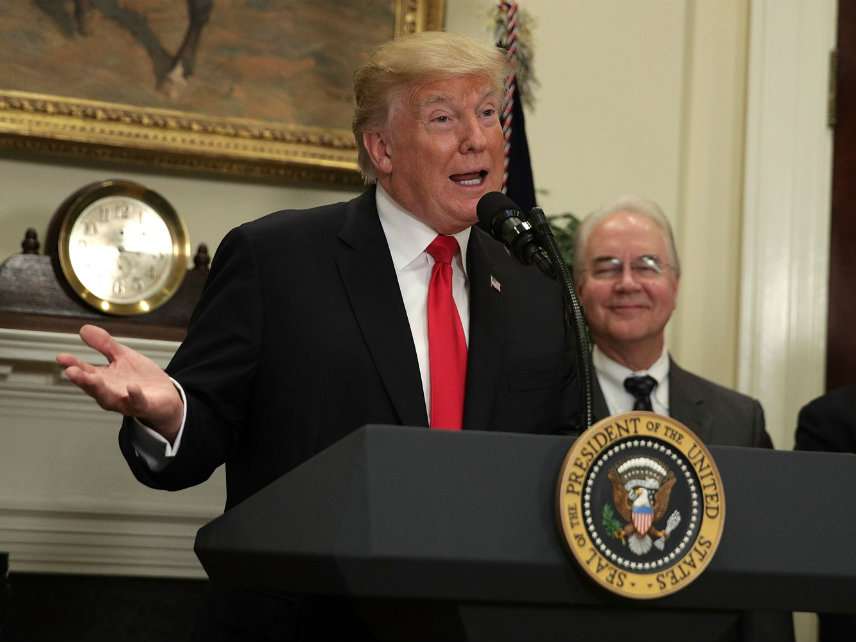 Last week, the Trump administration announced that it would reduce the advertising budget for Obamacare by 90 percent.
For this, the Trump administration has been accused of intentionally sabotaging the health care law. There is little evidence that the promotional funds were cost-effective, however. And even if the Trump administration is undermining the law, that is only possible because of the poor political strategy that went into crafting and passing the legislation in the first place. Republicans have no responsibility to prop up flawed Democratic programs.
For its first open-enrollment period, which begins later this year, the Trump administration is dropping the advertising budget for the health care law from $100 million to $10 million, and cutting in-person assistance from about $62 million down to $36 million, making for a total reduction about 72 percent.
On the surface, there is something faintly unsavory about the federal government spending a Hollywood blockbuster-sized budget each year to advertise private insurance plans that are already heavily subsidized for most enrollees. Supporters of the health law argue that the public has a stake in the law, because when sign-ups fall, premiums increase, and so, in turn, do subsidies, which are paid for by taxpayers. These funds, they say, are necessary for signing up difficult-to-reach populations that are crucial for the law's success.
But a substantial increase in promotional funding under the Obama administration last year did not result in increased Obamacare sign-ups. In 2015, the Obama administration spent $50 million on advertising; in 2016, it increased that figure to $100 million. (In the final days of sign-ups, the Trump administration pulled about $5 million worth of ads.) Yet enrollments through HealthCare.gov, the federal insurance portal relied on by most states for sign-ups under the law, fell from 9.6 million to 9.2 million.
Meanwhile, the Navigator program, which handles in-person outreach, cost $62.5 million last year, but was responsible for signing up 81,426 people—or 0.7 percent of enrollees.
According to a fact sheet circulated by the Department of Health and Human Services (HHS), one Obamacare navigator was paid $200,000 and managed to sign up just one person. The 10 most expensive navigators cost taxpayers $2.77 million and enrolled just 314 people in total. Navigators set their own sign-up goals in many cases, but only 22 percent hit their enrollment targets. Going forward, HHS will continue to pay navigators—but only for successful sign-ups. In other words, HHS is adjusting financial incentives and paying for performance, which is typically something the liberal health policy community approves of.
But even those who continue to believe in the value of a publicly funded PR push for the health care law should take a moment to consider the obvious political miscalculation that made it possible in the first place.
Back in 2009 and 2010, as Democrats worked towards the passage of Obamacare, Republicans were unified in opposition. Democrats, to the cheers of their supporters, proceeded to pass it on a party line vote anyway, knowing full well how Republicans felt about the law. Yet now that Republicans are in power, supporters of Obamacare are arguing that Republicans somehow have a responsibility to spend taxpayer money to prop it up, just as Democrats would if they still held power.
Were the situation reversed, it is unlikely that Democrats would find an argument along these lines convincing. Do Democrats believe they have an obligation to support Republican initiatives that they and their base have broadly and firmly opposed from the outset? If so, that presents some interesting opportunties for the unified GOP government.
In any case, the partisan passage of Obamacare was a recipe for years of policy failures. To knowingly pass a law that requires substantial support from the opposition party over the loud and unified objections of the opposition party is to pass a dysfunctional law. Yet in passing Obamacare, and then insisting that Republicans have an obligation to rescue it from its own inevitable flaws, that is exactly what Democrats did.