Lawsuits Fly Against Trump Administration's Reversal on Transgender Military Service
Three separate attempts to block memo calling for new ban.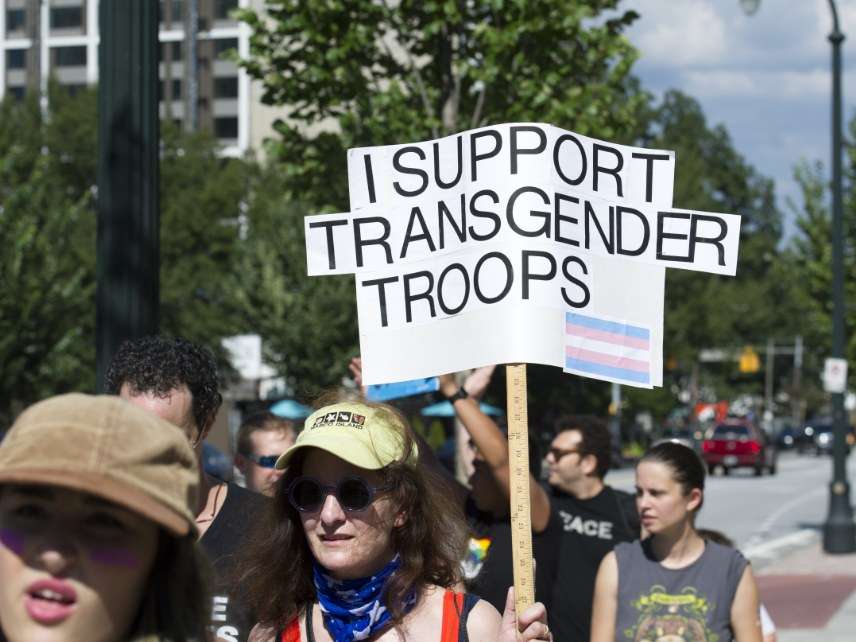 Regardless of how one might feel about transgender people serving the military (if one feels anything at all), it really is worth understanding that President Donald Trump's memorandum reversing Department of Defense policy has the potential to truly screw over identifiable people currently serving.
The memorandum, released Friday amid a bunch of other high-profile news moments, orders the Department of Defense to reverse a policy still being implemented and refuse to accept new people who identify as transgender into the military.
For transgender people currently serving, it halts any Defense Department funding of sexual reassignment surgery unless they've already begun treatment.
The bigger issue for transgender troops is the memorandum calls on Secretary of Defense James Mattis to decide what to do with members of the military now openly serving. After President Barack Obama announced the policy change allowing in trans troops, members of the active military took the opportunity to "come out" as transgender and began transitioning.
These members now risk ejection for having identified themselves as transgender. Imagine Trump ordering the military to revert back to "Don't Ask, Don't Tell," and the fate of every military member who had come out of the closet.
Subsequent lawsuits should not be a surprise. Identified current members at risk should have legal standing to fight the order. One lawsuit had been filed in the name of a handful of transgender troops even before the memo was issued. Two more groups representing transgender military members have since followed suit.
Lambda Legal represents a currently serving transgender soldier and two transgender people who say they want to enlist. Two civil rights organizations (Human Rights Campaign and Gender Justice League) are also plaintiffs. The lawsuit notes Trump's now-familiar lack of interest in any sort of process or planning when announcing policy changes:
This unilateral decision to exclude transgender people from the military was made without any meaningful deliberative process and was directly contrary to the considered judgment of the military. For example, President Trump failed to engage in any meaningful consultation with Secretary of Defense James N. Mattis or the other range of military officials who would ordinarily be consulted about a policy change of this nature and magnitude.
The lawsuit contends the policy change violates the Fifth Amendment due process rights of transgender troops and the First Amendment and is "unsupported by any compelling, important, or even rational justification."
The American Civil Liberties Union tweeted this morning they are also filing a suit making very similar claims. They had already been planning to do so when Trump announced the change of policy via a series of tweets.
The White House memo is not quite as harsh as one might think, based on news coverage. Trump is claiming the Obama administration did not adequately research whether transgender troops serving openly would "hinder military effectiveness, disrupt unit cohesion, or tax military resources" and that the whole issue needs more study. He's essentially saying "Prove it!" to people who are arguing that transgender troops have been working out just fine.
And should the court cases move forward, that's exactly what the plaintiffs will attempt to do: Show that transgender troops are doing their jobs and are accepted by the military. Research indicates that (much like the bathroom panic) the accommodation of transgender troops in the military is not causing or is going to cause any sort of crisis.
The memo puts Mattis in a sort-of bind. If he decides currently serving transgender troops are not causing problems and should be allowed to continue to serve, does that provide the proof that Trump is asking for? And if so, how does Trump respond?
It would not be surprising, then, for Mattis to be pressured to find reasons to eject currently serving transgender troops. Otherwise, what was the point of all of this?