Trump Pardons America's Worst Lawman, Sheriff Joe Arpaio
The notorious former Maricopa County, Arizona, sheriff was held in contempt by a federal judge.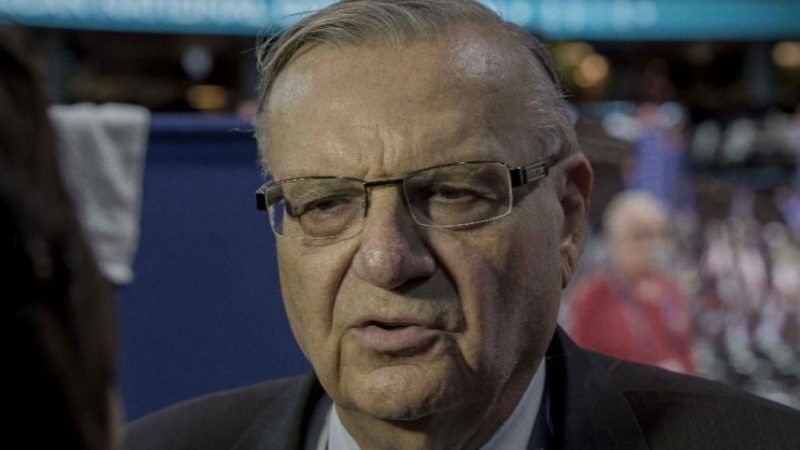 (Mark Reinstein/ZUMA Press/Newscom)
Donald Trump pardoned former Maricopa County Sheriff Joe Arpaio on Friday, using the first official pardon of his presidency to clear the record of one of America's most abusive, racist, and divisive lawmen.
In pardoning Arpaio, Trump has given a free pass to an unrepentant and habitual abuser of power, a man with insufficient regard for the Constitution he swore to uphold or the separation of powers it enshrines. The move should come as no surprise. The two are kindred spirits.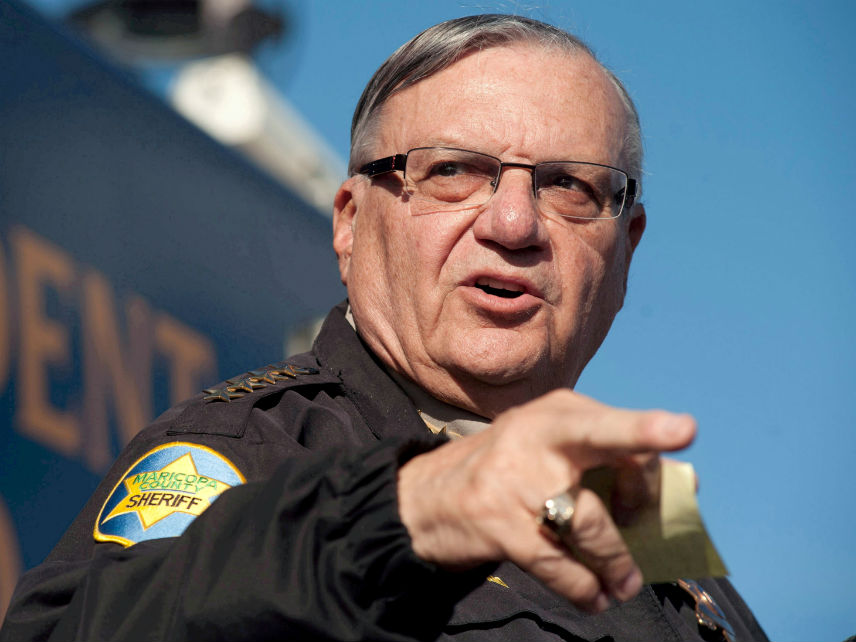 A federal judge found Arpaio, who was notorious for jailing inmates in a sweltering desert tent camp, in contempt of court in July for flouting a 2011 order to stop the unconstitutional racial profiling and detainment of Latino residents.
Trump announced in an interview with Fox News earlier this month that he was "seriously considering" pardoning Arpaio, who endorsed Trump in 2016. "He has done a lot in the fight against illegal immigration," Trump told Fox. "He's a great American patriot and I hate to see what has happened to him."
Civil liberties and immigration advocates loathed Arpaio, and his pardon, they say, marks another ugly moment of Trump using his office to prop up bigotry and nativism. In a statement earlier this month, the American Civil Liberties Union (ACLU) said pardoning Arpaio would be "an official presidential endorsement of racism."
Arpaio was investigated twice by the Justice Department's Civil Rights Division for constitutional abuses. Vanita Gupta, the former head of the division under the Obama administration, decried the decision.
"Rather than taking action to unite our nation and heal the wounds he has opened, President Trump is considering using the power of his office to sow hate and division," Gupta said in a statement. "Sheriff Joe Arpaio personifies the same bigotry and intolerance we witnessed in Charlottesville. A pardon of Sheriff Arpaio would be excusing racist and illegal policing policies."
"If President Trump uses his power to pardon a discredited law enforcement official who persistently engaged in illegal racial profiling of the Latino community, it will not be a dog whistle to the so-called 'alt right' and white supremacists, but a bull horn," she continued. "No amount of tweets or forced remarks read from a teleprompter could undo the damage."
Arpaio, the former self-styled "toughest sheriff in America," was elected sheriff of Maricopa County, Arizona, in 1993. He made a national name for himself with his unconventional and demeaning incarceration practices; inmates lived in a tent city in the desert heat and were forced to wear old-timey striped uniforms, as well as pink underwear. Among Arpaio's other ignoble achievements were running the only female and juvenile chain gangs in the nation.
Arpaio further raised his profile by ordering large-scale sweeps of Latino neighborhoods and traffic stops of Latino drivers to round up illegal immigrants. He also repeatedly peddled birther conspiracy theories about Barack Obama.
Arpaio's litany of offenses against decency and constitutional principles led Reason to name him one of its "45 enemies of freedom" in 2013.
But for being such an outspoken proponent of the rule of law, Arpaio has never been a fan of the law as it applies to himself. The contempt charge was the culmination of decades of battle between Arpaio and the courts, starting in 1995 when a court ordered him to improve health care and mental health treatment in his jails.
That same year, the Department of Justice (DOJ) Civil Rights Division launched an investigation into alleged excessive force and other constitutional violations at the Tent City jail. Talking Points Memo obtained many of the reports from the investigation:
A DOJ inquiry completed that year found a "pattern of excessive force" by the sheriff's staff. It said officers were using dangerous tactics to deal with inmates, including hog tying them and using stun guns on them when they were already detained with handcuffs or strapped into restraining chairs. The investigation found the jails were overcrowded and understaffed. It said internal investigations into use of force by officers were often lacking in details and conclusions.

"Overall, the excessive use of force by staff must be addressed immediately," investigator Eugene Miller wrote in the report, dated January 10, 1996. "In this regard, there are some systemic issues…which allow instances of excessive force to slip between some administrative cracks and thus, go either undetected or unconfronted."
The Justice Department filed a civil rights lawsuit against the Maricopa County Sheriff's Office (MCSO) in 1997, but the suit was dismissed in 1998.
In 2007, the Maricopa County Board of Supervisors settled a lawsuit filed by the founders of the Phoenix New Times newspaper against Arpaio and the board for $3.5 million. The newspaper founders sued after they were arrested by MCSO deputies for publishing details of a grand jury subpoena for the paper's notes and sources for its coverage of Arpaio. The charges against the newspaper were quickly dropped. The Maricopa County attorney and deputy attorney, on the other hand, were both later disbarred for ethical violations involving campaign finance corruption. Arpaio's chief of staff, who once deployed deputies to spy on Arpaio's political opponents, was fired for his role in the same scandal.
In 2008, Arpaio's jail lost its accreditation after investigators found jail officials provided false information about conditions inside the facility. The Phoenix New Times reported that, at the time, there had been 2,200 lawsuits filed against Arpaio for the conditions inside his jail.
The Justice Department's Civil Rights Division launched another investigation in 2008 into the Maricopa County Sheriff's Office. However, the investigation "was delayed when MCSO repeatedly refused to provide the United States with access to pertinent material and personnel," the Justice Department said in a letter describing its findings.
The Justice Department eventually sued the MCSO to gain its cooperation. In 2011, the department released its report, finding that Arpaio's office engage in a pattern and practice of unconstitutional policing.
"Specifically, we find that MCSO, through the actions of its deputies, supervisory staff, and command staff, engages in racial profiling of Latinos; unlawfully stops, detains, and arrests Latinos; and unlawfully retaliates against individuals who complain about or criticize MCSO's policies or practices," Assistant Attorney General Tom Perez wrote.
The Justice Department sued the MCSO yet again in 2012 after it failed to reach an agreement to resolve the constitutional abuses.
For the next five years, Arpaio continued to flout orders by federal judges to improve the conditions inside his jails and cease the unconstitutional racial profiling of Latinos. The MCSO continued to arrest and detain suspected undocumented immigrants, without any pending state charges against them, and hand them over to federal law enforcement, despite a court order barring the practice. The MCSO also held undocumented immigrants past their release date to ensure they were handed over to federal immigration authorities.
The U.S. Attorney's Office charged him with criminal contempt of court last October. In her ruling finding Arpaio in contempt this April, U.S. District Court Judge Susan Bolton cited Arpaio's obstinacy.
"Not only did Defendant abdicate responsibility, he announced to the world and to his subordinates that he was going to continue business as usual no matter who said otherwise," she wrote.
Despite condemnations from national civil rights groups and federal courts, Arpaio was politically untouchable throughout his career. In 2012, Arpaio won reelection by 6 points, and in 2008 he clobbered his opponent by 13 points.
But in 2016, Maricopa County voters finally had enough, and Arpaio lost to a candidate backed by a political action committee funded by liberal megadonor George Soros.