I Became a Pot Felon at 18. I'm Owed More Than an Apology.
Maybe reparations from the federal government are in order.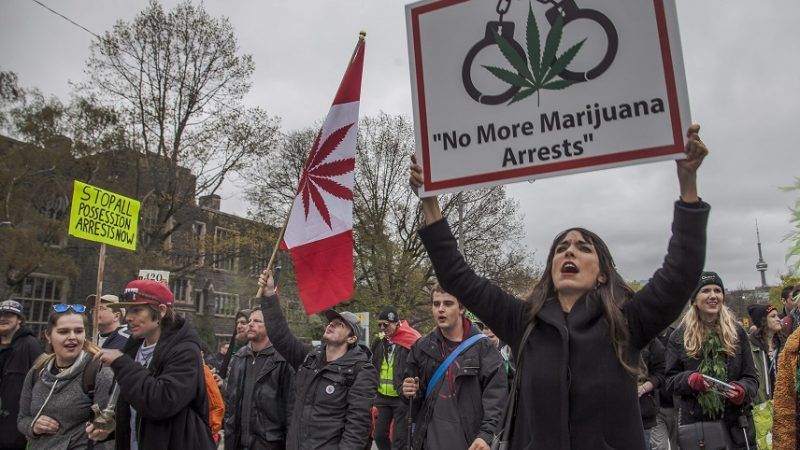 (Johnny De Franco/ZUMA Press/Newscom)
When asked why I advocate for legalization of recreational drugs, I give a simple answer: Because the government doesn't know what's best for me or others. But there's another reason, and it's far more personal. Twenty-five years ago, as a college freshman, I was arrested by undercover cops for selling $80 worth of marijuana to fellow students. I was convicted of two felonies: distribution and possession of a narcotic. I spent a month in jail.
Long after the ordeal, I feel resentment at the United States government and the old conservative guard who still mostly run it. It's important to understand that becoming a felon, even for a minor non-violent crime, is no small issue when you're 18 years old. In addition to the government taking away your voting and gun rights, and forcing you to submit to random drug tests, a felony makes it extremely difficult to ever get a normal job. A criminal rap is a serious and derogatory social badge.
You'd think there would be some consolation that since my run-in with the law in 1992, America has been slowly withdrawing from its conservative anti-drug fervor. Currently, 28 states allow medical marijuana use, and eight states now have made recreational use legal. Eventually, pot will likely become legal everywhere, including $80 amounts to students on college campuses.
So all is well, right? Wrong.
Millions of other minor drug offenders like me are left holding the bag. It wasn't just the defamatory criminal sentence many of us received. The government confiscated my Jeep Comanche and my beloved Honda motorcycle during the ordeal. What little money I had I spent on lawyers and judicial filings in our convoluted court system. My total financial loss a quarter of a century ago was $20,000 dollars. Had I been able to invest that money in the stock market, for example, I'd have over $100,000 now.
The American Civil Liberties Union reports that 8.2 million people in America were arrested between 2001 and 2010 for marijuana offenses. The Washington Post says at least 137,000 people sit in US jails on any given day of the week for weed.
Now that the country is on its glacial way to likely legalizing marijuana and taxing the sale of it like it does beer, where is the official apology, to me and all those others? For many of us, an apology—and the government's inevitable mea culpa when they likely make pot legal across the land—won't be enough.
Some of us also want compensation for the financial damage forced upon us—for the literal theft of our property. Maybe that means a class action lawsuit insisting on government reparation for all damage caused, maybe in the form of tax credits or proceeds from the sale of unused Federal land, so as not to abuse the American taxpayer further over the drug war. It's safe to say—given the damage caused and the lives affected—such a suit would likely be in the billions of dollars.
Whatever happens, don't expect minor drug offenders to forget the harm Uncle Sam has caused now that smoking a joint is finally becoming legal and acceptable.