Trump's Idea of Uniting the Country: Complaining About Removal of Confederate Memorials
But guess what happens whenever art gets in the way of one of his developments?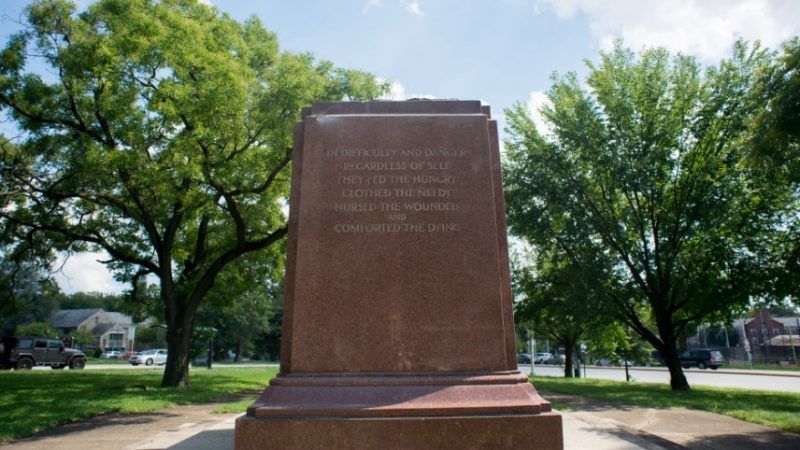 (Erin Scott CreditErin Scott/Polaris/Newscom)
Another Twitter flare-up from President Donald Trump this morning is going to command the news cycle for the day. Trump began ranting about Republican Sens. Lindsey Graham (South Carolina) and Jeff Flake (Arizona), consistent critics of Trump's behavior. Trump called Graham a publicity seeker and expressed happiness that Flake was facing a primary opponent.
And then Trump decided to wade back into the Confederate monument debate, after having been blasted on all sides yesterday. A trio of tweets to get your morning started:
Sad to see the history and culture of our great country being ripped apart with the removal of our beautiful statues and monuments. You…..

— Donald J. Trump (@realDonaldTrump) August 17, 2017
…can't change history, but you can learn from it. Robert E Lee, Stonewall Jackson—who's next, Washington, Jefferson? So foolish! Also…

— Donald J. Trump (@realDonaldTrump) August 17, 2017
…the beauty that is being taken out of our cities, towns and parks will be greatly missed and never able to be comparably replaced!

— Donald J. Trump (@realDonaldTrump) August 17, 2017
Trump knows all about removing art that will be missed and cannot be replaced. When Trump was building his tower in New York City he had destroyed art deco friezes a museum wanted to preserve because it delayed the demolition of a skyscraper that needed to come down.
Trump also has a monument to a civil war battle that never happened at his golf club in Virginia.
As for the slippery slope contention—that this will lead to the tearing down of non-Confederate memorials because people are offended—Eric Boehm and Ronald Bailey have both explained effectively here at Reason how easy it is to draw a line between American historical figures who have owned slaves or have done other bad things versus those who waged war with the United States in order to preserve slavery.
It is worth noting that Trump is hardly an outlier in not wanting monuments to come down. An NPR poll released this week showed that 62 percent of Americans want these statues to remain "as a historical symbol." A remarkable nugget from the poll: Even more African Americans (44 percent) want them to remain than want them removed (40 percent). Unsurprisingly, more African Americans were unsure what to do with them (16 percent) than white people (8 percent) or Latino people (11 percent) polled.
There are many ways to interpret these results that have nothing to do with support for the Confederacy. The results may say more about the unease of many Americans with what appears to be censorship (even when it's not actually censorship).
Perhaps it would be easier if these statues were not in the hands of government, and the social cost of the controversy shouldered by private individuals. And as an added bonus, it wouldn't cost taxpayers to deal with it. I joked on Twitter that cities should sell the Confederate statues to people who care so much about preserving them and redistribute the money back to its citizens.
In Los Angeles, a memorial for Confederate soldiers at Hollywood Forever Cemetery was just removed at the request of the United Daughters of the Confederacy, the group who placed the marker there at the 1920s. Yes, there was some social pressure to remove it, obviously, but private people making the decision about whether to display such a memorial is preferable to government officials deciding the correct way to remember our Confederate history and Civil War.