Violent Charlottesville Protester Claims 'Free Speech Does Not Protect Hate Speech'
That is not the law, and it shouldn't be.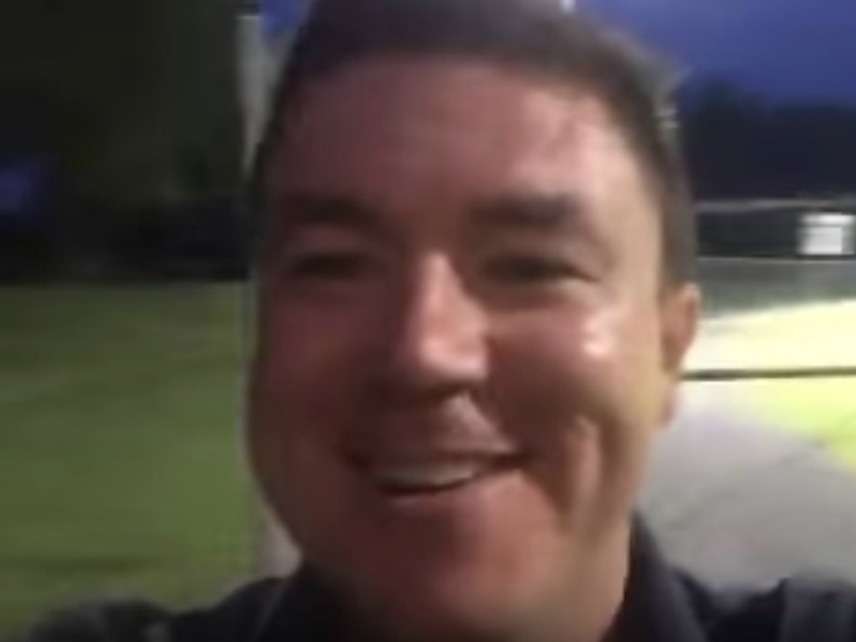 Yesterday Jason Kessler, who organized the white supremacist rally in Charlottesville, Virginia, that ended in deadly violence on Saturday, tried to hold a press conference at City Hall. As Ron Bailey reported here, the event was shut down by "an angry crowd" that "surged in and grabbed" Kessler. Here is how Jeff Winder, a protester who punched Kessler, justified his violence in an interview with The New York Times:
Jason Kessler has been bringing hate to our town for months and has been endangering the lives of people of color and endangering other lives in my community. Free speech does not protect hate speech.
Thus we see the logical consequences of the idea that Howard Dean, former chairman of the Democratic National Committee, endorsed last spring by way of explaining why a public university's decision to cancel a speech by conservative commentator Ann Coulter did not raise any constitutional issues. If, as Dean claimed, "hate speech is not protected by the First Amendment," anyone who is deemed to be engaging in it can be censored by the government or even forcibly silenced by concerned citizens. If Kessler has no right to say what he wants to say and his message endangers people's lives, he can hardly expect the police to protect him when someone like Winder takes direct action to neutralize the threat.
It cannot be said too often that Winder, like Dean, is simply wrong as a matter of law. In the United States, "hate speech" is not a legally defined or constitutionally relevant category. Time and again, the U.S. Supreme Court has made it clear that even the most repugnant bigotry is protected by the First Amendment.
The idea that "the Government has an interest in preventing speech expressing ideas that offend…strikes at the heart of the First Amendment," Justice Samuel Alito noted last January in Matal v. Tam, which overturned the federal ban on registration of disparaging trademarks. "Speech that demeans on the basis of race, ethnicity, gender, religion, age, disability, or any other similar ground is hateful; but the proudest boast of our free speech jurisprudence is that we protect the freedom to express 'the thought that we hate.'"
What about the argument, made explicitly by Dean and implicitly by Winder, that hate speech is not protected because it incites violence? The Court has addressed that issue as well. In the 1969 case Brandenburg v. Ohio, the Court rejected criminal charges against a Ku Klux Klan leader, Clarence Brandenburg, who was accused of advocating violence in the service of a political cause and participating in a gathering aimed at promoting "the doctrines of criminal syndicalism."
The charges stemmed from a KKK rally that featured weapons, hoods and robes, a cross burning, and racist and anti-Semitic rhetoric. "Personally," Brandenburg said, "I believe the nigger should be returned to Africa, the Jew returned to Israel." He also alluded vaguely to the possibility of violent resistance. "We're not a revengent organization," he said, "but if our president, our Congress, our Supreme Court, continues to suppress the white, Caucasian race, it's possible that there might have to be some revengeance taken." The Court ruled that such speech is protected by the First Amendment unless it is aimed at inciting "imminent lawless action" and is likely to have that effect.
When people like Dean and Winder say that hate speech isn't legally protected, perhaps what they mean is that hate speech shouldn't be legally protected. If so, they should explain how that would work in practice: How would hate speech be defined, and who would define it?
As Katherine Mangu-Ward observed this morning, these are not details that can be safely worked out later once we all agree that hate speech does not deserve constitutional protection. Unless we can clearly say what hate speech is and is not, that proposition is not just impractical but incomprehensible. The phrase means different things to different people, whose opinions are bound to be colored by their ideologies and political allegiances. Not to put too fine a point on it, but not everyone will agree with Howard Dean that Ann Coulter's jokes qualify as hate speech, or with Rush Limbaugh that the rhetoric of Black Lives Matter activists does. The difficulty of reaching agreement on a workable definition suggests how dangerous it would be to carve out a new exception to the First Amendment.