No, Virginia State Police Weren't Outgunned By Militiamen
Gov. Terry McAuliffe says militia members at Saturday's Charlottesville rally had better equipment than state troopers. Not really.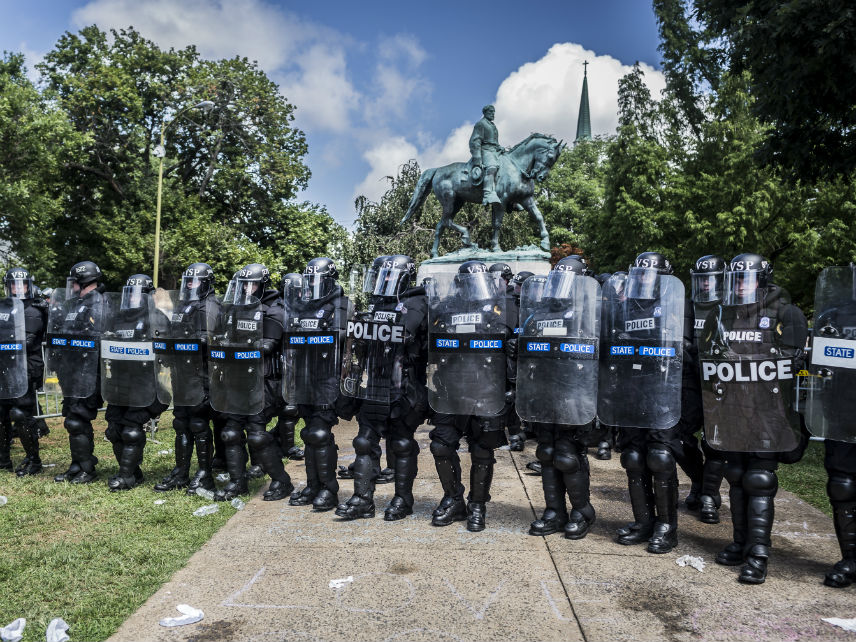 Virginia police have come under criticism for not quelling violence at Saturday's deadly white nationalist rally in Charlottesville, but Gov. Terry McAuliffe said in an interview with The New York Times that militia members at the rally were better equipped than state police.
The Virginia Democrat told the Times that law enforcement arrived to find a line of militia members who "had better equipment than our State Police had." In longer comments that were later edited out of the Times' story, McAuliffe said that up to 80 percent of the rally attendees were carrying semi-automatic weapons. "You saw the militia walking down the street, you would have thought they were an army," he said.
McAuliffe claimed today on Pod Save the People, a podcast by Black Lives Matter activist Deray Mckesson, that the militiamen "had better armor than my state police and national guard had."
McAuliffe's statements were credulously repeated by many, including Rep. Keith Ellison (D-MN), who warned in a tweet that armed militias were "rivaling state power."
McAuliffe, a former Democratic National Committee chairman with no previous executive experience, speaks as though state and local police have have not received large amount of military equipment. The notion that police are outgunned by heavily armed private citizens is a common trope among gun-control advocates, but it bears little resemblance to reality.
Like every other state in the U.S., Virginia has received millions of dollars' worth of surplus military equipment over the years through the Pentagon's 1033 program, which distributes military gear to state and local police. While much of that equipment consists of things like thermal gloves and filing cabinets, it has also included M-16s, body armor, grenade launchers, bayonets, and armored personnel vehicles.
The Virginia Pilot reported in 2014:
Across Virginia, the program has sent 1,760 assault rifles and 116 12-gauge shotguns to local and state agencies, according to Department of Defense records. In addition to Virginia Beach's mine-resistant vehicle, known as an MRAP, 15 other cities and counties, including York County and Franklin, took delivery of the armored vehicles, according to the records.
Here's a photo of an armored vehicle—a Lenco BearCat, a model widely used by police departments around the country—that Reason's Ron Bailey snapped on the streets of Charlottesville on Saturday:
— Ronald Bailey (@RonaldBailey) August 12, 2017
The police department of the University of Virginia in Charlottesville, where Saturday's rally occurred, obtained 12 M-16 rifles through the 1033 program. Virginia news outlet NBC12 reported that between 2007 and 2011 Albemarle County, where Charlottesville is located, "stockpiled 154 guns, mainly 5.56-millimeter rifles. That was the most weapons taken through the program in the entire state by a single police agency."
The 1033 program came under scrutiny in the aftermath of the 2014 protests in Ferguson, Missouri, where news wire photos showed police in heavy tactical gear forcefully dispersing crowds. Under changes instituted by the Obama administration, the program no longer provides body armor and has recalled equipment like tracked personnel carriers (which does not include MRAPs) and grenade launchers. Last year, demonstrators against the Keystone XL oil pipeline in North Dakota were faced with similar formations of militarized police, as well as the national guard, which deployed two surface-to-air missile launchers to the scene.
Whether Virginia police should have responded to the Charlottesville rally with a similar overwhelming show of force is a separate question. And none of this is meant to discount the incredibly fraught situation police were forced to handle or the risks they faced in doing so. But it is simply not factual to suggest that state firepower is at risk of being overwhelmed by right-wing militias.
McAuliffe's estimate that 80 percent of rally attendees were open-carrying guns—which is legal in Virginia—also appears overblown to judge from photos of the event. Luckily, not a shot was fired by police, by the militias, or by any armed counterprotesters.
The Virginia State Police did not immediately respond to a request for comment.
This article has been updated to reflect that the 1033 program no longer provides equipment such as body armor, bayonets, and tracked armored personnel vehicles.