Charlottesville's Legacy Shaping Up As Exact Opposite of What Alt-Right Wanted
After this weekend's white-supremacist rally in Virginia, more Southern cities announce plans to take down Confederate monuments.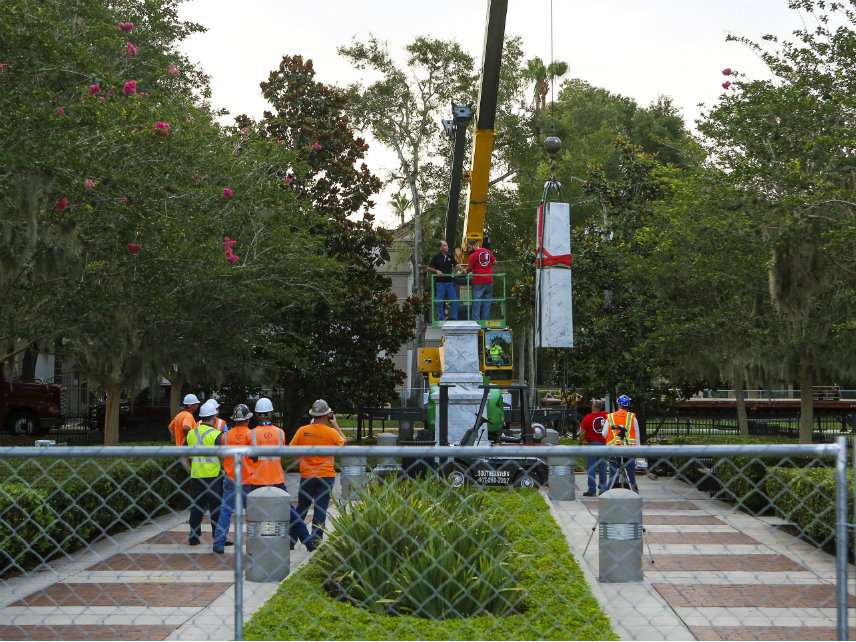 Before last weekend's "Unite the Right" rally in Charlottesville devolved into violence and tragedy, the gathering's ostensible goal was to preserve a statue of Confederate Gen. Robert E. Lee. Earlier this year, city officials announced plans to remove the statue, erected in 1924, from the park once named in Lee's honor and recently rechristened Emancipation Park. An ongoing lawsuit has left the future of Charlottesville's Lee statue unclear at the moment.
But this weekend's rally was hardly a boon for the statute-keepers' cause more broadly. The only thing the U.S. right seems to have united on is condemnation of protesters playing "patriots" while wearing the insignia of two entities—the Confederacy and Nazi Germany—that declared war on the United States. Meanwhile, mayors of several Southern cities have declared an intent to remove memorials to Confederate generals from their city centers.
On Monday, Baltimore Mayor Catherine Pugh said she has reached out to contractors about removing four Confederate-era monuments from central Baltimore and transferring them to Confederate soldier cemeteries around Maryland.
In Lexington, Kentucky, Mayor Jim Gray has announced plans to move two Confederate monuments from an area on the city's Main Street to a cemetery for Confederate veterans.
Another Kentucky mayor, Louisville's Greg Fischer*, said Sunday that the city's Commission on Public Art would review pieces throughout the city that could be interpreted as honoring racism and slavery. "I recognize that some people say all these monuments should be left alone, because they are part of our history," said Fischer. "But we need to discuss and interpret our history from multiple perspectives and from different viewpoints. That's why a community conversation is crucial."
Commenting on a statue of Confederate officer John B. Castleman that was vandalized Saturday, Fischer added that, "for many, this statue is a beloved neighborhood landmark, but for others, it's a symbol of a painful, tragic and divisive time in our history—which gets at the complexity of this conversation. I believe this is community conversation worth having."
In the wake of this weekend's events in Charlottesville, even some prominent GOP figureheads have spoken out in support of plans to remove Confederate monuments.
"We are the Party of Lincoln and a party that stands against divisive and hurtful symbols," Republican National Committee Chairwoman Ronna McDaniel told BuzzFeed yesterday. "As Americans we can find ways to preserve our history but only if we are working toward an inclusive future that separates us from a hateful past."
Critics of moves like these tend to warn of slippery slopes—once we start judging historical figures by today's moral standards, most will come up wanting. Where does the call to remove relics of racism, sexism, and bigotry end? Many of the founding fathers were slaveowners, after all. Generations of Very Important Dudes didn't have such great views of women. And so on.
But we should also beware reflexively embracing the status quo just because there may be some merit to slippery-slope fears. It's not an all or nothing proposition here—one can support, say, Charlottesville removing this statue in this instance and still oppose broader calls to censor historical monuments or artifacts. One can support removing a particular figure's statue from a particular place of honor while still believing there is some place for the display of that work, such as a museum or a cemetery.
And one can oppose the social-justice-ification of popular politics while remembering that cities are dynamic places, which can and should evolve to meet the demands and preferences of their populaces.
Those calling for blanket bans on removing Confederate monuments are guilty of exactly the kind of authoritarianism they accuse their opponents of promoting. Ultimately, these decisions should be left to the people and elected officials of the individual places affected by such controversies.
Correction: Greg Fischer is the mayor of Louisville, not Lexington, Kentucky.