White Nationalist Jason Kessler Flees His Press Conference in Charlottesville
Extremists on both the left and the right are valorizing and defending tribes, not individual liberty.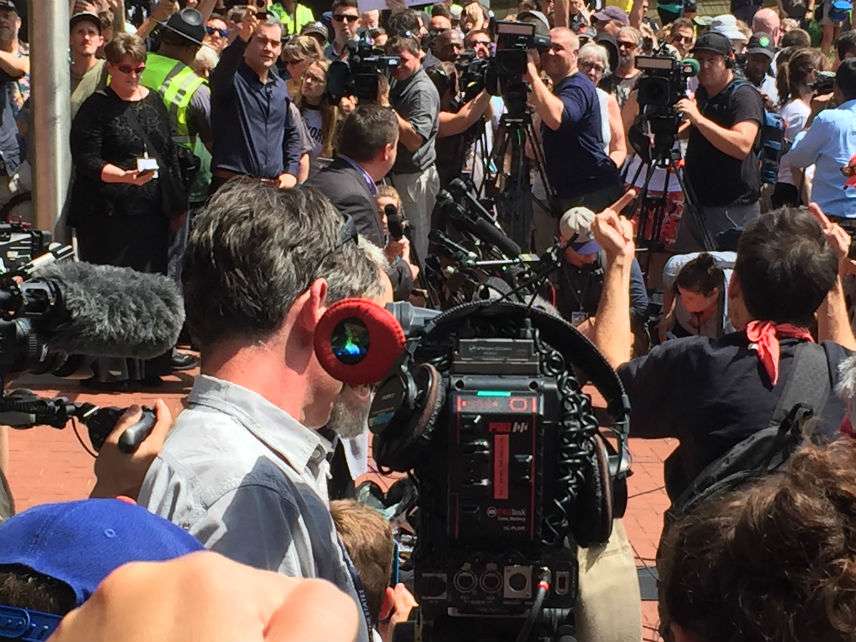 Charlottesville, Va.- An angry crowd surged in and grabbed Unite the Right rally organizer Jason Kessler, preempting what was to have been a press conference at 2 p.m. today in front of City Hall across from the city's famous free speech wall.
Kessler, white nationalist Richard Spencer and other would-be rally speakers, have said they will schedule a press conference for tomorrow in Washington, DC.
Police escorted Kessler from the scene after he managed to break free, calling for police help. A line of state police had been standing behind Kessler as journalists approached to take close-up photographs of him. Seeing no reaction from the police when the media got near Kessler, some members of the crowd saw that as an opportunity to rush in and grab him.
As many as 50 video crews and several hundred people gathered as the time for the event drew near. Before Kessler arrived several women had created a memorial for the two officers, Lt. H. Jay Cullen and Trooper Berke M.M. Bates, who died yesterday when the helicopter they were flying for rally surveillance crashed.
As Kessler, who was dressed in suit approached the microphones and began speaking, he was loudly booed by the crowd. If he had any supporters at the event they kept a decorous silence.
Drowning out Kessler, the crowd shouted, "Shame, shame, shame," "Accomplice" and "Blood on your hands." The chants apparently referred to the death of Heather Heyer, killed when an alleged alt-right protest participant rammed his car into two cars and as many as twenty people on the downtown mall.
James Fields Jr. of Ohio was charged with second-degree murder in connection with the incident.
Local TV news managed to get audio of some of Kessler's comments before the Sunday fracas. Kessler said police were responsible for failing to prevent the outbreak of violence yesterday. "The hate that you hear around you; that is the anti-white hate that fueled what happened yesterday," is how Kessler characterized the heckling at the press conference.
"I would like to condemn any of the violence that happened yesterday," he is caught saying on the audio. "I disavow anything that led to folks getting hurt. It really is a sad day in our constitutional democracy when we are not able to have civil liberties like the First Amendment. That's what leads to rational discussion and ideas breaking down and people resorting to violence."
Although some downtown streets remain closed, the chaos of the past two days is abating. Unfortunately, Richard Spencer has vowed that his cohorts of white nationalists intend to return to Charlottesville many, many times in the future.
One final thought: I despise the white nationalists who came to my town. My interpretation of what is happening is there is an ongoing clash between two groups of identity politics collectivists - extremists on both the left and the right, valorizing and defending their tribes, not individual liberty. As history all too amply proves, us versus them politics leads almost inevitably to violence.