If MLS Is a Ponzi Scheme, Taxpayers Will Get Left Holding The Bag
The league's finances and its competitive structure suggest only suckers would buy-in right now. Unfortunately, many taxpayers may not have a choice.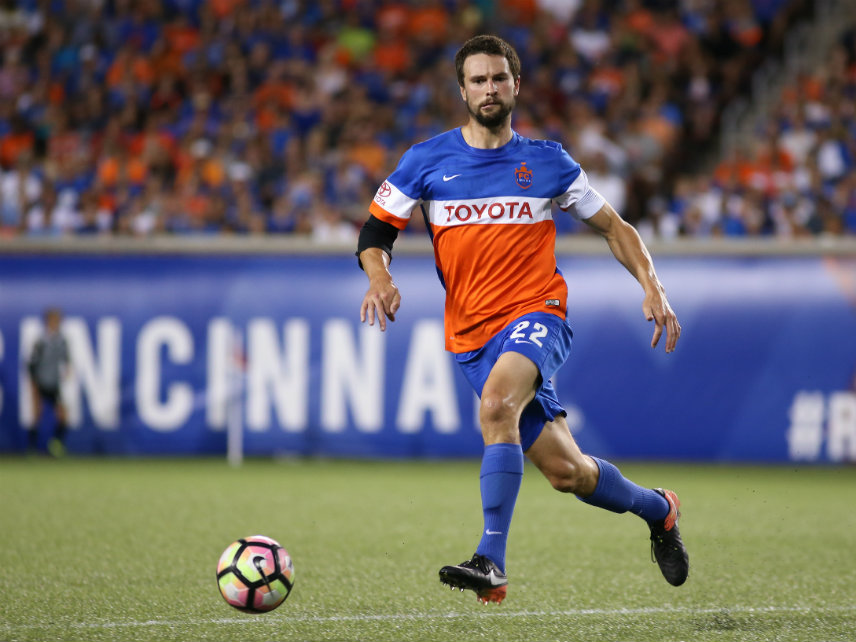 Cincinnati, Ohio, has a modestly successful minor league soccer team, FC Cincinnati, which shares a stadium with the University of Cincinnati football team.
Within the next two years, though, the club hopes to join Major League Soccer, the top tier professional league in the United States. To get there, FC Cincinnati will have to beat out 11 other cities that have applied for the MLS expansion in 2020.
Winning the bidding process will likely require taxpayers to agree to fund a new soccer-only stadium for FC Cincinnati. The price tag: about $200 million, at least half of it coming from public sources, the Cincinnati Business Courier reports.
But before Cincinnati—or Charlotte, Detroit, Nashville, Phoenix, or any of the other cities bidding to join MLS—agrees to put-up public financing for a new stadium, officials there might want to take a good, hard look at the financial health of the league they are attempting to join. Because, right now, MLS resembles something a little like a Ponzi scheme.
The league is losing money every year, Commissioner Don Garber acknowledges, even though he's declined to provide specifics. Meanwhile, weirdly, the value of individual franchises is climbing fast. The most recent Forbes' analysis of MLS teams found that the average franchise is now worth $185 million, a 400 percent increase over the average value of a team in 2008.
"That business model and this financial trajectory suggests that MLS's sea of red ink is either a loss leader or a Ponzi scheme," Neil deMause, author of the book Field of Schemes, writes at Deadspin this week, "and it's not always easy to tell the difference between the two until it's too late. Several sports economists, though, aren't optimistic."
DeMause suggests a big part of the explanation might be MLS' rapid expansion.
From its formation in 1996 through 2004, MLS had somewhere between eight and 12 teams scattered around the country. By 2010 membership had jumped to 16, and four more teams were added by 2015. With the addition of Atlanta United and Minnesota United (soccer desperately needs a wider selection of team names) this year, there are now 22 franchises in MLS.
The league reportedly has plans to expand to 26 teams by 2020—that's where Cincinnati, Charlotte, and the other bidders come in. Each new team pays an "expansion fee" of $150 million to the league, to be split among the other owners. And each new team is supposed to bring its own soccer-specific stadium with it, meaning taxpayers are generally part of the transaction, whether they want to be or not.
Since MLS continues to struggle with TV ratings—which drive advertising, which allow other major professional sports leagues to make big money today—and with attracting high-level footballing talent, the long-term viability of the league is questionable, deMause writes.
"If you can't make money either of the old-fashioned or sustainable ways, you might as well recruit a new batch of suckers to boost your bottom line in the short run," says deMause. "It also helps to explain MLS's otherwise puzzling insistence on making a brand-new, soccer-only stadium a primary condition for anointing new franchises."
Even compared to other American professional sports leagues, Major League Soccer operates with a stunning degree of socialism. While other leagues use salary caps or luxury taxes to impose parity, and all leagues use some form of revenue-sharing to balance smaller and bigger market teams, they at least allow the franchises to negotiate salaries directly with players and try to offer the most money to a prospective free agent.
In MLS, players sign contracts with the league and are then allocated to each of the different franchises.
No surprise, then, that the best players end up in New York and Los Angeles, or in places like Seattle and Toronto where soccer is weirdly super-popular. All the teams are supposedly equal before MLS. Some teams are just more equal than others.
It happens in other sports too. It might be unfair the New York Yankees and Los Angeles Dodgers can spend more money than other professional baseball teams. It's a whole different sort of unfair when the league is deciding which teams get the best talent and which don't.
If you're a fan of your MLS team in Minnesota, and you're being taxed to support a stadium project for a new or existing MLS franchise, you'd probably like to know that your team has a chance of competing with a New York. That will never happen because the league is structured so it will never happen.
The league contends once soccer is better established in America and MLS takes its rightful place among the top tier professional leagues in the rest of the world, there will be enough talent for all teams to get some superstar players. There's no reason to believe that day is coming anytime soon. The average team in the English Premier League paid $121 million in salaries last year, while the entire MLS paid just $99 million to its players.
And if everything goes belly-up before MLS claws its way to the top, guess who gets left with nothing?
"For most big-market teams and early adopters, even if the expand-o-ganza goes south, it's a fair bet they'll be left with a chair when the music stops—franchises like New York and Los Angeles should be safe and potentially profitable, even if the likes of Raleigh or Nashville might be screwed," deMause says.
No city should build a new soccer stadium for an MLS franchise until the league is more up-front about its long-term financial plans—and until it agrees to allow franchises to compete with one another, rather than serving as subordinate parts of the whole.