Many Poor Communities Lack Adequate Dental Care; Here's an Easy Way to Fix That
Alaska allowed dental therapists to practice within Native American communities. Ten years later the evidence is pretty clear.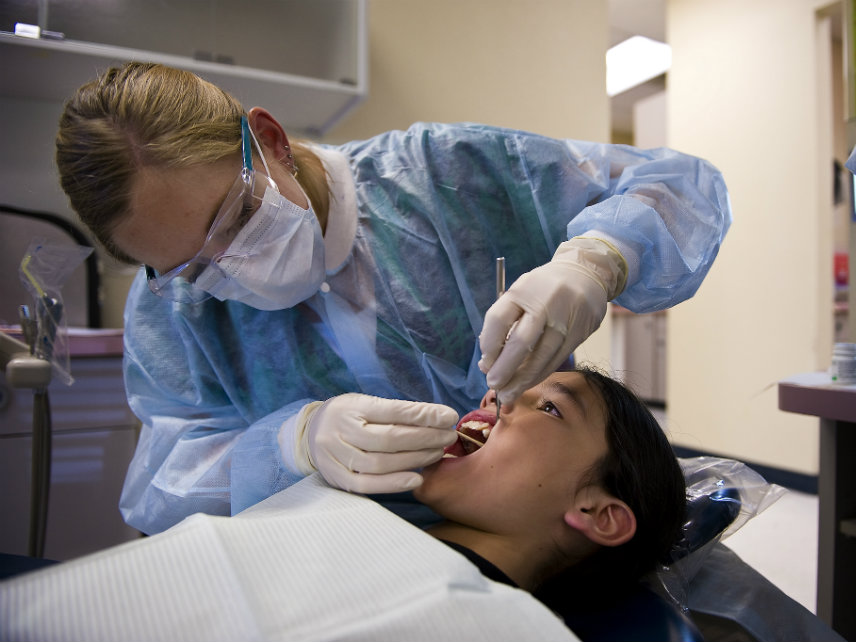 It's a conclusion that almost seems too obvious. Communities with greater access to dental care have fewer children and adults with serious dental problems.
That's the main take-away from a newly released University of Washington study comparing Native American communities in Alaska. Researchers from the Pew Charitable Trusts, the Rasmussen Foundation and the W.K. Kellogg Foundation collaborated on the project, which tracked the number of preventative services and invasive procedures performed on members of 58 tribes of Alaska Natives between 2006 and 2015.
In native communities where dental therapists are working, children and adults had more access to preventative care (things like dental exams, fluoride treatments, and cleanings) and a lower incidence of serious dental issues requiring invasive procedures like tooth extractions.
"These proven, tangible and dramatic shifts in improved access and care for children of color is a game changer as we seek to advance racial equity and tackle health disparities for children of color," said La June Montgomery Tabron, president and CEO of the W.K. Kellogg Foundation, in a statement announcing the study's release.
Alaska is one of only a handful of states to have legalized the practice of dental therapy—a mid-level health profession, similar to nurse practitioners and physician assistants. The study suggests other states should consider doing the same.
Oregon and Washington have passed similar laws allowing dental therapists to treat members of Native American tribes. Only Maine, Minnesota and Vermont have legalized dental therapy in a broader way, but the effects there have been similar to what happened in Alaska. A 2012 study by the W.K. Kellogg Foundation found that dental therapists in Minnesota increased access to care while providing "competent, safe and effective" treatment.
As I wrote in The Wall Street Journal last year, dental therapists in Minnesota are serving the northern and western reaches of the state—where patients used to drive more than an hour to the nearest dentist— and also provide additional access to care for the poorer, minority neighborhoods in the Twin Cities.
These are the places most likely to be without adequate dental care. Dentists tend to cluster in suburbs because that's where the highest concentrations of people who can afford regular care live.
The U.S. Department of Health and Human Services considers a dental shortage any more than 5,000 people per dental provider. As of December 2016, 5,400 places with a combined population of more than 51 million people in the U.S. fit the bill.
Dental therapists are perfect for these under-served populations, but the dentists' lobby sees dental therapy as a threat to its control of the market.
That's why the Michigan Dental Association is fighting a dental therapy bill, despite the fact that more than 200 communities in Michigan lack access to basic dental care. In Texas, a trade group of dentists helped defeat a similar bill in 2015. The American Dental Association has spent millions of dollars trying to block those bills and others in Ohio, Massachusetts, and Kansas; it also filed multiple lawsuits trying to stop the Alaska program.
Against therapy we now know with this study is an unqualified success.
The Federal Trade Commission has urged dental school accreditors to make way for mid-level professionals like therapists, arguing that they can "increase the output of basic dental services, enhance competition, reduce costs, and expand access."
Maureen Ohlhausen, acting chairman of the FTC, spoke earlier this week at the Federalist Society about some of benefits of expanding access to care in health professions, noting that states should view mid-level licensees like dental therapists and nurse practitioners as part of the overall effort to reform licensing laws.
Legalizing mid-level dental professionals is a practical, commonsense way for state governments to deal with a tangible health care problem. Self-interested special interests should not be allowed to block ideas that are proven to improve outcomes for children and adults.