Groups Sue Over Trump's Plan—If He Actually Has One—to Boot Transgender People Out of Military
Five members of the military disclosed their status. Now they're worried they'll get kicked out.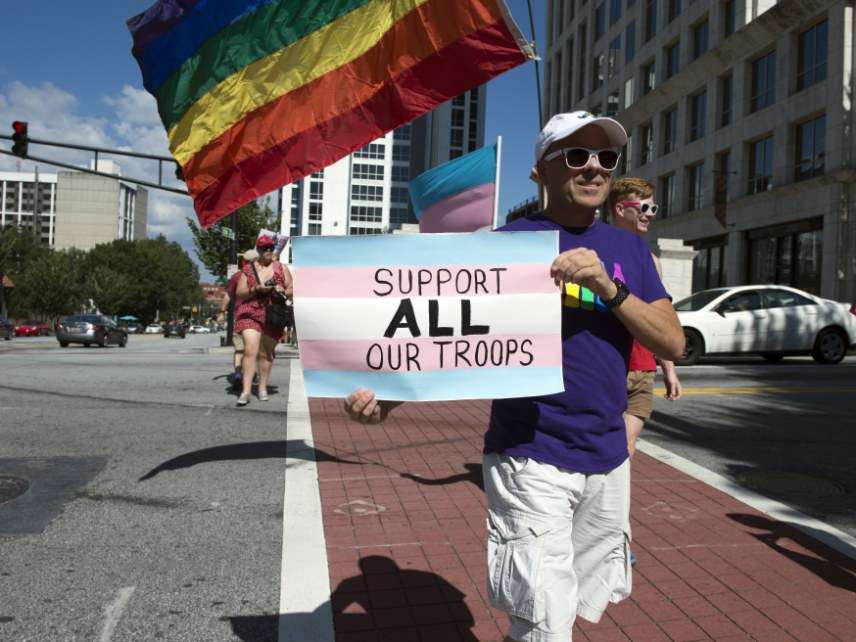 It's still not clear how or even really if the military's transgender ban will proceed, but two legal organizations are nevertheless suing to try to stop it.
President Donald Trump infamously declared on Twitter in July that he was going to reverse the policies started under President Barack Obama to accommodate transgender troops. Trump indicated a complete reversal—no more transgender troops would be allowed to serve at all.
The National Center for Lesbian Rights (NCLR) and GLBTQ Legal Advocates & Defenders announced today they've filed a federal civil complaint aiming to halt any rollback in policies allowing transgender people to serve openly in the military. They are representing five unnamed current transgender members of the armed forces.
Trump did not actually consult with Pentagon officials before his abrupt announcement. They were caught unprepared, to say the least, and there is at the moment no formal plan to implement what the president said they were going to do. As it stands, nothing has changed, and all we really have are tweets. One big news story today throws those tweets in a new light: On the same morning Trump suddenly tweeted out a change in transgender policy, the FBI was raiding the home of former Trump campaign chairman Paul Manafort.
According the D.C.-based LGBT newspaper Washington Blade, the White House is hammering out a formal process to change the rules, but it's not yet public:
Though the policy—called "A Guidance Policy for Open Transgender Service Phase Out"—has not yet been made public, sources familiar with the planning said it would encourage early retirement, usher out any enlisted personnel after their contract is up, and would fire trans officers up for promotion. Basically, said a source, "the administration wants to get rid of transgender service members as fast as they can."

No one yet knows what will happen to the service members currently fighting in combat. The new policy does allow trans service members to continue serving but apparently does not offer any protection from harassment or other efforts to get them to quit.
Be wary of what unnamed sources say when they're documenting policy proposals still in the drafting process. It's not necessarily that they're intentionally being misleading, but as we saw when dealing with a possible LGBT-focused religious freedom executive order, what comes out may end up looking very different from what's being worked on. It's a slight downside to having such a leaky administration, though certainly getting information about policy changes before they're fully formalized is useful in its own way.
Without an actual formal policy change to resist, it's not clear how the courts might interpret this lawsuit or if the plaintiffs have actual standing to sue here. A spokesperson for NCLR didn't respond to an emailed request from Reason asking if they have any information about what the actual policy will look like. The lawsuit indicates they believe the White House has formalized a plan to be transmitted to the Department of Defense, but it has no factual details of what's in the plan.
The lawsuit says the as-yet-unseen policy change violates due process and equal protection under the Fifth Amendment. It also explains that the plaintiffs disclosed their transgender status to the military with the understanding that doing so would no longer threaten their careers, and therefore they're asking the federal courts to block a reversal of that promise.
Read the lawsuit here. The American Civil Liberties Union has said it too would participate in a legal challenge to a trans ban, once one is introduced. It has sent a letter to the Department of Defense asking the Pentagon to maintain any documents related to any policy changes.