The Volokh Conspiracy
Mostly law professors | Sometimes contrarian | Often libertarian | Always independent
Go OSU! Smash the Black and Orange!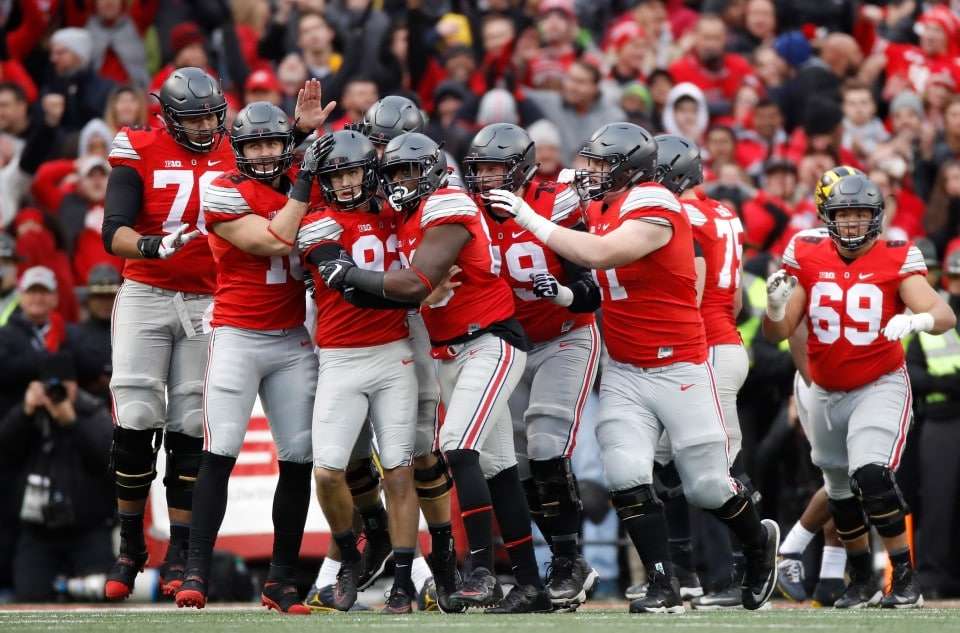 This post has been updated, 8:10 p.m.
As sports fans—and especially college football fans—know, three different schools (Ohio State University, Oklahoma State University and Oregon State University) are generally referred to as "OSU," as in: "It's OSU versus the University of Nebraska this Saturday at 3." (And just to make matters a bit more confusing, while OSU's colors are the iconic scarlet and gray, both OSU and OSU use black and orange—though to my undiscerning eye, OSU's orange is a slightly different shade than OSU's).
As you can see, things can get confusing, and as the money involved in college sports has spiraled rapidly upward, this has led, not surprisingly, to some trademark standoffs among the schools. Who gets to plaster "OSU" on sweatshirts, T-shirts, jewelry, ice coolers and all the other stuff that devoted fans will gobble up at inflated prices, swelling the athletic department's coffers and helping to cover the outrageous salaries being paid to head and assistant coaches (though not, of course, to the players)?
As reported by Columbus Business First and the Columbus Dispatch, OSU-Ohio recently filed a federal trademark registration for "OSU" used in connection with the sale of "clothing and headgear, namely, t-shirts, shirts, hats, and caps." After the mark was published for public comment, OSU-OK asked for (and received) an extension of time to file comments, an indication that it is likely to file an opposition to the mark—presumably on the grounds that it has been using the mark in commerce for many years in connection with the sale of "clothing and headgear," at least in certain parts of the country.
OSU-OH and OSU-OK already share rights, under what is known as a "concurrent registration," to the "OSU" mark in connection with "providing college sport exhibition events and recreation programs, providing dramatical and musical entertainment events, and providing college level educational courses." OSU-OH owns the trademark rights in the East and much of the Midwest:
the area comprising the states of Connecticut, Delaware, Illinois, Indiana, Kentucky, Maine, Maryland, Massachusetts, Michigan, Minnesota, New Hampshire, New York, Ohio, Pennsylvania, Rhode Island, Vermont, Virginia, West Virginia, and Wisconsin and the portion of the state of Iowa comprising the counties of Butter, Floyd, Grundy, Jasper, Lucas, Marion, Marshall, Mitchell, And Wayne, and all counties east thereof.
[and New Jersey? What happened to New Jersey?]
OSU-OK has portions of the South and Midwest:
Wyoming, Colorado, New Mexico, Texas, Oklahoma, Kansas, Nebraska, Missouri, Arkansas, Louisiana, Mississippi, Alabama, Florida, Georgia, South Carolina, North Carolina and Tennessee
along with its piece of Iowa ("the portion of the state of Iowa comprising the counties of Story, Hardin, Franklin, Cerro Gordo, Worth, Polk, Warren, Clarke and Decatur and all counties west thereof).
The rest of the country—notably, including Oregon—is up for grabs.
"Concurrent use" is a strange and somewhat anachronistic feature of trademark law. Trademark law has always accommodated multiple ownership of the same mark by users in different geographic areas: The proprietors at the Step Up to the Plate shoe store in Chicago, Corpus Christi, Tex., and Casper, Wyo., may each own a trademark in the name giving them the right to exclude others from using it, but their rights extend only to the borders of their respective geographic markets.
This led to all sorts of knotty problems as businesses tried to expand into new markets, and as television and, later, the Internet made it increasingly easy for even small business to advertise in, and serve, a national market. Can Sweatshirts.com sell me an OSU sweatshirt that has OSU-OK markings—"Go Cowboys!"—if I live in New York? Or in Floyd County, Iowa? What if I live in Floyd County, Iowa, but my ISP's servers are located in Decatur County—what kind of OSU sweatshirt can the site offer to sell me?
But the doctrine survives, and I guess "OSU" is a good example of the continuing vitality of geography—the letters have very different meanings and very different values in different parts of the country, and the law tries to acknowledge that as best it can.
The better alternative, of course, which I'm sure is being actively considered at the Trademark Office, is to hold a round-robin football tournament pitting the OSUs against one another, the winner to receive nationwide trademark rights. My money's on OSU.