New York City Sued Over Unconstitutional Menu-Labeling Law
A handful of food-industry groups say an equally bad federal law takes precedence.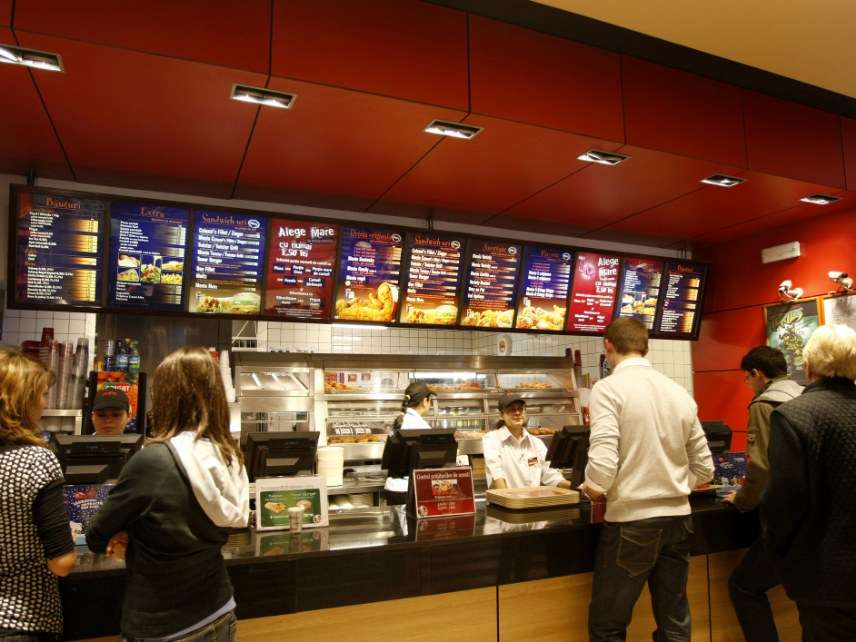 Earlier this month, several food-industry groups sued New York City in an effort to halt Mayor Bill de Blasio's plans to begin enforcing the city's mandatory menu-labeling law next month.
The National Restaurant Association's Restaurant Law Center—along with the Food Marketing Institute, National Association of Convenience Stores, and New York Association of Convenience Stores—filed suit on July 14 in U.S. District Court in Manhattan.
The suit argues the city's menu-labeling law—which I wrote about here in May, before the lawsuit—conflicts with a federal menu-labeling law, passed as part of the Affordable Care Act, even though enforcement of the pertinent portion of that federal law has yet to begin. The plaintiffs contend that under the U.S. Constitution's Supremacy Clause, New York City's "premature enforcement is preempted by federal law."
That conflict is very real. The federal law and New York City law are similar but not identical, something the city admits freely. For example, the federal rules apply to restaurants with 20 or more locations nationwide, while the New York City rules apply to restaurants with 15 or more locations nationwide. And, as the lawsuit states, implementation of the federal rules has been delayed several times—most recently until May 2018—while New York City's rules are set to take effect next month.
These differences matter. When Congress passed the menu-labeling law as part of Obamacare, notes this month's lawsuit, it "prohibit[ed] any state or locality from imposing any food labeling regulation 'that is not identical to'" the federal law.
Nevertheless, Mayor de Blasio announced in May that the city would move ahead with enforcing its rules in part due to perceived federal foot-dragging.
"We can no longer wait for federal action, and urge other cities to follow our lead," de Blasio said.
The mayor's decision to "lead" means the staggering cost of doing business in New York City will rise even more for an estimated 3,000 restaurants there.
Restaurateurs have argued the rules present them with "a legal quandary." Complying with menu-labeling laws is high—up to $1,000 for each menu item, according to the lawsuit. But so too are potential fines for noncompliance. In fact, the lawsuit was filed shortly after Mayor de Blasio announced the city would begin later this summer to issue fines of up to $600 for violations of the rules.
Costs are very much at the heart of the debate over mandatory menu labeling. As I've explained before, the National Restaurant Association pushed for federal law as a way of avoiding the prohibitive costs of complying with potentially hundreds of local and state menu-labeling laws.
In addition to these costs, the very basis of compulsory menu-labeling laws is flawed. While New York City is the scene of compulsory menu labeling's earliest triumph, it's also the site of many of its most public failures. In 2008, the city, under then-Mayor Michael Bloomberg, became the first in the nation to "to require chain restaurants to post calorie information on menus and menu boards." The purpose of the law was to help consumers choose lower-calorie options. But subsequent research on the menu-labeling law—see here, here, here, and here, for starters—has shown it to be ineffective at best, and counterproductive at worst.
Rushing headlong to comply with a federal law that's inherently flawed, still in flux, and which may never take effect—a recent analysis suggests the FDA's delay in implementing the law has called "perhaps its core validity… into public question"—would be foolhardy. But in New York City, the costs of noncompliance with the looming local rules are now an immediate threat.
"Plaintiffs' members should not be forced to alter their business models, or be marked as lawbreakers, because of New York City's ill-considered decision to jump ahead of the national regulatory regime," the lawsuit concludes.
Mandatory menu labeling is itself ill considered. It's an awful idea that no city, no state, and no federal body should embrace.