From Nazi Propaganda to the Pee Dossier, FARA Targets Alien Influence on U.S. Politics
Here's what you need to know about the Foreign Agents Registration Act, an obscure ethics rule that could tar both the Trump campaign and the firm hired to bring it down.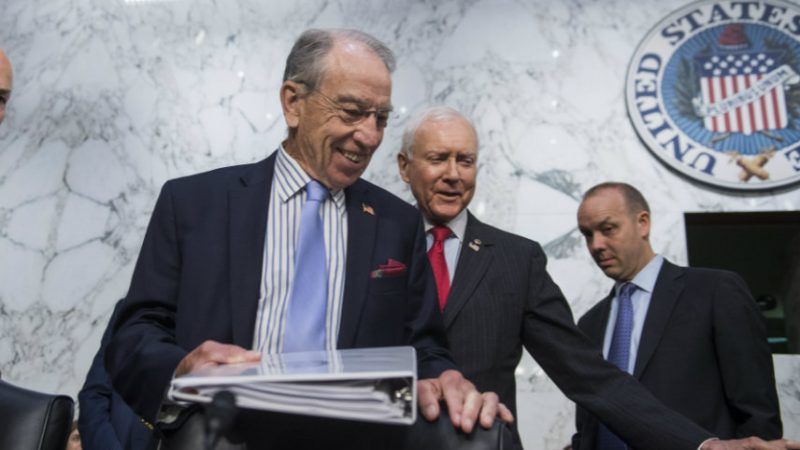 (Oliver Contreras/Sipa USA/Newscom)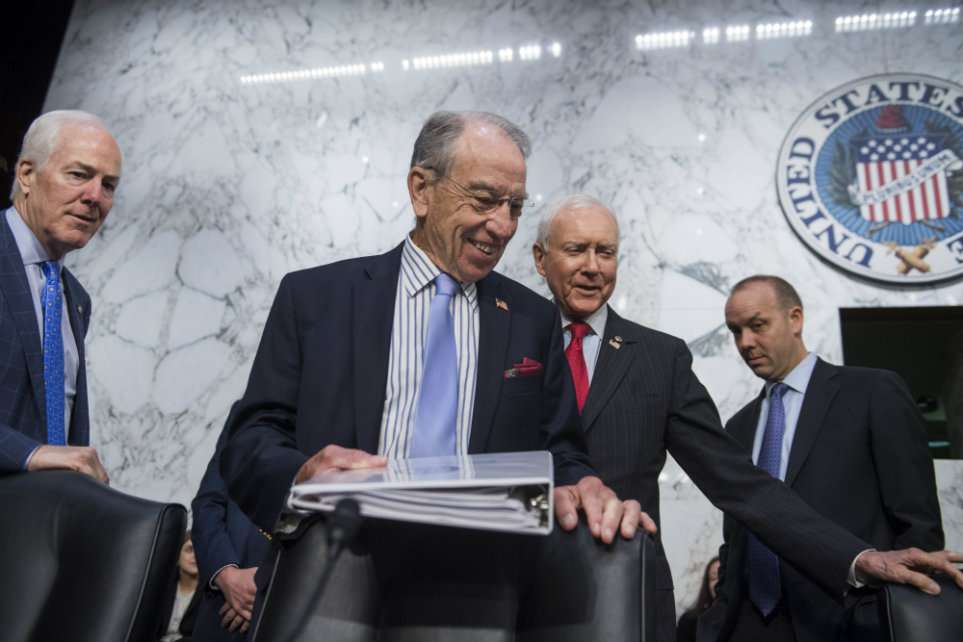 A relatively obscure federal disclosure law, the Foreign Agents Registration Act (FARA), is having a moment in the spotlight, thanks to scrutiny of the Trump campaign's potential ties to Russian agents.
"Given recent Russian and other efforts to influence our elections, this law has never been more important," asserted Sen. Chuck Grassley (R-Iowa) Wednesday on Capitol Hill.
Here's what you need to know about why the law is important and how the government goes about enforcing it.
Why FARA Is in the News Now
On Thursday, William Browder, CEO of Hermitage Capital Management, will testify before the Senate Committee on the Judiciary as part of its "Oversight of the Foreign Agents Registration Act and Attempts to Influence U.S. Elections." (Browder's written statements were published Wednesday.)
Browder last year filed a complaint with DOJ alleging that unregistered individuals were working on behalf of the Russian government to have something called the Magnitsky Act repealed.
Congress passed the Magnitsky Act, which gives the U.S. greater power to sanction Russia over human rights abuses, in 2012 in reaction to Russia's treatment of Russian lawyer Sergei Magnitsky and Browder.
Browder has alleged Fusion GPS—the firm behind the Trump-Russia Dossier–was hired by Russians to work to repeal the Act. Fusion allegedly brokered the infamous June 2016 meeting with Donald Trump Jr., Jared Kushner, former Trump campaign manager Paul Manafort, and Russian lawyer Natalia Veselnitskaya.
Donald Trump Jr. later admitted the meeting was brokered for the Russians to provide the Trump campaign with dirt on Hillary Clinton. Instead the meeting allegedly involved the Magnitsky sanctions.
Browder also alleges other lobbying firms were hired to promote a documentary tarring Magnitsky and him, but "at no time did they indicate that they were acting on behalf of Russian government interests nor did they file disclosures under [FARA]."
The Judiciary Committee had subpoenaed Fusion founder Glenn Simpson, but committee chairman Sen. Chuck Grassley (R-Iowa) withdrew it after Simpson agreed to a private transcribed interview about his involvement in creating the dossier, his interactions with the FBI, and his alleged work for the Russians who met with Trump Jr. and company.
Fusion and Simpson were also accused by activist Thor Halvorssen in his Senate testimony of having worked for companies in Venezuela to influence U.S. media coverage.
The committee is still in negotiations to get Manafort's cooperation. Manafort is under fire for his role in the Veselnitskaya fiasco and belatedly filing FARA paperwork for consulting he did for a pro-Russia political party in Ukraine.
FARA was also a subject of discussion with regard to former National Security Advisor Michael Flynn. As Just Security notes, Flynn "belatedly registered under the statute after it was discovered that his lobbying firm received $530,000 for work on behalf of a Dutch company with ties to the Turkish government."
On Wednesday the committee also took testimoney from Grassley, U.S. Inspector General Michael Horowitz, Deputy Assistant Attorney General Adam Hickey, and Assistant Director of the FBI Counterintelligence Division Bill Priestap.
FARA Basics
Enacted in 1938 to deal with communist and Nazi propaganda, the Foreign Agents Registration Act exists "to insure that the U.S. Government and the people of the United States are informed of the source of information (propaganda) and the identity of persons attempting to influence U.S. public opinion, policy, and laws," according to the Department of Justice (DOJ).
FARA requires people and entities acting "as an agent of a foreign principal" in an attempt to influence U.S. politics to register with the office of the U.S. Attorney General and disclose detailed information about their activity. The law defines foreign principal to include not just foreign governments and political parties but any person who is not a U.S. citizen or entity operating under U.S. laws.
In addition, "an agent must file with the Department of Justice any informational materials distributed on the behalf of the foreign principal to two or more persons in the United States within 48 hours of distribution. The information materials must include a conspicuous statement that additional information is on file with the Department of Justice."
"FARA is a procedural statute, not a substantive one," notes Steve Vladeck at Just Security. It "does not prohibit particular activities in the abstract; it merely requires that those engaged in such activities on behalf of foreign interests identify themselves (and disclose their interests) to the U.S. government."
(Separate laws forbid public officials from acting as agent of foreign principals and "information gathering and other espionage-like activities on behalf of a foreign government," according to Horowitz. "FARA is focused on requiring registration and disclosures by foreign agents engaged in legal activities, such as lobbying, tourism, and economic development.")
There are sensible exemptions to FARA provisions. You don't have to register with the federal government when doing private and nonpolitical trade activities with a foreign entity, or soliciting contributions for humanitarian purposes.
There are exemptions for U.S. diplomats, the press, most lawyers representing foreign clients, and anyone engaging in "activities in furtherance of bona fide religious, scholastic, academic, or scientific pursuits or of the fine arts."
People are also exempt from FARA requirements "if they're allowed to register under other lobbying statutes," Vladeck writes. Those working for foreign commercial, rather than political, interests may register under the 1995 Lobbying Disclosure Act, which has fewer and easier-to-satisfy requirements.
FARA Registrants
As of today, there are 398 active primary registrants in the FARA directory. You can check out all active registrants by client country here.
FARA History and Enforcement
FARA is enforced by a unit within the DOJ's National Security Division. Violations are punishable by up to five years in prison and a $10,000 fine. But "the cornerstone of the Registration Unit's enforcement efforts is encouraging voluntary compliance," according to a manual from the U.S. Attorney's Office (USAO).
Failure to register must be intentional or the information registered must be be false or willfully deceptive to be a criminal act. Without evidence of intent, federal authorities will first send a letter "advising the person of the existence of FARA and the possible obligations thereunder," the USAO explains.
From the time of its passage, FARA was focused on the spread of propaganda. Amendments in 1966 shifted its focus to the role of foreign influence in America politics via back-channel money and influence.
Notably, this shift coincided with around a 100 percent decrease in successful prosecutions. Since 1966, DOJ has no criminal convictions under FARA and only three indictments have been returned, according to the U.S. Attorney's Office. (This number conflicts with the figures provided to the Senate committee by Grassley, Horowitz, and Hickey, whose figures also all conflict with each other's. However, no one alleges more than four criminal convictions since 1966.)
A 2014 study from the Project On Government Oversight (POGO) found "a pattern of lax enforcement" of FARA requirements, and that the "office responsible for administering the law is a record-keeping mess."
The group also discovered that "while federal law bars foreign money in U.S. political campaigns, there appears to be a gray area allowing such funding indirectly. POGO found many instances of lobbyists making political contributions to members of Congress on the same day they were lobbying the members of Congress or their legislative staffs on behalf of foreign clients."
A 2016 audit from the U.S. Inspector General's Office found that 42 percent of initial FARA registrations were late, and half of registrants were late in filing at least one supplemental statement.
The audit also "found that there is a fundamental disagreement among government officials about what constitutes a FARA case," Grassley said Wednesday. "No organization can properly enforce the law when it is confused about what the law is."
According to IG Horowitz, DOJ authorities blamed their low activity in part on "difficulty compelling the production of information from persons who may be agents," and in response request the authority to lobby civil investigative demands on suspects.
"While we agreed during our audit that this authority could be a useful tool for [federal investigators], there are important competing considerations at stake," said Horowitz, "and we believe that any expansion of such authority must also include controls and oversight to ensure it is used appropriately."
Looking Forward
From a libertarian perspective it is unclear whether increased enforcement of FARA will be good or bad. To the extent that a pledge of renewed commitment actually targets government corruption and strives for increased transparency, we will benefit.
But if history is our guide, people in power only get gung-ho about FARA enforcement when they can use it to target political enemies or stoke public fear of foreign menaces that benefits a preferred foreign-policy agenda.