This Poconos Property Manager Helped My Family Keep Our Vacation Home—Until Pennsylvania Shut Her Down
Licensing laws are putting 61-year-old Sally Ladd out of work. Together, we're suing.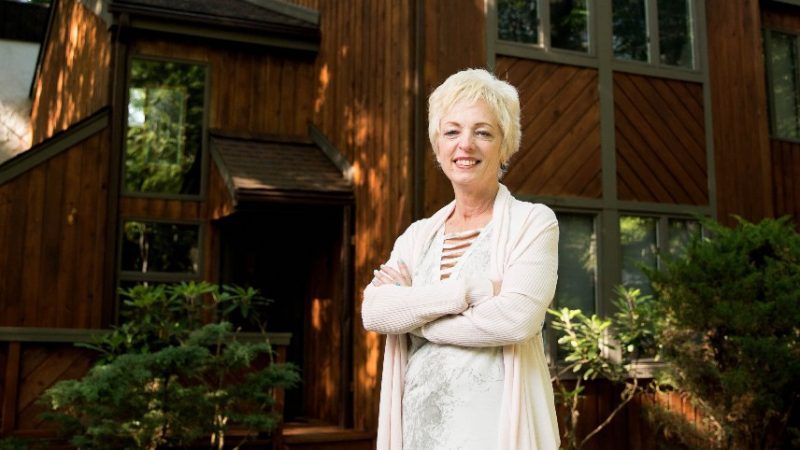 Arrowhead Lake is an idyllic little community in Pennsylvania's Pocono Mountains. For my family, it's the perfect vacation spot. We swim and canoe at the lake, hike and pick berries, roast marshmallows, and dance at the summer bonfires held at the community's main pavilion. It feels like a much-needed break from the fast pace of modern life, and we always come home feeling renewed and refreshed. We love it so much that after a few years vacationing there as renters, we decided to buy a home in the community.
In order to swing this financially, we have to rent the place out when we are not there, like many vacation homeowners do. Initially, we were having trouble making that work. We even thought—to our great disappointment—that we might have to sell the house because the numbers were not adding up. That's when we found property manager Sally Ladd, who already managed a few other vacation rentals in Arrowhead Lake and came highly recommended by other owners. We met with and interviewed Sally and were tremendously impressed with her, so we hired her to manage our property.
Almost immediately, things turned around for us financially. Sally's background in digital marketing made her very skilled at advertising our property, and we started to get more rentals than we had before. Sally also had a great sense of what types of little improvements—some decorative touches here, a fresh coat of paint there—would make our property more attractive to renters. The place was finally paying for itself, and we couldn't have been happier.
Then, on February 24, 2017, my husband and I received the following email from Sally:
Dear Property Management Client,

It is with great regret that I must inform you that as of April 1, 2017, I will no longer be able to provide property management services for your vacation rental home.

In early January I was contacted by the State of Pennsylvania and informed that a complaint had been filed against my company for managing properties without a real estate license….I need to begin the process of deactivating your property listings on my accounts, dissolving my company and completing all rentals in progress.
It turns out that in Pennsylvania, anyone who wants to act as a property manager—even just for short-term vacation rentals—has to be a real estate broker licensed by the state. To get this license, Ladd would have to take 300 hours of approved instruction, pass two exams, and spend three years working as an apprentice under an already-licensed broker. Faced with these burdensome requirements, Ladd—who is 61 years old—felt she had no choice but to shut down her small business.
My husband and I were upset—things had been going so well! Given that I am not only a vacation homeowner but also someone active in the liberty movement, the wheels in my head started turning pretty quickly. During the summer between college and law school, I worked as an intern at the economic liberty litigation firm Institute for Justice, and this seemed like exactly the kind of case that might interest them. So after dashing off an email to a friend saying that Pennsylvania had "fucked with the wrong libertarian," I contacted the institute.
With their help, today Sally Ladd and I filed a lawsuit against the Pennsylvania Real Estate Commission and the Pennsylvania Department of State, seeking relief from the law—the Real Estate Licensing and Registration Act, 63 Pa. Cons. Stat. Ann. § 455.101—that made our mutually beneficial contract illegal. We are asking the Commonwealth Court of Pennsylvania to declare that this statute unconstitutionally burdens her right to earn an honest living, as well as my right to avail myself of her services.
I've always been a strong supporter of economic liberty. But even as someone who was well aware of the problems with these regulations on an intellectual level, it was still a shock to find myself hamstrung by one of them.