The Minnesota Matchup: Tim Kaine vs. Corey Stewart in Virginia?
Stewart, who called himself "Trump before Trump was Trump," announced a run for U.S. Senate after losing the Republican gubernatorial primary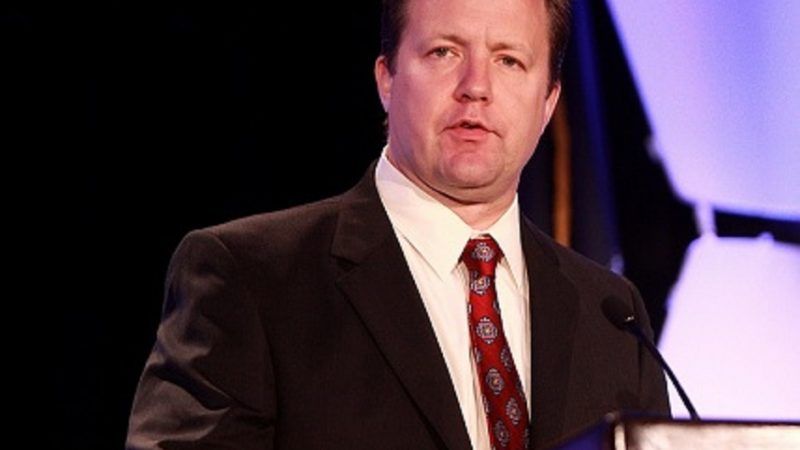 Virginia's 2018 Senate contest could boil down to a Minnesota matchup: Kaine v. Stewart.
Tim Kaine, the Democratic incumbent, was born in Minnesota. So was Republican Corey Stewart, not that you would know it from the way he talks. To listen to him, you'd think he was the love child of Nathan Bedford Forrest and Robert E. Lee. "Politicians who are for destroying the statues, monuments, and other artifacts of history," Stewart tweeted as New Orleans was taking down Confederate statues, "are just like ISIS." Guess Ukraine better start putting those Lenin sculptures back up.
Kaine acts like, well, a Minnesotan. His uncharacteristic performance in the vice presidential debate against Mike Pence aside—there's a rumor he was treated for rabies afterward—the senator is polite and down to earth: "just Tim," as people who know him say. But he doesn't hide his intellect, and he doesn't shrink from doing what he needs to do to promote the "Kaine brand." He's affable—not acquiescent.
Stewart, who is chairman of the Prince William County Board of Supervisors, acts like a junkyard dog after too many espressos. His press announcement on Thursday called him "a fighter" three times in five paragraphs, and quoted him dismissing "weak-kneed Republicans."
That morning's Washington Post also quoted him as saying, "I'm going to run a very vicious and ruthless campaign against Tim Kaine and I'm going to win." In another Post story the same day, Stewart advised GOP gubernatorial candidate Ed Gillespie, whom Stewart almost beat in the primary, to "maybe take some testosterone supplements and just get out there and start beating the hell out of (Democratic nominee Ralph) Northam."
Many years ago Christopher Buckley reviewed a Tom Clancy novel for The New York Times, and what he said of the story then applies to Stewart's candidacy now: It "would be more convincing were it not for the superseding macho that permeates each page like dried sweat."
It's hard to know how much of Stewart's schtick is real and how much is an act. "We deliberately were, at times, more controversial in order to attract mainstream media, in order to attract earned media," he confided after losing the primary to Gillespie.
But beneath the fake bully lies a real bully: Stewart has made a career out of going after illegal immigrants, including through a Prince William ordinance that, as originally crafted, would have required law enforcement officers to check the immigration status of anyone who breaks any law.
A related measure sought to deny illegal immigrants access to various public services.
Stewart, who says he "was Trump before Trump was Trump," chaired Donald Trump's Virginia campaign until the Trump team sacked him for joining a demonstration outside the Republican National Committee in D.C. It's quite an accomplishment to cross the line of a man who doesn't seem to have any.
But Stewart does share Trump's affinity for managed economies. He strongly supports a current proposal in Prince William to build a new $35 million stadium for the Potomac Nationals, using Industrial Development Authority bonds that would—in theory—be paid off with lease payments from the baseball team. It could be the largest public subsidy for a minor-league team ever.
A couple of weeks ago the Commonwealth Transportation Board agreed to fund an adjacent $24 million parking garage. Yet last week the team's owner, Art Silber—who, like so many others, has threatened to move the team elsewhere—asked for a delay of Monday's scheduled vote on the stadium deal.
That might be because of a June advisory opinion by Virginia Attorney General Mark Herring (D). The Peninsula Airport Commission in Newport News guaranteed a bank loan to the startup airline People Express, and then paid it off when the airline went belly-up. Herring wrote that the loan guarantee's purpose was to help a private enterprise—and therefore, it violated the Virginia Constitution.
Now Prince William wants to send its stadium deal to court for judicial review to ensure it's permissible. Stewart's take on this? Deals like the stadium proposal are just what industrial development authorities are for: to finance "deals the county can't, constitutionally, finance ourselves directly."
In short, he's glad there's an unaccountable government body available to skirt the state constitution so he can give taxpayer money to fat cats.
But maybe that's not so surprising. The new football stadium for the Minnesota Vikings cost the public more than half a billion dollars with interest, leading Marketwatch to put it at the top of a list of "5 cities getting the worst deals from sports teams." You can take Corey Stewart out of Minnesota, apparently, but you can't take Minnesota out of Corey Stewart.
This column originally appeared in the Richmond Times-Dispatch.