CNN Publishes Creepy Threat, Congressman Films Ad Inside Auschwitz, FBI Car Stolen After Agent Leaves It Running at Gas Station A.M. Links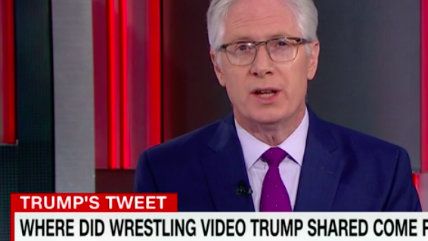 screenshot/CNN

Donald Trump is traveling to Europe today to meet with the president of Poland and attend an infrastructure summit in Germany where he is supposed to sit down with Vladimir Putin.

Kim Jong Un said North Korea will "demonstrate its mettle to the U.S." and that its nuclear-weapons program is non-negotiable.
CNN has discovered the real identity of "HanAssholeSolo," the person who made an anti-CNN meme that was tweeted by Trump. The network said it will not report his name so long as he remains contrite and refrains from publishing more things they don't like, which has caused a predictable uproar (and #CNNBlackmail to be trending on Twitter).
I think the criticism of reporting the story is bogus. But CNN's "we'll report his name later if we decide he's acting wrong" is off-putting

— ClenchdFistofPopehat (@Popehat) July 5, 2017
Follow us on Facebook and Twitter, and don't forget to sign up for Reason's daily updates for more content.