Uber, Lyft Can Now Bring Jobs and Better Transportation to Alaska
A win for ride-sharing and Alaskans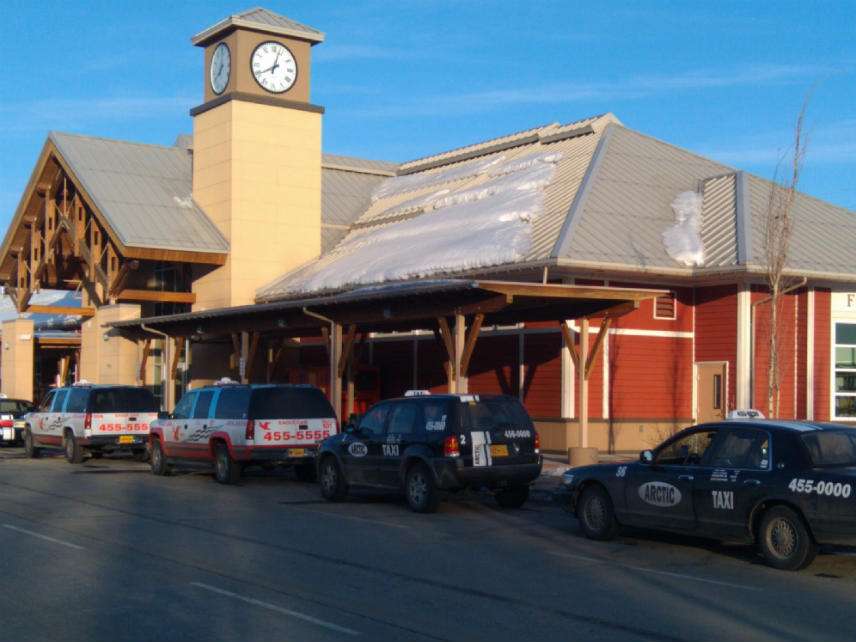 After being forced out in 2015, transportation network companies (TNCs) like Uber and Lyft are back in Alaska. New legislation signed by the governor earlier this month will allow for ride-sharing in the final frontier without so many burdensome regulations.
In 2014, Uber clashed with the Alaska Department of Labor and Workforce Development's Workers' Compensation Division while operating in Anchorage. According to the state, classifying drivers as independent contractors was fraudulent and a violation of the Alaska Workers' Compensation Act. The startup begrudgingly left in 2015 and paid a $77,925 fine to the state as part of a settlement contingent on ceasing operations. Uber had also been providing free rides for six months during unsuccessful negotiations with Anchorage city officials.
Lawmakers have warmed up to the sharing economy since then. In testimony to the Alaska House Labor and Commerce Committee on House Bill 132, Michael D. Farren of the Mercatus Center called the bill "some of the best TNC legislation I have seen to date." Farren praised the bill for allowing cash payments for transportation services, requiring a national background check for drivers but not stipulating the type, letting drivers stay classified as independent contractors, and not establishing a licensing fee in order to operate.
The most controversial element of the legislation prevents municipalities from enacting their own ordinances to regulate transportation network companies or their drivers unless approved in a municipal election. Cities still have the right to levy a sales tax.
Representatives from local governments, which are oftentimes under the influence of the taxi lobby, are not thrilled about state preemption.
Juneau assembly member Maria Gladziszewski claims that each specific city needs to regulate transportation: "We don't have near enough information to think this might be OK in Juneau. I think that you want to maintain local control. We have very specific transportation needs." Others in Juneau have expressed concern that Uber would result in too much traffic during tourist season or harm existing taxi companies.
Yet, city-level regulations sometimes put the "needs" of entrenched interests over drivers and passengers alike. According to Farren's testimony, municipalities created a patchwork system of anti-competitive regulations across the state. These measures included licensing fees, record-keeping for all trips, and caps on the number of taxis. Sometimes drivers were required to prove that a city "needed" new services above and beyond existing taxis. These regulations have made owning a taxi medallion a rather lucrative business, with medallions in Anchorage selling for $155,000 in 2013.
It seems unlikely that Juneau's "specific transportation needs" were best met by mandating that vehicles have signs with six-inch letters or requiring all taxi entrepreneurs have permits that cost $1,700 total.
As a result, reliable transportation for Alaskans is sorely lacking. Smaller communities that taxis choose to avoid are hit the hardest. Executive Director of the Chugiak-Eagle River Chamber of Commerce Susan Gorski described this problem in a 2014 pro-Uber op-ed:
Most taxis choose to stay in the Anchorage bowl, where they can rely on lucrative fares to the airport. We have a population of 35,000 and no reliable or convenient intra-community or inter-community transportation. This situation serves taxis and taxi companies quite well. But it doesn't serve riders in Chugiak-Eagle River, where public transportation options and population growth make an already untenable situation worse. And it doesn't serve Anchorage small businesses, who are denied potential customers who can't find a reliable ride downtown…Uber brings efficiency to a market that is sorely lacking.
Regulations limiting entry into the taxi industry are especially problematic in Alaska. The state currently has the highest unemployment rate in the nation—a seasonally adjusted 6.7 percent in May. Job loss has been so devastating that the economic downturn has been called a great recession and is predicted to last until 2019.
This is likely why most Alaskans are excited about Uber coming to the final frontier. Alaskan Alex Stock hopes to drive his Ford truck for Uber: "I think it'll be a good way to supplement my income." Stock also believes Uber will be beneficial for tourism, stating that lack of transportation "was probably the biggest concern I started hearing from tourists."
Now that Gov. Bill Walker has signed House Bill 132, both Uber and Lyft have promised to return to the state. Lyft is starting in just three cities, Juneau, Anchorage and Fairbanks, while Uber is willing to operate wherever there are willing drivers. A smaller ride-hailing company called Tride also has plans to launch in Alaska.