Gary Johnson Returns to Politics! (As Soon As He Finishes This Cross Country Bike Tour)
The Libertarian Party nominee is back, ready to fight policies that are "insane," "nationalist," and "doomed to fail" with his Our America Initiative.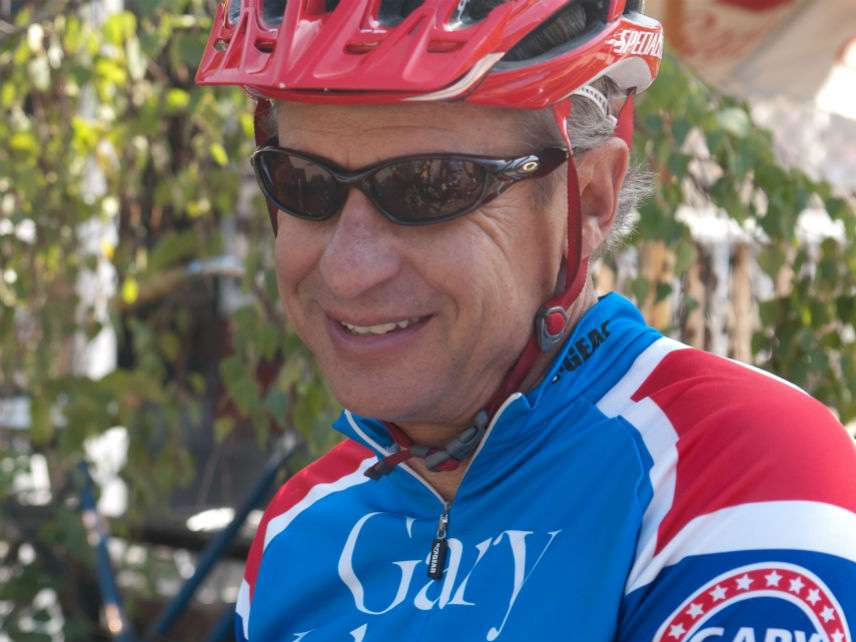 Gary Johnson is back. Well, almost.
By the end of today, the two-time Libertarian Party candidate for president will be midway of the Medicine Bow-Routt National Forests in northern Colorado more than 1,400 miles into the 2,800-mile Tour Divide bicycle race. (You can track him here, although he is occasionally deviating from the race route.)
Before leaving for Banff, Alberta, the former two-term governor of New Mexico made plans to return to politics, to mobilize "the largest grassroots army of liberty activists in the nation."
Johnson and strategist Ron Nielson have relaunched Our America Initiative, a website "giving voice to the notion of less government and greater freedom, and advocating policies that will allow entrepreneurs, young people and all Americans to achieve their dreams."
Johnson issued this statement to Reason while on his Continental Divide bike route:
"In November of 2016, 4.5 million Americans cast their votes for liberty, truly free markets and a small-government alternative to the status quo. That vote total, for Governor Bill Weld and myself, is the highest for a "third party" in two decades.

That tells us something, especially given that our campaign spent roughly 1/1,000 of what the Republicans and Democrats spent—each.

It tells us that more Americans than ever are fed up with a broken political system that simply isn't offering solutions. And it tells me that those Americans deserve a voice in the debates going on in Washington, DC, and state capitals across the nation.

As a former Governor who left office after serving two terms and quietly let my successors do their things, I am a firm believer in giving a new President and a new Congress a chance. That's what we do in America. But we've now had enough time to see the directions our government is taking.

We are watching as President Trump and the Republicans seem intent on replacing Obamacare with Somebody-Else Care. The whole idea of health care reform for the past decade has purportedly been to reduce costs and increase access. Obamacare isn't doing that…and what we are seeing so far from the Republicans won't do it either.

Replacing one version of government-managed health care with another is doomed to fail. There aren't many things the federal government manages well, and our health is certainly isn't one of them. Lower costs and greater access will only come from a legitimately free market, taking the shackles off of innovation, removing crony-capitalist insulation from competition, and allowing patients, not bureaucrats, to make decisions. And to help those who truly need help, send the money to the states to shape programs that will actually work.

We've seen a budget proposed that once again ignores the 800-pound gorilla of entitlements, increases defense spending…and claims to put us on a path toward a balanced budget. That's insane, and exactly the kind of political cowardice that has given us trillions in debt.

Whether it be trade or immigration, we are watching as the politicians try to lead us down a nationalist path that is not only painful and short-sighted, but not very American.

Individual freedoms. Drug policy. Criminal justice reforms. Well, the early signs aren't good. In fact, it seems we have a government today led by folks who are determined to turn back the clock and embrace policies that have not only failed, but have eroded our freedoms almost beyond recognition.

I could go on, but one thing is clear. The voices of liberty, free markets and real freedom need to be raised. 4.5 million Americans spoke out in November, and hundreds of thousands of volunteers, activists and contributors stood up to help shape a freer, more prosperous future.

It's time to stand up once again. That's why I am stepping back into the leadership of the Our America Initiative—a not-for-profit advocacy organization with activists in all 50 states working for the freedoms, opportunities and smaller government so many Americans crave.

Politics should be a battle of ideas, not personalities. Let's put some new ideas on the table."