Detroit Police Sued Again For Shooting Dogs During a Marijuana Raid
"If you keep asking for a warrant, we are gonna kill those dogs and call child protective services to pick up your kid."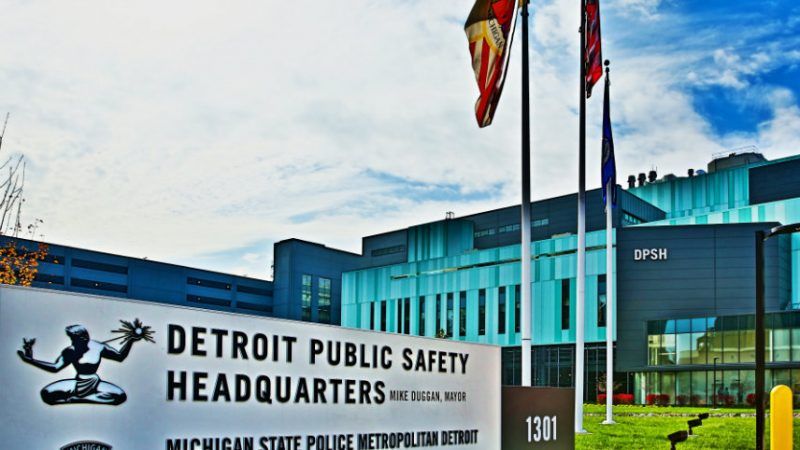 (Benjamin Beytekin/picture alliance / Benjamin Beyt/Newscom)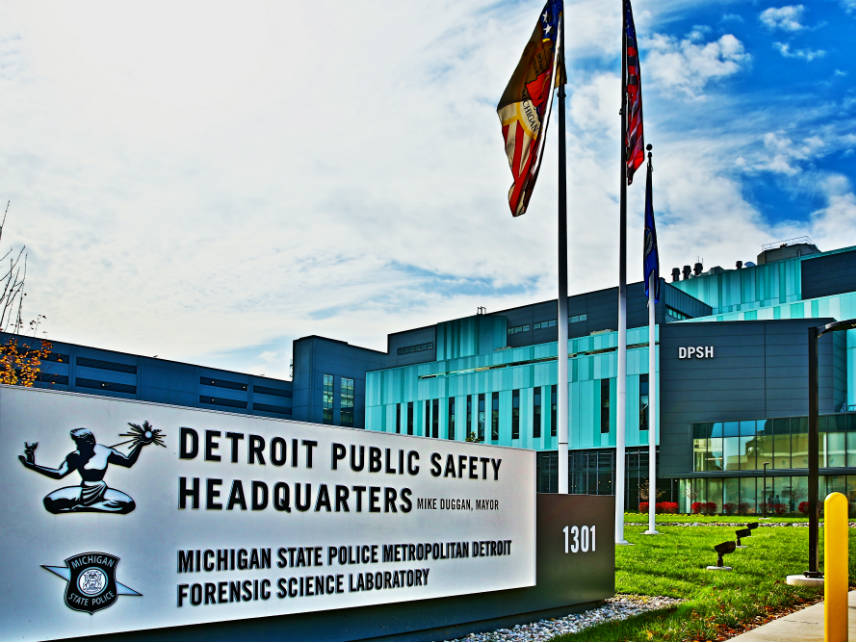 Two Detroit residents filed a civil rights lawsuit against the Detroit Police Department Wednesday, alleging that several police officers needlessly and maliciously shot their three dogs during a marijuana raid.
Kenneth Savage and Ashley Franklin say that on July 22, 2016, Detroit police raided their house and found the dogs in a back yard bounded by an eight-foot-tall fence. The officers refused to let Savage and Franklin retrieve the dogs and, instead, shot them.
The reason? Officers found several potted marijuana plants in the backyard Savage and Franklin contend were there legally.
The suit is now the third active civil rights action against the Detroit Police Department for killing dogs during marijuana raids. A Reason investigation last year found that the Detroit Police Department's Major Violators Unit, which conducts hundreds of drug raids a year in the city, had a nasty habit of leaving dead dogs in its wake. One officer had killed 69 dogs over the course of his career, public records obtained by Reason showed.
According to a search warrant affidavit, a Detroit police officer, while investigating an unrelated matter, observed several marijuana plants outdoors at the home of Savage, Franklin, and their son.
Two days later, eight Detroit police officers arrived at the house. Police were aware Savage and Franklin had a permit to grow medical marijuana, but the plants were in violation because they were visible outside, the search warrant affidavit said.
When Franklin showed police her marijuana paperwork and demanded to see a search warrant, an officer responded, "If you keep asking for a warrant, we are gonna kill those dogs and call child protective services to pick up your kid," the lawsuit says.
Officers detained Franklin and searched the house, but could not get to the marijuana plants because of the dogs. They initially called animal control but decided to destroy the animals, the lawsuit says. Officers shot and killed one dog through the fence, broke into the backyard enclosure, and fatally shot the other two. Animal control arrived ten minutes later.
"At no time did City of Detroit police officers give Plaintiffs an opportunity to sequester the dogs to permit them to access the back yard where the subject marijuana was located," the lawsuit says. "Plaintiff Franklin offered to take the marijuana from the back yard and give it to the police but Defendant police officers refused."
Because the dogs presented no imminent threat to officers and were secured behind a fence, the lawsuit contends their killing violated Savage and Franklin's Fourth Amendment rights against unreasonable search and seizure. They are seeking compensatory and punitive damages, as well as attorney fees, for what they say are the Detroit Police Department's reckless actions and callous indifference to their rights.
Last year, the city of Detroit approved a $100,000 settlement to a man after police shot his dog while it was securely chained to a fence.
Michigan attorney Chris Olson, representing Savage and Franklin, is also representing Nikita Smith, who is suing Police Department for shooting her three dogs while executing a search warrant for suspected marijuana sales. A judge dismissed criminal charges against Smith when officers failed to appear at her court hearing.
The Detroit Police Department did not immediately respond to a request for comment. However, in an interview this March with a local news channel, Detroit Police Assistant Chief James White defended the department from charges that it is needlessly shooting dogs.
"This isn't Fluffy the family pet in many instances," White told the news station. "Door comes off the hinges. There's pandemonium. People are running. Perpetrator, in many instances, has a weapon himself, can start shooting. Sometimes the dog is used as a tactic to get the advantage over the officers, and I just don't think it would be acceptable to an officer to put their life at risk to try to stop a dog from attacking them during a drug raid."
No officers' lives were at risk, Franklin had already been detained, and animal control was on its way. If a jury agrees with those facts, the city of Detroit might face another costly settlement.
Unless the Detroit Police Department changes the way it prosecutes the drug war, as I've written before, these incidents are practically guaranteed to continue. In April of this year, Detroit resident Renee Attles said the police stormed into her home and killed her dog during a wrong-house drug raid:
"I am so hurt," said Renee Attles. "You all you don't understand, I am so freaking hurt. That was my dog."

Renee Attles says she ran out to her sister's car to decide where they were going to celebrate their deceased mother's birthday. All of a sudden Detroit police stormed her Ryan Street home.

"I said what do you want," she said. "They handcuffed me and her sister at her car before we even got right there. All I heard was pop, pop, pow. Just like that. I told them let me get my dog."