Michigan College Arrests Kids for Handing Out Constitutions, Whines About Being 'Vilified' When Students Sue
Don't want to be portrayed as a villain? Stop restricting free speech.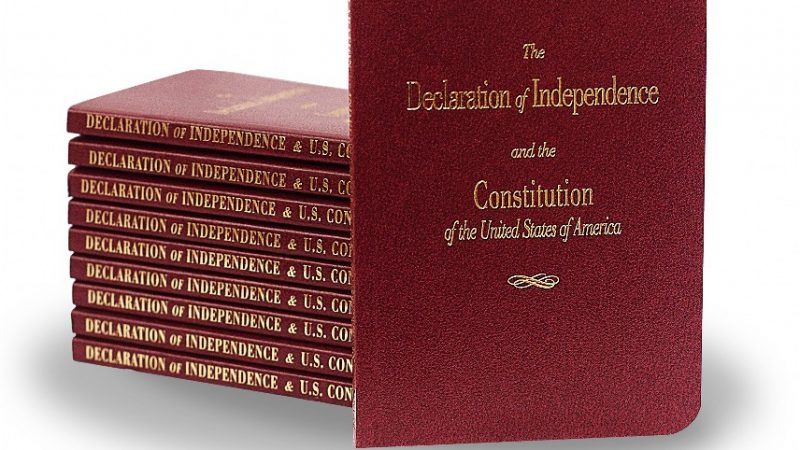 Young Americans for Liberty (YAL) members were passing out pocket-sized copies of the U.S. Constitution to fellow students at Kellogg Community College (KCC) in Michigan when college officials approached them and ordered them to stop. When the members refused—arguing that the First Amendment protected their actions—they were arrested for violating the school's policies.
The charges were dropped 10 days later, but KCC students and YAL members Michelle Gregoire and Brandon Withers, along with the rest of the KCC YAL chapter, sued the community college, the Board of Trustees, and a few other administrators for violating their First Amendment rights, as Reason reported earlier this year.
Now the administration is claiming that they are the real victims and have been unfairly vilified by the YAL lawsuit.
"Despite repeated public statements that the College does not take into consideration the content of speech or solicitation when granting access to campus, the YAL [chapter] and its supporters have vilified the College by spreading false information about why individuals were arrested on Sept. 20 and by suggesting that KCC does not value the U.S. Constitution or the free speech rights of its students," KCC spokesman Eric Greene said in a press release, "These accusations couldn't be further from the truth."
The community college claims that the YAL members could have gone on about their business had they just filed some paperwork and acquired a permit, but it is that exact policy the lawsuit argues is unconstitutional.
"Through the permitting process, KCC retains unfettered discretion to determine both whether students may speak at all and where they may speak," YAL's lawsuit reads. "These policies and practices chill protected student speech and disable spontaneous student speech on campus."
Alliance Defending Freedom (ADF), a nonprofit legal organization that focuses on religious freedom, filed a brief last month in support of the plaintiffs and took issue with KCC's speech permit policy. They pointed out that the Student Life Office has the ability to modify or deny any student's request for a permit, and that there are no objective standards for officials to review the requests.
"This policy requires that KCC officials examine the viewpoint of expression and censor such speech if it is perceived to be contrary to the College's mission," the brief reads. ADF argues that KCC's policy falls under viewpoint discrimination and violates students' First Amendment rights.
Other schools, such as Bunker Hill Community College in Massachusetts and Los Angeles Pierce Community College, have also violated students' First Amendment rights by preventing students and YAL members from handing out pocket Constitutions.
Those schools deserve to be "vilified" too.