Cindy McCain: Crony Philanthropist
From pill theft to cozying up to authoritarians, Trump's pick for U.S. ambassador on human rights has a long history of abusing the system.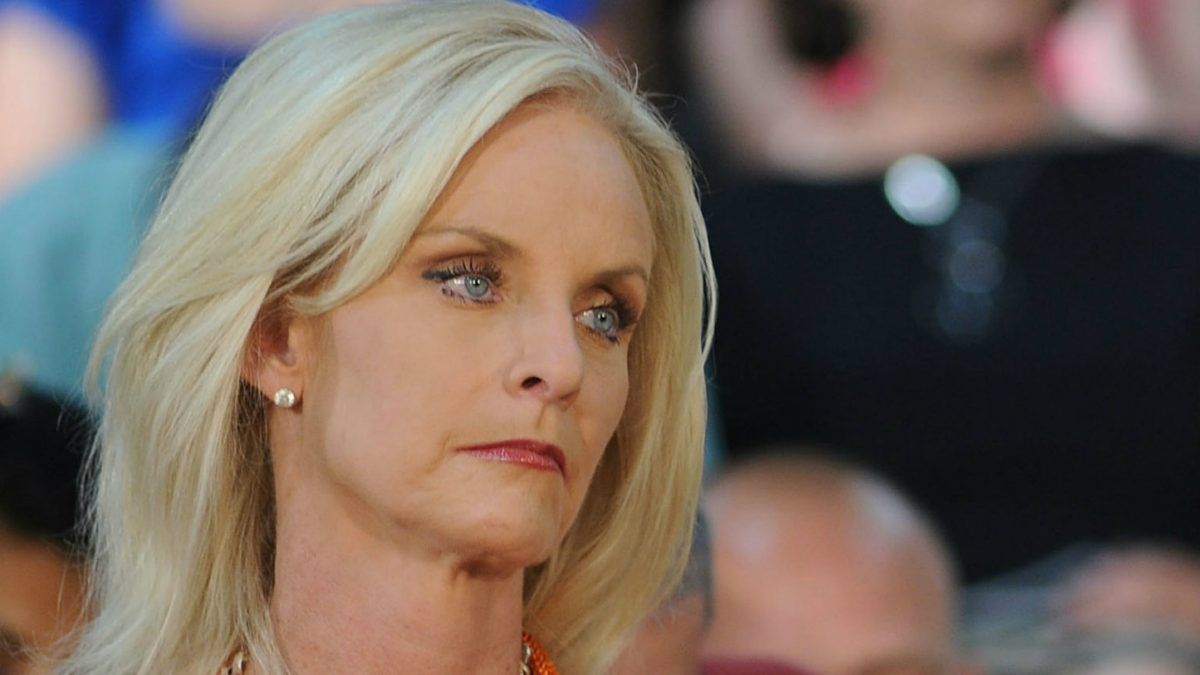 (Sharkpixs/ZUMAPRESS/Newscom)
After "aggressively courting" her for the role, President Donald Trump has reportedly nabbed Cindy McCain to serve in his State Department as an ambassador-at-large for human rights. She would almost certainly concentrate on sex trafficking, which has been the main focus of her recent advocacy—and on which she has a track record of spreading misinformation, promoting policies that make prostitution more dangerous, and partnering with people who use human trafficking as a cover for all sorts of rights-violating behavior. And this is just one of myriad red flags that the beer empress and senator's wife isn't quite as consistent or staunch a humanitarian as she's made out to be.
It turns out the "freedom, democracy, and human rights" institute launched by Cindy and Sen. John McCain is supported by large donations from entities known for persistent rights violations, including Saudi Arabia, a U.S. defense contractor selling smart bombs to the Saudis, and a Moroccan mining company occupying land in Northwest Africa.
In fact, examining McCain's philanthropic record reveals a long history of personal abuse of nonprofit resources, shady connections, and shoddy work. For years, McCain has been playing the role of crony philanthropist, and now she is poised to bring her dubious advocacy to the highest levels of government.
Friends in Authoritarian Places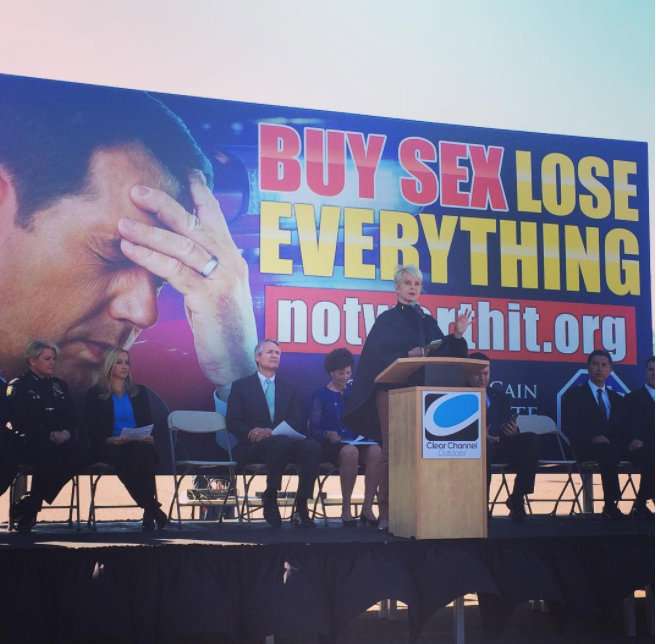 McCain has been lauded for her work on human trafficking—appearing on numerous panels and giving high-profile interviews on the topic. But she didn't pick up the issue until 2013, when she suddenly emerged as a fully formed crusader against sexual exploitation.
The bulk of Cindy McCain's anti-exploitation efforts are channeled through the Arizona government's Human Trafficking Task Force, which she co-chairs, and the McCain Institute for International Leadership, where she is chair of the Human Trafficking Advisory Council as well as one of the institute's most visible spokespeople.
Housed within the Arizona State University (ASU) system, the McCain Institute was launched in 2012 with $8.7 million left over from the McCain/Palin presidential campaign fund. (The McCains also set up the McCain Institute Foundation to collect donations for the institute and pass them on to ASU in $500,000 annual increments.) Upon its launch, ASU President Michael Crow said the McCain Institute would be "guided by the values that have animated the career of Senator McCain—a commitment to sustaining America's global leadership role, promoting freedom, democracy and human rights, as well as maintaining a strong, smart national defense."
Publicly, the institute's biggest issues are combatting "modern slavery," addressing human rights abuses abroad, using technology to solve humanitarian problems, and pushing a vague pro-development and democracy agenda globally in order to promote peace. In practice, this often looks like advocating for U.S. action in Syria and tougher penalties for prostitution while helping develop new digital surveillance technology and facilitate international business relationships.
"I don't think very many people have the same kind of access around the world that McCain has. When you mention his name, you do get top-tier people wanting to be associated and be helpful." —McCain Institute Executive Director Kurt Volker
The McCain Institute's top donors include a plethora of groups with far from stellar records or reputation when it comes to human rights. Many of these same entities were also donors to the Clinton Global Initiative.
For instance, OCP S.A., a state-controlled Moroccan phosphate mining company that has given at least $100,000 to the McCain Institute. OCP controls more than 75 percent of the world reserves of phosphates—which have become a hot ingredient in fertilizer—including mines built during Spanish colonization of the West Sahara. It has been accused of mistreating indigenous Sahrawi mine workers, as well as propping up Moroccan control of the area. "All the tainted money that Morocco has gathered from taking away our rights has been used to bribe the Clinton Foundation and the international community," former phosphate miner Lahbib Salhi told Politico in an expose on Clinton Foundation ties to OCP.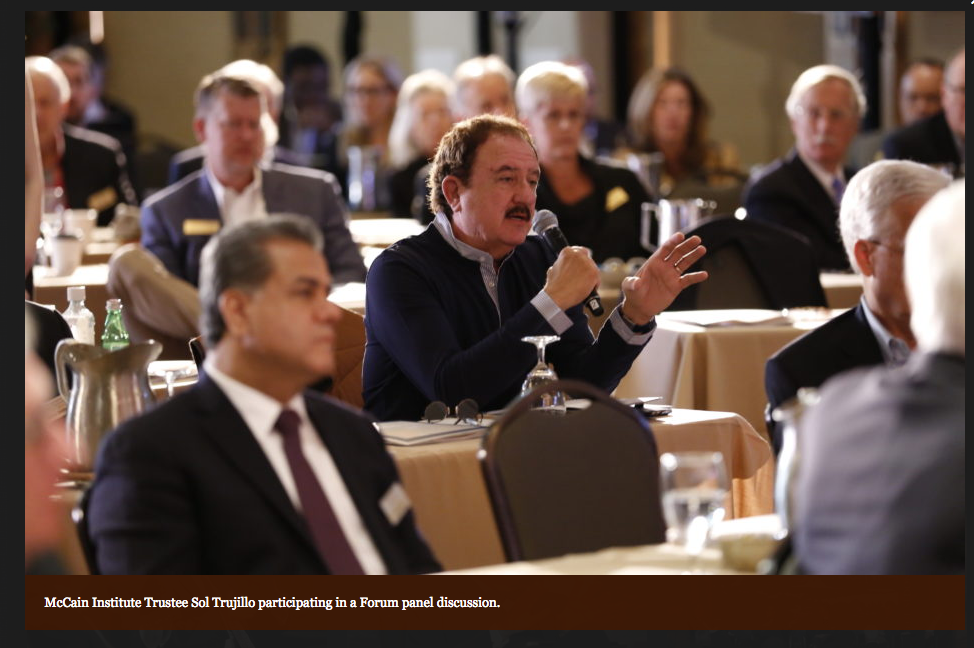 For decades—since Spain's departure from the area in 1975—the Moroccan government has controlled the region through violent clashes with the native Sahrawi people, tens of thousands of whom still occupy refugee camps in neighboring Algeria, and a refusal to allow a U.N.-mandated vote on independence or human rights oversight. The U.S. State Department has expressed alarm over reports of Moroccan authorities making arbitrary arrests, engaging in torture, harassing journalists, taking political prisoners, suppressing free speech—and, notably, ignoring rampant child labor, abuse, and sex trafficking.
McCain's organization also takes money from Saudi Arabia, a country Amnesty International describes as "using counter terrorism as an excuse to ruthlessly crush and persecute critics, peaceful dissidents, and human rights defenders" (and one which fellow McCain Institute donors Raytheon have been hot to sell more weapons too). In 2014, the McCain Institute Foundation accepted a $1 million donation from the Saudis. When questioned about the gift, John McCain said that he was "proud that the institute is named after" him, but that he personally had "nothing to do with it—except that they use my name."
McCain's ties, however, go far beyond his name. He provided the seed money for its launch, he speaks frequently at its events, and his wife is active in its ongoing operations. Meanwhile, the institute's staff, councils, and donor roll are packed with former McCain campaign staff, donors, advisors, and allies.
Sen. McCain was also the one who conceived of and set the institute in motion—an Arizona Republic article describes a 2012 meeting at Sedona's Enchantment Resort (where its annual forums are now held) at which McCain, then–CIA Director David Petraeus, Ben Affleck, several senators (including then–New Hampshire Sen. Kelly Ayotte), and former U.S. ambassador Kurt Volker gathered to plot the institute's launch.
The goal was to trade on McCain's connections and name recognition. "I don't think very many people have the same kind of access around the world that McCain has," Volker, now the institute's executive director, said at the time. "When you mention his name, you do get top-tier people wanting to be associated and be helpful."
Most board members have a tenuous connection at best to human rights, but plenty to do with industries McCain oversees in Congress. The same applies to the group's major donors. The institute's top donors and trustees also have a lot of entrepreneurial overlap, often working for companies with complementary interests, ongoing business ties, or past/upcoming projects together.
Take copper and gold mining company Freeport-McMoRan, which gave at least $100,000 to the McCain Institute, and whose former CEO sits on the McCain Institute Board of Trustees. Sen. McCain has vocally supported McMoRan's copper mining plans in Arizona, even as Freeport-McMoRan has continued to engage in a highly controversial mining operation in Indonesia, and the institute's annual Sedona Forum has let Freeport-McMoRan execs and Indonesian authorities bond in luxury and privacy at the Enchantment Resort.
Perhaps accepting donations from countries and corporations with sketchy human rights records could be excused if the McCain Institute and its foundation were really putting that money to good use against human-rights abuses.
But it is hard to make that case. Like so many well-funded "humanitarian" groups, the McCain Institute does little to directly address the needs of vulnerable people. Instead, it hosts high-level policy symposiums, puts out white papers, does misinformation-filled "awareness" campaigns, and hosts an annual desert networking weekend for the global elite known as the Sedona Forum.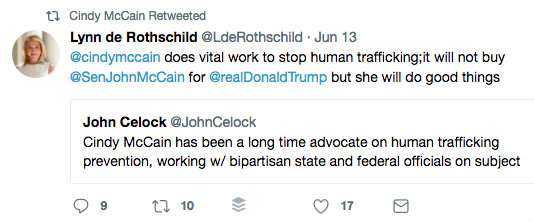 Guests at the 2017 forum included Mexican telecom mogul Carlos Slim, Freeport-McMoRan CEO Richard Adkenson, Trump Security Advisor H.R. McMaster, the deputy prime minister of Singapore, Swift Transportation Vice President (and McCain Institute trustee) David Berry, McCain campaign turned McCain Institute fundraiser Carla Eudy, then-GE chief executive (and McCain Institute trustee) Jeff Immelt, director of the Arizona Department of Homeland Security (and McCain Institute Trustee) Gilbert Orrantia, McCain Institute donors Lynn Forester and Sir Evelyn de Rothschild and her husband, multiple U.S. senators, and officials from Germany, Kurdistan, Qatar, Singapore, and Ukraine. Past Sedona Forums have hosted Hillary Clinton, Saudi Minister of Foreign Affairs Adel bin Ahmed Al-Jubeir, former intelligence director James Clapper, and execs from all sorts of transnational energy, oil, transportation, and technology companies, along with U.S. legislators.
The whole endeavor makes much more sense viewed as a perk for friends of the Institute than as a human-rights promotion project. Donors and McCain allies make up a significant share of guests at the Sedona Forums, at which they're free to schmooze with an array of national and international powerbrokers.
"I do not know what Cindy is up to but it appears as though she is trying to use several doctors' DEA numbers so that she can acquire drugs for personal use."
Sure, it could be the group's deep analysis of online prostitution ads in Phoenix that attracts the likes of copper mining companies, Greek shipping magnates, Dutch semiconductor processors, Wall Street bankers, and international arms dealers to donate. But access to off-the-record time with a cast of global intelligence, finance, and regulatory VIPs may not hurt.
Harnessing Human-Trafficking Fears for Media Coverage
This wouldn't be the first time that Cindy McCain was involved in charity activities that appeared to be employed for personal benefit. In the 1990s, McCain was known for stealing prescription drugs from a charity that she had founded to provide medical care to impoverished foreign children. For years, McCain used doctors and staff working for her American Voluntary Medical Team (AVMT) to secure fraudulent prescriptions for narcotic painkillers such as Vicodin and Percocet.
The Drug Enforcement Administration (DEA) began investigating McCain after being tipped off by the charity's director of government affairs, Tom Gosinski, who was once close with the McCain family. In a journal obtained by investigators and excerpted in the Phoenix New Times, he outlined his concerns about McCain's behavior. "I do not know what Cindy is up to but it appears as though she is trying to use several doctors' [federal numbers that let them write prescriptions abroad] so that she can acquire drugs for personal use," he wrote in a July 1992 entry. By the time he left, he believed her entire approach was a sham. "I have so little respect for Cindy and her objectives—she has made AVMT a media event—that even under the best of circumstances I do not think this organization merits existence," Gosinski wrote. (In January 1993, he was fired, allegedly because of the group's finances.)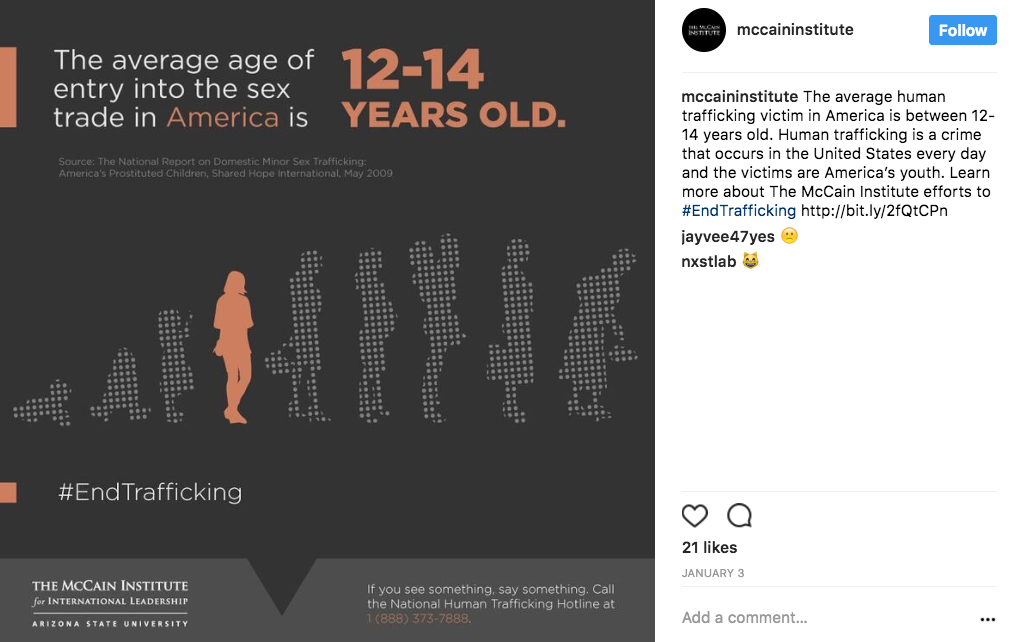 McCain would go on to admit to stealing drugs from AVMT and filling prescriptions under employees' names without their knowledge. For an average American, the charges she faced—obtaining a controlled substance by misrepresenting, fraud, forgery, deception, or subterfuge—could have meant decades in prison. McCain, whose pill theft was done under the guise of a tax-exempt charity she founded, was allowed to avoid charges by entering an addiction treatment program.
McCain's present-day work on human trafficking, meanwhile, is anything but harmless.
Harnessing a pop panic like America's "sex trafficking epidemic" has allowed her and other McCain Institute staff to earn ample media attention, secure spots on prominent human rights panels, forge ties with "social responsibility" units across the corporate sector, and get invited to testify at all sorts of government hearings—all while spreading "facts" that are at best unsupported by evidence and often at total odds with it. For instance, the McCain Institute often claims that more than 300,000 U.S. children are at risk of being trafficked each year, a dubious finding from a study that the lead author now disavows and which the respected Crimes Against Children Research Center has literally been begging people not to use since 2008.
The Institute routinely cites the bogus statistic that the average sex trafficking victims is 12 to 14 years old, a claim which all empirical evidence we have defies and one that's been regularly debunked in the mainstream media for several years. It refers to pornography as a "public health crisis."
And since 2013, one of Cindy McCain's most visible projects at the institute has been warning about the supposed spike in sex trafficking around the Super Bowl—also a myth that's been many times debunked. Her own organization commissioned a year-long academic study and—using Defense Advance Research Projects Agency technology—could verify no such spike. But they waved this away by theorizing that their previous awareness efforts had perhaps scared sex traffickers off.
Overall, the original sex trafficking research that the institute supports is methodologically weak and steeped in ideology. It relies on dubious leaps of logic of the sorts that have long been employed by government-funded actors to "prove" spikes in sex trafficking, such as deciding that certain words common in adult advertising are actually "code" for underage sex trafficking and then tallying up the number of ads using those words.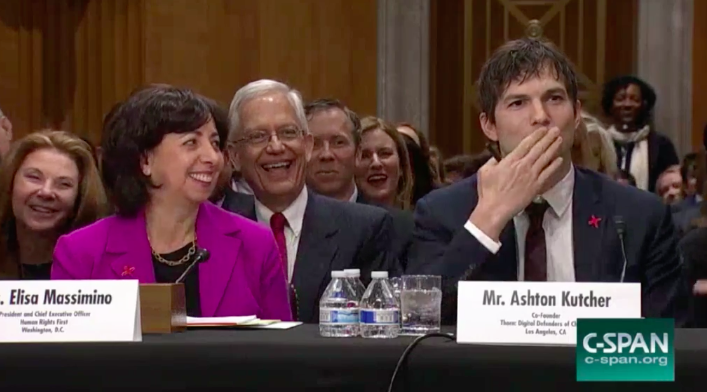 Cindy McCain and the institute have adopted supreme faith in the "end demand" strategy, where treating ordinary prostitution as severely under the law as sexual abuse and exploitation will supposedly put an end to the sex trade altogether. You can't have forced or underage prostitution if there's no prostitution at all, the thinking goes. To this end, they advocate tougher sentences for sex buyers, more police stings targeted at prostitution customers, and changes to federal policy that would let websites be held liable for criminal content posted by third parties.
Swanee Hunt, Human Trafficking Advisory Council member, describes her work as "leading a national action plan to stem the rise in prostituted sex through a market model that addresses not the supply but the demand, using changes to legislation and law enforcement practice as levers for change."
An annual report on the institute's anti-trafficking work cooed about partnerships with the likes of the police-driven CEASE Network (work included 18,061 potential prostitution customers "reached through arrests, cyber patrols, 'knock and talks', and online interventions" and working with Google to manipulate searches with sex trafficking awareness messages) and with Ashton Kutcher and Demi Moore's project, Thorn.
Kutcher brought Thorn's message to Capitol Hill last February—claiming before Sen. McCain and his Congressional colleagues to have helped law-enforcement save thousands more sex trafficking victims than the U.S. government reports finding at all levels.
This "Shine a Light on Slavery" hearing wasn't just full of dubious misinformation. It also masked key connections between the participants. Along with Kutcher, it also featured Elisa Massimino, a member of the McCain Institute Board of Trustees. Yet neither Kutcher nor Massimino were identified as being on McCain Institute's councils and boards.
She'll Fit Right In
"A formal announcement of [Cindy McCain's] new role is expected within a matter of weeks," The Daily Beast reported last Monday, after two senior administration officials called it a "done deal" for both parties. Donald Trump "aggressively courted her for this," one official told The Daily Beast.
Early chatter about the pick has focused on why President Trump would choose Mrs. McCain to be a member of his cabinet when both she and (especially) her husband have been vocal Trump critics. Some have suggested that bringing Cindy on board is Trump's attempt to neutralize any threat they pose. Meanwhile, White House sources have portrayed the move as being brokered by Ivanka Trump, who has recently taken an interest in "modern slavery" issues.
Regardless of why Cindy McCain may be appointed as to a position promoting human rights, a better question is whether she will be effective at it. And based on her history of philanthropic endeavors, the answer is a resounding "no."