As World Refugee Population Hits All-Time High, U.S. on Pace to Welcome Third-Lowest Percentage in Recorded History
Global refugee population from 2012-2016 spikes from 10.5 million to 17.2 million; Trump so far admitting fewer than 3,500 per month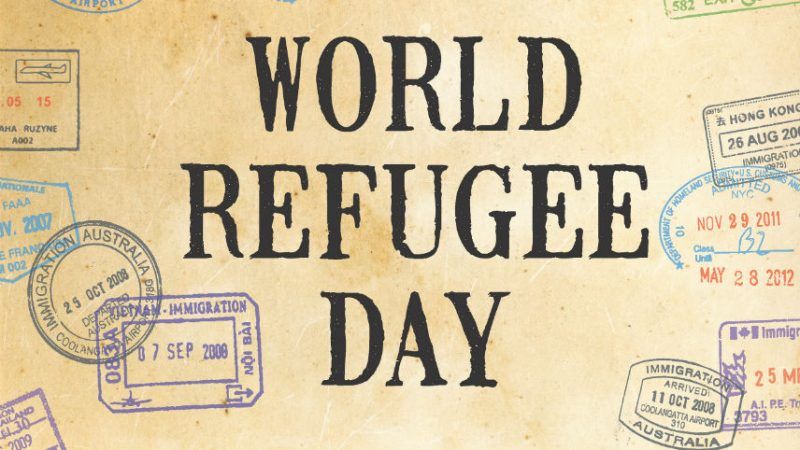 Today, like every June 20 this century, is World Refugee Day. Yesterday, to get the grim occasion rolling, the United Nations High Commissioner for Refugees (UNHCR) released its annual report on displaced people. The results? A record "65.6 million people were forcibly displaced worldwide at the end of 2016 – a total bigger than the population of the United Kingdom and about 300,000 more than last year." Also: "the total seeking safety across international borders as refugees topped 22.5 million, the highest number seen since UNHCR was founded in 1950 in the aftermath of the Second World War." Happy June 20!
The refugee population has spiked alarmingly over the past half-decade, due to civil war and societal breakdown in countries such as Syria, Afghanistan, and South Sudan. As I detailed here after President Donald Trump's original travel ban executive order, the worldwide population of refugees (minus the 5.3 million registered with the UN Relief and Work Agency for Palestinians in the Near East), was stable between 2008-2012, at between 10.4 million and 10.6 million. But since then, according to the UNHCR, things have gone like this:
2013: 11.7 million
2014: 14.4 million
2015: 16.1 million
2016: 17.2 million
That 64 percent jump since 2012 is the largest five-year increase since 1979-1983, a tumultuous period that saw southeast Asian boat people, exiles from the Iranian Revolution, Flordia Straits-crossers on the Mariel boatlift, and more. Back then, as the refugee population swelled from 6.3 million to 10.6 million, presidents Ronald Reagan and Jimmy Carter took in an average of 127,000 refugees per yer*, or approximately one out of every 71 worldwide, and assumed a global leadership role in tackling a devilishly complex issue.
How does the Trump administration compare? Consider that in the first four full months of his presidency, during this historic spike in displaced people, the United States admitted a total of 13,955 refugees. Over a full year that would be just a tick under 56,000, or one out of every 307 worldwide at last year's refugee population.
Trump's target is actually lower than that (50,000), and the number of refugees in 2017 is almost certain to be higher, due to the four famines expected this year in South Sudan, Nigeria, Somalia, and Yemen, in addition to ongoing wars and civil conflict. And though we inevitably and understandably see such crises through the lens of our domestic policies, the UNHCR report is careful to underline that "Developing regions hosted 84 per cent of the world's refugees," led by Turkey (2.9 million), Pakistan (1.4 million), Lebanon (1.0 million), Iran (979,400), Uganda (940,800), and Ethiopia (791,600). Plenty of other fascinating nuggets, including Germany doubling its refugee population in 2016 alone, in the full report.
* The U.S. measures its refugee intake by fiscal year (October-September), while the UNHCR adheres to the calendar. Even so, fiscal 2017, which includes four generous months of Barack Obama's intake (with more than 32,000 admitted), is currently on pace to represent the third-lowest percentage of global refugees taken in by the United States, at 0.35 percent (based on the UN's 2016 baseline of 17.2 million refugees). The only more stingy years on a percentage basis were George W. Bush's 2002 (0.25) and 2003 (0.29).
More refugee number-crunching in this post, including this from Reason TV: