Iowa Eye Doctor Sues State Over Cronyist Rule That's Kept Him Out of Business Since 2004
Hospitals use CON laws to stop potential competition, limiting care for patients and opportunities for doctors.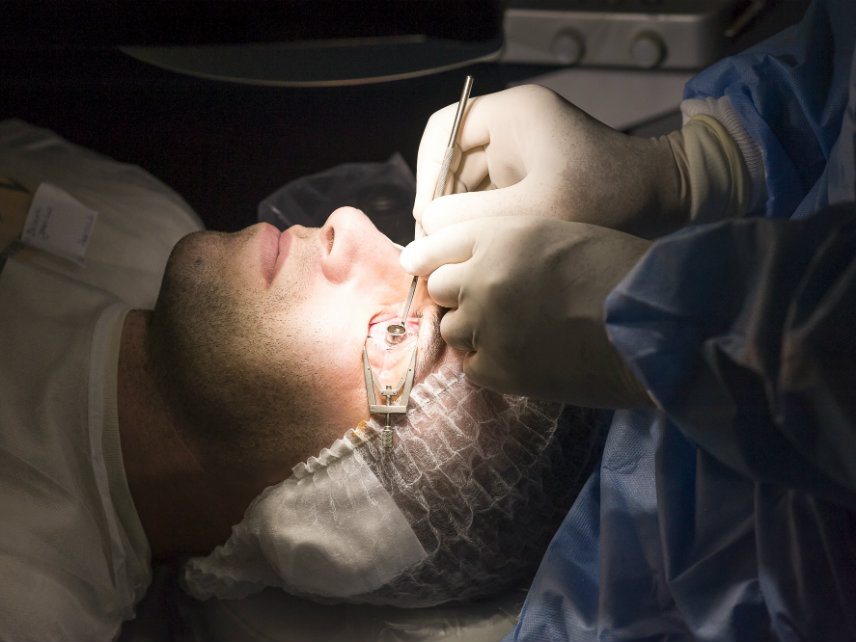 In Cedar Rapids, Iowa, there is a fully outfitted outpatient surgical center that could be used to treat patients with eye problems and improve their vision.
It sits empty, unused, a monument to government-imposed, artificial restrictions on the supply of medical care.
The prohibition has nothing to do with Dr. Lee Birchansky, who owns the surgical center and the doctor's office next door. He's allowed to operate on patients at nearby hospitals, but he can't do those same surgeries in the facility that he owns. That's because, for more than a decade, he's been prevented from obtaining a so-called Certificate of Need license from the state for his surgical center—but, under state law, no such license is necessary for facilities located within hospitals.
It's perhaps easy to see why hospitals like this arrangement.
In fact, hospitals that don't want to compete with Birchansky's outpatient practice have petitioned the state Department of Public Health to block his CON applications, arguing each time that his services are not needed because there is not sufficient demand for outpatient eye surgery. Meanwhile, one of those hospitals is in the process of building its own outpatient surgical facility less than five miles from where Birchansky's operating rooms have been sitting, unused, for 13 years.
"It is ridiculous that I have an outpatient surgery center that is already built, already equipped, and all ready to go, but I have been denied a certificate of need four times because established hospitals do not want competition," Birchansky says.
On Wednesday, he took his case to the courts. With the help of the Institute for Justice, a Virginia-based libertarian law firm known for challenging state licensing laws and other forms of government overreach, Birchansky (along with one of his patients and another Iowa medical provider) filed a lawsuit in federal court claiming that Iowa's CON laws violate the constitutional right to practice a profession without unreasonable government interference.
"Patients and doctors—not the government—are in the best position to decide what medical services are needed," said Joshua House, an attorney for IJ.
Birchansky's Kafkaesque experience began in 2004. As the Cedar-Rapids Gazette reported last year, Birchansky had used his surgical center for six years as part of a partnership with nearby UnityPoint-St. Luke's Hospital. When that partnership collapsed, it was suddenly illegal for Birchansky to use his operating rooms, even though nothing about the facility had changed and there was no evidence that Birchansky's skills as a surgeon had declined.
To re-open, he had to obtain a state-issued Certificate of Need license. That required filing a letter of intention with the state Department of Public Health, along with a lengthy application, and a $21,000 fee. Then, under state law, the department notified all "affected persons" including the nearby hospitals that Birchansky would be competing against. When determining whether to award the license, the state board is supposed to consider 18 different factors, including any objections from existing businesses.
There were objections. Two hospitals—UnityPoint St. Luke's, where Birchansky previously worked, and Mercy Medical Center—have objected to each of the four applications Birchansky has filed with the state since 2004. On each occasion, the state Department of Public Health has sided with those hospitals and denied Birchansky's applications.
After repeatedly blocking Birchansky's applications, Mercy Medical Center in 2015 announced plans for a new surgical center just four miles down the road. Because of a loophole in state law allowing hospitals to expand without getting a CON, they can go ahead without asking Birchansky for his opinion.
The result is that Birchansky is not allowed to offer perfectly legal medical services to Iowans who might want to take advantage of them. What is supposed to be a process that looks out for patients' best interests ends up being used to direct business to existing hospitals and limits both the availability of medical care and patients' ability to choose where to receive that care.
Iowa is hardly alone in having these backwards, bureaucratic rules governing how health care providers can operate. In January, Reason reported on the years-long fight between two Virginia hospitals over the construction of a new neonatal intensive care unit. While the regulators were deliberating, a baby tragically died at the hospital that had sought to build a NICU—a facility that, had it been built, might have saved its life.
The costs of CON laws aren't always that obvious, they always exist. In a paper published last year by the Mercatus Center at George Mason University,Thomas Stratmann and Davild Wille argue that hospitals in states with CON laws have higher mortality rates than hospitals in non-CON states. The average 30-day mortality rate for patients with pneumonia, heart failure, and heart attacks in states with CON laws is between 2.5 percent and 5 percent higher even after demographic factors are taken out of the equation.
The result is fewer options for patients and longer waits for care. Like in Georgia, where a state court will hear oral arguments on June 26 in a case challenging that state's CON laws for hospitals. There, the Women's Surgical Center, LLC, is suing the state Department of Community Health for blocking its plan to add more operating rooms and contract with more patients. The Goldwater Foundation, an Arizona-based libertarian group, is involved in that lawsuit on Women's Surgical Center's behalf.
Those fights, and others, will continue as long as state governments maintain nonsensical policies saying it's legal for doctors to perform medical procedures in one operating room, but illegal for those same doctors to perform those same, perfectly legal procedures in other safe, clean, and modern operating rooms simply because of the location.
Back in Iowa, hospitals have been fighting hard to maintain their government-granted privileges. Gov. Terry Branstad pushed for reforms to the state's Certificate of Need laws this year. The CON law has "become a way for certain (organizations) to keep out competition," Branstad told the Quad City Times last year. In other public comments, Branstad has stressed how the CON law hurts Iowans by limiting access to health care and hurts the state's economy by making it harder to attract new medical services.
But hospital lobbyists successfully killed the reform effort, as Iowa Public Radio detailed in March.
Maybe the courts will succeed where the legislature failed. Maybe one of these days, Birchansky will be allowed to use his operating rooms again, to improve the vision of Iowans. We'll see.