Senate Vote on Saudi Arms Deal Fails, But Momentum Against Saudi Alliance Growing
By a closer margin than the last time Sens. Rand Paul (R-Ky.), Chris Murphy (D-Ct.), and Al Franken (D-Minn.) tried to block a Saudi arms deal.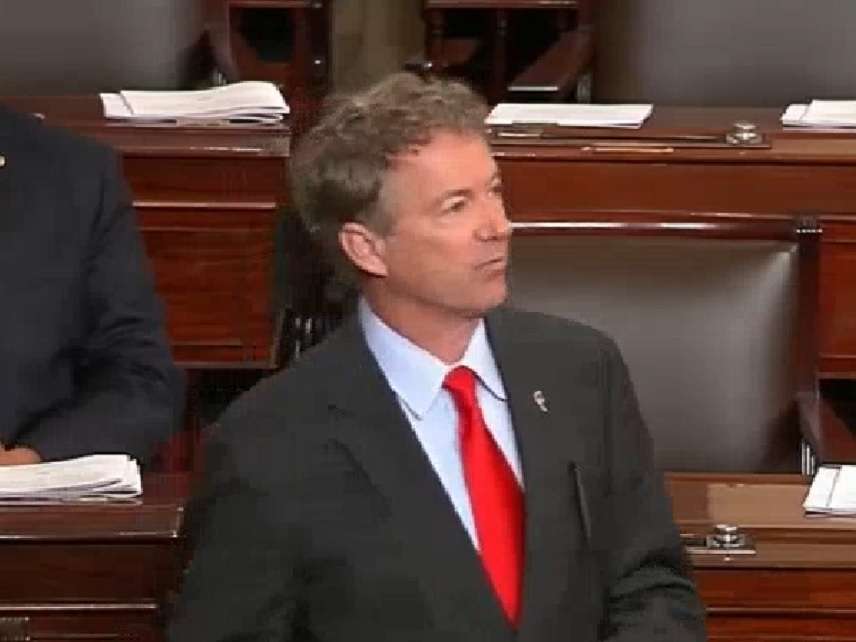 A vote to advance a resolution of disapproval of a $510 million U.S. deal to send precision guided weapons systems to Saudi Arabia failed in the Senate by a vote of 47-53.
The resolution received far more support than a similar resolution last year targeting a $1 billion tank deal with Saudi Arabia blocked by the Obama administration.
The vote indicates support is growing to question the foreign policy establishment status quo. This even as President Trump is abandoning the challenges of the underlying assumptions of U.S. foreign policy and the U.S.'s entangling alliances he made during his campaign.
Sen. Rand Paul (R-Ky.), a main sponsor of the resolution, admitted to reporters today the vote was purely symbolic, noting that that the House is unlikely to bring it up and that even if it passed Trump would veto it anyway.
"How do we figure out how to have less war?" Paul asked reporters. "That's the big question. I'm not willing to invade Saudi Arabia to tell them what to do, but we don't have to support them."
Last year's resolution, sponsored like this one by Paul, Chris Murphy (D-Ct.), and Al Franken (D-Minn.), sought to disapprove the sale of Abrams tanks and other arms to Saudi Arabia. It failed by a vote of 71-27 to table the resolution.
Paul called today's vote a "continuation" of the last one.
"We had a vote [last year], and we lost the vote, which I think is a good example of losing the vote but changing the policy," Paul told Reason. "We lost the vote, but then Obama said well maybe we shouldn't give them the special guided missiles, and then Trump has brought it back again."
Paul predicted beforehand that there would be a lot more support from Democrats and most Democrats supported today's resolution, which disapproved of the sale of precision-guided munitions to Saudi Arabia for use in Yemen.
The Obama administration expressed concern over the way Saudi Arabia was conducting its military operations in the Yemen civil war when barring the sale last year.
While Sen. Bob Corker (R-Tenn.) and other supporters of the arms deal argued the precision guided systems would reduce civilian deaths, critics challenged that idea.
"Saudi Arabia bombed a funeral procession," Paul said on the Senate floor, referring to an October 2016 incident. "There was no mistake here, there was no cloud cover, there was no growth or tops of trees and they accidentally bombed a funeral procession. They bombed them and killed 125 civilians in a funeral. They wounded 500."
Rights groups expressed similar concerns.
"Despite increased U.S. support in the form of training and smarter weaponry to lessen civilian casualties, it has become clear that several unaddressed flaws in Saudi Arabia's targeting process, not the precision of the munition or targeting skill, are the principal cause of harm," read a letter signed by Oxfam and 40 other humanitarian groups and sent to every member of the U.S. Senate. "According to analysis released by the American Bar Association, resuming unconditional sales of these weapons to Saudi Arabia violates the Arms Export Control Act and the Foreign Assistance Act."
That ABA report found that the U.S. could not "continue to rely on Saudi assurances that it will comply with international law and agreements concerning the use of U.S.-origin equipment."
Oxfam has warned that Yemen, embroiled in a two-year civil war, is on the verge of famine, with nearly 7 million Yemenis facing starvation.
"We need to realize that we are a part of it," Paul said, referring to the ongoing Saudi-led blockade of Yemen, which rights groups say is preventing food and humanitarian supplies from reaching the country. "Am I going to send one of my three sons to fight a war in Yemen?" Paul asked. "I'd have no idea what they were fighting for."
As recently as September 2014, President Obama had pointed to U.S. counterterrorism operations in Yemen as a model for the fight against ISIS and other counterterrorism campaigns. Instead, U.S. actions in Yemen, increased the popularity of the local Al-Qaeda affiliate and helped to destabilize the country.
Much of President Trump's vaunted $110 billion arms deal with Saudi Arabia remains vaporware, or as the Brookings Institution calls it, "fake news." The deal, Brookings senior fellow Bruce Riedel wrote, consists of "letters of interest or intent, but not contracts."
On the campaign trail, Trump talked tough about Saudi Arabia, at one point suggesting the Arab kingdom was responsible for the terrorist attacks on 9/11. He questioned the one-way defense relationship, and called it the world's largest funder of terrorism.
As president, Trump made Saudi Arabia his first foreign trip, where he addressed Arab nations on the need to cooperate on fighting terrorism and toured a new counterterrorism center. Paul, earlier today, accused Saudi Arabia of "polluting the world with this anger" of radical Islamist terrorism.
The Saudi arms deal, particularly in the context of Saudi intervention in the Yemen civil war, represents a further entanglement in regional politics, the kind that Trump the candidate said he'd avoid.
The Senate's efforts to scuttle a substantive, materialized chunk of the arms deal are a good start—congressional pressure could thwart further progress on bringing the rest of the $110 billion arms deal to fruition. Where President Trump has dropped his challenges to the foreign policy establishment status quo, Senators on both sides of the aisle, like Paul and Murphy, have an opportunity to pick up from the president and tap into the same popular weariness of the foreign policy status quo Trump did.
Senators can challenge arms deals thanks to the Arms Export Control Act of 1976, which, as Paul explained to the press the last time around, allows senators to force a vote on arms sales by the president.
Additional reporting by Eric Boehm in Washington.