Cuban Libertarians Accused of 'Disturbing Public Order' for Holding Quiet Hunger Strike at Home
The chilling encounter was captured on video.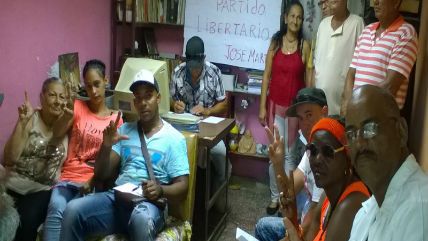 Footage from Cuba shows agents of the government accusing activists of "disturbing public order"—for a quiet protest in a private home.
The context involved the February arrest and detention of two Cuban libertarians, Ubaldo Herrera Hernández and Manuel Velázquez Visea. Their treatment inspired the creation of the Partido Libertario Cubano—Jose Marti, named for the famed 19th century hero of Cuban independence. The party in turn has received yet more harassment by the authorities.
For example: Members of the party met late last month at the Benjamin Franklin Libertarian Library, hosted in a private home in Havana, where two of them claimed to be conducting a hunger strike protesting the detention of their comrades. While the meeting was underway, they received an intimidating visit from some state security officers.
They used a phone to capture the encounter on video, then passed the phone along to a neighbor. The result is a direct look at life for dissidents in Cuba.
In the first half of the video (with English subtitles for the Spanish dialogue), three young men coolly inform the activists that they are "committing a crime" of "disturbing public order" by quietly protesting how their libertarian friends were treated. After the intruders threaten to arrest a woman, she responds: "In my house I'm the boss." The agents reply that they "keep hearing here and there that there's trouble here"—a disconcerting excuse for men to show up threateningly at your door.
In the second half of the video, shot later, several of the activists talk about being taken in, threatened, and beaten following the encounter in the first half. The two hunger strikers claim that their shoes were stolen and they were forced to walk home barefoot after their detention.
Here's the video: