A Very Unlibertarian British Parliamentary Election
Theresa May and Jeremy Corbyn represent two illiberal choices.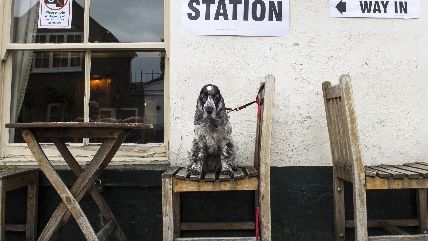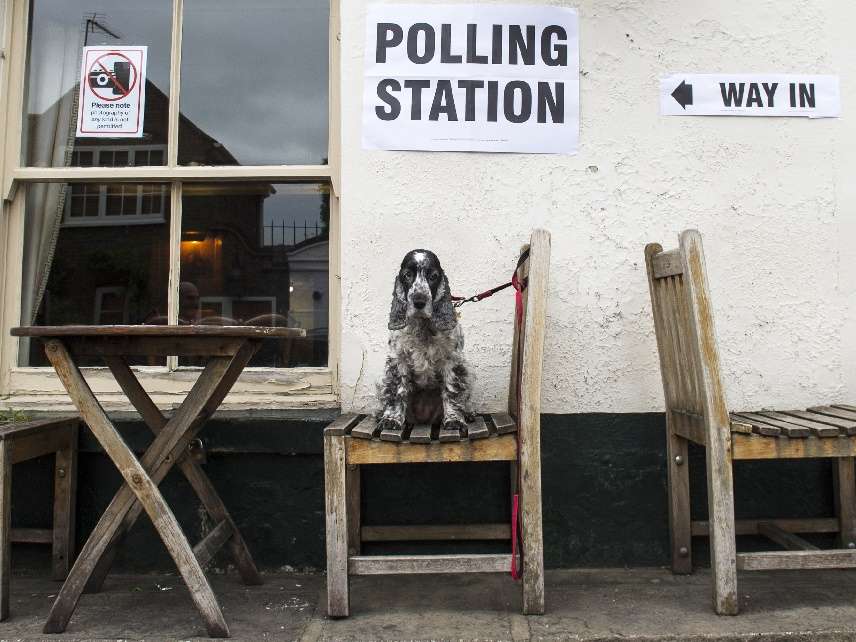 Today in the U.K., voters will choose whether they want to be governed by Theresa May's Conservative Party or Jeremy Corbyn's Labour Party. In other words, they'll face the most unlibertarian options the modern British electorate has ever had.
"The 2017 Conservative manifesto is the most illiberal and anti-market manifesto any major party has produced in 30 years, with the exception of the 2017 Labour manifesto," says Sam Bowman, executive director of the London-based Adam Smith Institute. Corbyn, Bowman complains, "is an unreconstructed Marxist, and I do not use the term lightly, who despises markets and capitalism." May, meanwhile, "has explicitly attacked libertarians within her own party"; she represents "the old Tory tradition of patrician paternalism that distrusts markets for being chaotic and socially disruptive."
Since April, May has seen her party's lead over Labour shrink from 20 percent to about 7. Tom Clougherty, British-born managing editor of the Cato Journal, blames that decline on its decision to make the election about issues of leadership rather than policy or ideology. Corbyn came off as more authentic than the "flip-flopping" May, Clougherty observes.
That said, May has recovered some of that lead by shifting focus to economic issues. The Conservatives, Clougherty notes, are now highlighting "some of the Labour Party's plans for renationalization, for massive tax increase, for spending money on basically anything that any left-wing pressure group could possibly wish for regardless of the still large deficit that Britain has."
Whichever party wins today, the prospects are irredeemably grim for civil liberties. After last weekend's London Bridge terrorist attack—the third Islamist assault in the country in as many months—May said the government should have the authority to censor and control speech on the internet. She has also suggested that human rights laws are obstructing the campaign against terror.
Clougherty thinks the United Kingdom doesn't have a culture of strong respect for civil liberties to begin with. "Britons are much more willing to put a lot more faith in their security and intelligence services than your average Americans." he says. "Aside from a relatively small group of committed civil libertarians, there's not a big political constituency for civil libertarian talk, whether it's on basic counterterror stuff or whether it's about surveillance or online free speech." He adds that May doesn't have a "libertarian bone in her body" on civil liberties and that the recent terror attacks strengthened her preexisting authoritarian views.
There are some civil libertarians in May's party. David Davis, who serves as secretary of state for exiting the European Union, took Theresa May to court in December and secured a ruling that the government could not mandate "general and indiscriminate" retention of email data by internet companies. But the "Conservative manifesto is dreadful on civil liberties, particularly on digital surveillance and internet regulation," Bowman says. "Banning messaging apps that use end-to-end encryption to protect users (such as WhatsApp) has been suggested by both the PM and the current home secretary, even though it would achieve very little." There is also "a big push to force the big tech firms to censor jihadi videos" and other extremist content.
The prospects for liberal immigration policy are also dim. The widespread assumption in the United Kingdom, Bowman says, is that all kinds of immigration—low-skilled, high-skilled, student—are bad for the country and that the parties "need to show that they're 'tough' on it." Both parties have ruled out preserving freedom of movement in the Brexit negotiations, "which in practice means we can't stay in the Single Market."
The Conservative Party has taken the hardest line on immigration, seeking to reduce net migration from about 250,000 a year to just 100,000. But Corbyn, too, is an immigration skeptic. In a debate last week, Corbyn warned that low-skilled workers are being brought in from places like Eastern Europe to "undermine working conditions" in Britain.
Trade may offer the election's one saving grace. "Free trade is more popular and forms more of a political consensus in Britain by a long, long way than it does in the United States, and Britain is a free trading nation," Clougherty explains. "I think Theresa May has explicitly said that she wants Britain in its post-Brexit geopolitical role to be a leader, or maybe the leader, for free trade and liberalization."
Support for Brexit has increased since the 2016 vote, largely because the economic catastrophe promised by Brexit's opponents did not materialize. But Brexit has not been a major issue in the campaign. One reason for the lack of urgency is that Brexit negotiations will likely not begin in earnest until September, after Germans go to the polls. (German Chancellor Angela Merkel is seeking re-election.)
"The Tories' strongest issue is Brexit, where Labour is internally divided but the Conservatives are not," Bowman says. "The Tories have fairly successfully cast themselves as the party of Brexit, though they've framed the issue as a question of who is the best negotiator rather than offering the best Brexit plan." The Conservative Party has been tight-lipped about precisely what kind of Brexit plan they want.
Beyond Brexit, Clougherty predicts that Britain "will try to simply replicate the deals that it has through the EU with third countries as an independent nation. For example, it might just say to Canada, let's just photocopy the trade deal you just signed with the EU and say that it applies between the independent UK and Canada as well." A trade deal with Canada—or Australia, or New Zealand— could be freer than a deal with the EU, Clougherty notes, because of the climate toward free trade in those countries.
Bowman is more skeptical. "The prospects for free trade are ambiguous," he argues. "The new Department for International Trade has some very talented staff, and there is certainly an appetite in the government to 'make the most of Brexit' by striking free trade deals quickly, but the U.S. is the only country with whom a deal is both feasible and large enough to affect our economy much." He adds that while Australia and New Zealand "seem keen to strike a deal," they "are on the other side of the world and not very large; China and India are enormous but striking a deal with them seems very difficult.
"The deal with the EU of course must count as a 'free trade deal,'" Bowman says, "but since most people believe that ending freedom of movement should be a red line any deal we get will be much less free than what we have at the moment."
One nonfactor in the election has been the United Kingdom Independence Party (UKIP), the right-wing Euroskeptics who made leaving the EU a top priority.
"Their raison d'etre has been taken away from them," Clougherty says. With Nigel Farage, their long-time leader, off the political stage—plus organizational problems, financial problems, and some scandals embroiling their leadership—UKIP is in a downward spiral.
"I think chances are, we will see UKIP effectively cease to exist," Clougherty says. "Though it's always dangerous to make those kinds of predictions."