Paris Pullout, Russia Reboots, and LeBron Hate Crimes: The New Fifth Column
Also listen to the Sirius XM POTUS version Sunday at 3 pm ET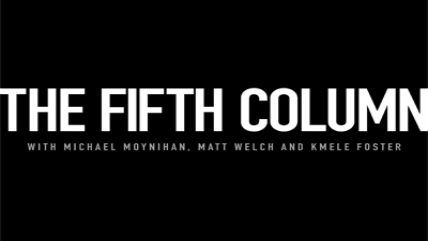 Hey, will you be listening to Sirius XM after church on Sunday? Tune into Channel 124, a.k.a. POTUS, at 3 p.m. tomorrow, and you'll hear the hour-long broadcast version of The Fifth Column podcast, co-hosted by Kmele "Never Fly Coach" Foster, Michael "Hollywood" Moynihan and the author of this blog post. Or you can hear the whole unspooled straight-to-yr-headphones biz right here:
Topics include foolish paternal attempts to play soccer, controversial if telegraphed decisions to pull out of unenforceable non-treaty climate agreements, racist anti-LeBron James vandalism, Russkies galore, and so on.
Not enough for ya? OK, here's an entertaining, NSFW episode of the great Brilliant Idiots podcast starring DJ Charlamagne Tha God and Reason-loving comedian Andrew Shulz, in which I come on at the 1:14 mark to spool out my working theory on the Russia/Trump story:
More Fifth Column stuff is availabile at iTunes, Stitcher, Google Play, wethefifth.com, @wethefifth, and Facebook.