Turkey Seeks Arrest of NBA Player, Says He Belongs to a 'Terrorist Organization'
Erdogan's post-coup crackdown hits Oklahoma Thunder center Enes Kanter.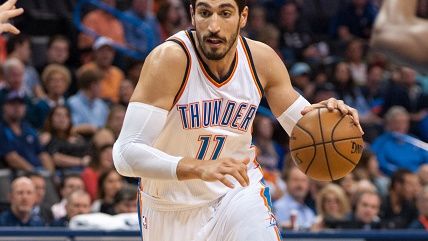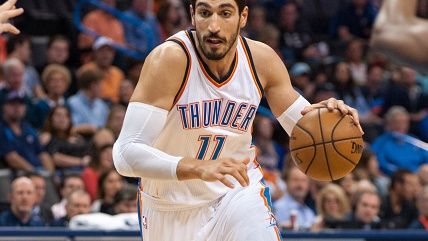 (Torrey Purvey/Icon Sportswire hDGX/Torrey Purvey/Icon Sportswire/Newscom)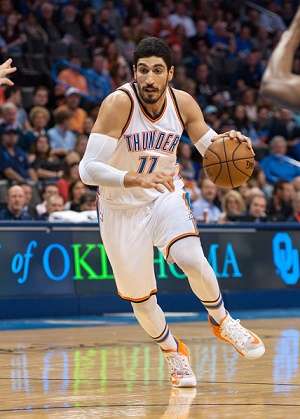 A Turkish court has reportedly issued an arrest warrant for Oklahoma Thunder center Enes Kanter, charging him with "being a member of a terrorist organization." The 25-year-old Kanter, a Turkish national who has been living in the United States since 2009, has been an outspoken critic of the increasingly authoritarian Turkish government. He is also a supporter of Fethullah Gulen, a former imam and former ally of Turkish President Recep Erdogan.
Gulen, who has lived in the U.S. since 1999, is the spiritual leader of a movement known as Hizmet (Turkish for "service"). According to the Rubin Center for Research in International Affairs, he was estimated to have "between 200,000 supporters and 4 million people influenced by his ideas" in the late 1990s. Erdogan regularly accuses him of being the mastermind behind last year's attempted coup.
"Only exiled people are going to be willing to go on record" about Kanter, a source familiar with the situation on the ground in Turkey tells Reason. "The whole set of accusations and demands has become toxic. It's partly because it's a no-go topic in Turkey but also because the [Gulen movement] is flawed and disliked by a lot of ordinary people in Turkey."
After the failed coup, Erdogan initiated a massive purge of academics, bureaucrats, members of the judiciary, and members of the media, claiming with little to no evidence that thousands of people were colluding with what the Turkish government now calls the "Gulen Terrorist Organization." Kanter's family in Turkey has publicly disowned him, with his father apologizing to Erdogan "and the Turkish people" for "having such a son." That didn't keep Kanter's dad from losing his job at a university in Istanbul.*
Turkey's slide into authoritarianism accelerated after a constitutional referendum earlier this year that vastly expanded Erdogan's powers. Since then, and particularly because Germany and the Netherlands prohibited pro-Erdogan election rallies in their countries, "Erdogan has shown little concern with how the West (particularly the U.S. and the EU) view his actions, and arguably has been behaving in such a manner as to create a wedge between the Turkish people and the West," says Michael Wuthrich, a specialist on the region who directs the Global & International Studies program at Kansas University.
"What is particularly surprising about Kanter's case," Wuthrich adds, "is that they are targeting a well-known international figure who hasn't lived in Turkey for any length of time for years"—and "whose connection with the foiled coup plot would be extremely dubious to all but the most ardent Erdogan supporter." For Wuthrich, that means Erdogan "no longer feels shame from a harsh reaction from the West; in fact, he is stoking it to present to his political base a Western bloc that is part of a grand conspiracy to thwart Turkey's rise to greatness."
Gulen, meanwhile, serves as "an Orwellian foil of sorts," though "there is very little substance that would link him to the attempted coup," Wuthrich says. Gulen has structured his supporters' network "in such a way that he almost never conveys direct orders. Even if he wished that Erdogan was removed from power, it is unlikely that he expressed this in any sort of explicitly incriminating ways or would have sullied himself with planning and preparation for such a thing." It's not even clear that the Turkish government sincerely wants extradite Gulen. Because he has been "conveniently operating as a scapegoat for every problem that Erdogan finds himself in for the last several years," Wuthrich explains, Gulen may be more valuable abroad.
Turkey's chances of securing an extradition of Kanter are low, according to Wuthrich: "There is almost no way that the Justice Department could link Kanter to anything beyond verbal support for a religious leader, who the Turkish government accuses of instigating a coup." Turkey has reportedly asked Interpol for an international alert on Kanter, who last month was temporarily detained in Romania after the Turkish government suspended his passport. Interpol is unlikely to honor the request.
As Turkey continues its slide into authoritarianism, and as President Donald Trump's admiration for Erdogan continues to receive scrutiny, one part of the relationship between Turkey and the West remains unquestioned: its membership in NATO. Erdogan can thumb his nose at Europe (and the U.S.) because of the fairly ironclad security commitment NATO represents. And while Trump has questioned the wisdom of the NATO alliance, he has not questioned the underlying assumptions of U.S. involvement in Middle Eastern politics. That involvement has seen the U.S. lean on Turkish support for its counterterrorism efforts, even as Turkey is accused of being weak on ISIS and has bombed U.S.-backed Kurdish forces fighting ISIS.
*Update: This afternoon, Kanter tweeted that his father had been arrested by the Turkish government.