'Operation Big Bad John' Used 75 Cops, Six Federal Agencies to Catch 13 Sex Buyers
Naturally, they're portraying it as a success.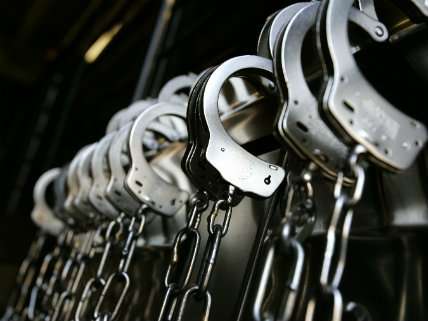 Every day I could bring you another example of how "human trafficking operation" and "sex trafficking sting" are simply police code for "prostitution bust." The story never changes: Police arrest sex workers or their clients, slap a catchy title on their efforts, call it a win against "modern slavery," and blast it out to local reporters, who faithfully frame the whole thing exactly how cops want. To the casual reader, it must seem like law enforcement is doing a seriously good job at stopping sexual exploitation. But all they're really doing is wasting tons of time and taxpayers' money to stop consenting adults from having sex.
Here's a stellar new example out of San Diego. "13 Arrested in Human Trafficking Operation," the local NBC headline declares. What the headline fails to make at all clear is that not a single one of the arrests were on human trafficking charges, nor was a single trafficking victim recovered. Police simply posed as adult women selling sex and then arrested men who wanted to pay them.
Just how many police officers did it take to take down these 13 nonviolent offenders? According to the San Diego County Sheriff's Department, more than 75 law enforcement agents participated. The agencies involved included the FBI, Immigration and Customs Enforcement/Immigration Enforcement and Removal Operations, U.S. Customs and Border Patrol, the U.S. Marshals Service, Homeland Security Investigations, and the Internal Revenue Service. (There's no word on how many immigrants may have been rounded up in the course of the sting.)
The initiative, dubbed "Operation Big Bad John," also netted some arrests for drug possession. Police seized "more than 17 grams" of crystal meth and a few Ecstasy pills in this "human trafficking operation" as well.
"Human trafficking is a form of modern-day slavery" and "the biggest human rights violation of our time," the sheriff's department stated in a press release about Operation Big Bad John—a standard non sequitur for such faux-social-justice stings. Because really, who wants to quibble over particulars when modern slavery is involved? Cops know they can count on lazy reporters and a public that's been spoonfed human-trafficking hysteria for years to simply nod along with whatever new (or age-old) bullshit they're up to under an "anti-slavery" guise.