Should the Government Limit What Women Can Learn from Non-Invasive Prenatal Testing?
Bioethicists in Britain say yes. But there are no such limits in the U.S. yet.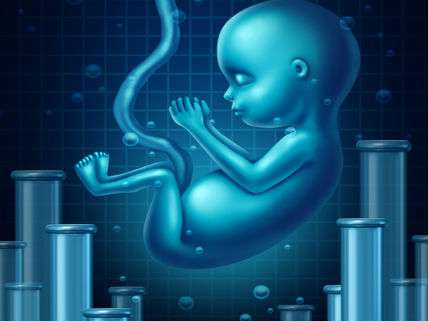 As they develop, fetuses shed their DNA into the bloodstreams of pregnant women. Several companies now offer a blood test that can provide genetic information about a fetus nine weeks into a pregnancy, when it is the size of a grape. The process is called non-invasive prenatal testing (NIPT) because—unlike earlier tests, such as chorionic villus sampling or amniocentesis—cells are not taken directly from the placenta or the amniotic fluid surrounding the fetus.
NIPT is used to identify genetic abnormalities, such as those involved with Downs Syndrome and Klinefelter Syndrome. The test can also identify the sex of a fetus. Researchers are now working on ways to sequence entire fetal genomes, so in the future NIPT will be able to identify genetic variations, such as those that confer a greater risk for cancers and neurological diseases.
Whenever a new fetal test technology comes along, bioethicists always feel compelled to call for restrictions on women's access to information about their fetuses. Take the Nuffield Council on Bioethics, which in March issued a report called Non-invasive prenatal testing: ethical issues.
To its credit, the report states that women should be able to access testing for "significant" medical conditions or impairments in the fetus. But it also concludes that NIPT "should not be used to reveal information about a fetus relating to less significant medical conditions or impairments, adult onset conditions, carrier status, sex or other non-medical traits, and [that] whole genome or exome sequencing normally should not be offered. Any restrictions on access to information about the fetus would also need to apply to whole genome or exome sequencing, otherwise these restrictions could be by-passed."
Consequently, the council urged the British government to put a moratorium on whole genome NIPT. It also recommended that the government prohibit NIPT providers from telling women the sex of their fetuses. Why? Because it worried that women might then be tempted to have sex-selective abortions.
Unfortunately, attempts to limit what women are allowed to learn from advanced prenatal testing are not confined to Britain. In January, Rep. Trent Franks (R-Arizona) introduced the Prenatal Nondiscrimination Act, which aims to outlaw "discrimination against the unborn on the basis of race or sex." During a congressional hearing last year on an earlier version of the bill, Miriam Yeung of the National Asian Pacific American Women's Forum called that "duplicitous," because it frames itself as an "attempt to address racial and gender discrimination while actually intending to chip away at abortion rights."
For now the U.S. has no legal restrictions on what women can learn about their fetuses from genetic testing. Let's keep it that way.