Republican Gianforte Wins Montana House Race Despite Assault Charge; Libertarian Mark Wicks Pulls 6 Percent
Despite being cited for misdemeanor assault on a reporter yesterday (which leaves him open to a possible six months in jail), Republican Greg Gianforte won handily in Montana's special House election today over Democrat Rob Quist.
As of posting time, Gianforte has a 50-44 lead.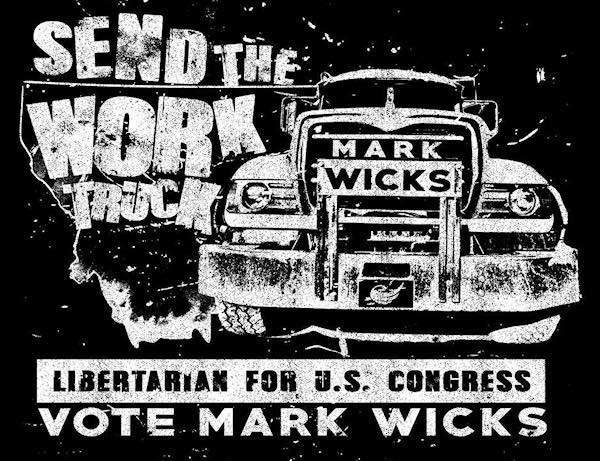 As FiveThirtyEight pointed out, despite this apparent huge win for the Republicans, in comparison with the weighted average win for the GOP in the last two presidential elections which would lead one to predict a 21 percent win, and with former Rep. Ryan Zinke's last victory of 16 percent, this 6 percent win isn't the best news Republicans could hope for looking forward to 2018 and first national election in the age of Trump.
Gianforte also has a $5 million lead in outside spending against Quist. The 53 percent turnout today was very close to this decade's general pattern for non-presidential elections for Montana.
Libertarian Mark Wicks, a rancher, came in with 6 percent, his raw vote total (21,332 as of time of posting) nearly beating the spread between them.
Since the Republican won, Wicks will likely not be accused of "spoiling" the race for the loser. Wicks' total, says Libertarian National Committee chair Nicholas Sarwark via email tonight, means "that there's a solid block of Libertarian voters who control the balance of power in elections."
Wicks beat the result for the L.P.'s 2016 presidential candidate Gary Johnson in the state in percentage terms (though not in raw votes, given smaller turnout). Wicks spent less than a dollar per vote, Sarwark says. (Wicks' campaign got a rare $5,000 donation from the LNC.)
In the last three Montana House elections, no Libertarian got more than 4.2 percent. In 2012, Libertarian Dan Cox in Montana's federal Senate race got over 6 percent, far wider than the spread between winning Democrat Jon Tester and losing Republican Danny Rehberg.
Wicks had the rare distinction for an L.P. candidate of appearing in a televised debate with his major party opponents.
In it, he seemed to be trying to appeal more as a change agent for those dissatisfied with major party sclerosis in general rather than a hardcore freedom guy, though he tipped his hat to the Constitution. He was solid on gun rights, but made sure the viewer knew that though he supported marijuana legalization he did not feel the same about harder drugs.
He said he believed in a border wall in certain places, and spoke out twice against sanctuary cities and expressed a fear that unmanaged immigration could lead to another 9/11. His solution for medical drug price inflation was suggesting a law forbidding American drug makers from selling their drugs overseas for any less than they sold them here (rather than, say, allowing Americans to buy them at cheaper overseas prices and import them).
As the Libertarian he was of course asked if a vote for him was "wasted." Wicks replied that "we've been doing the same thing over and over and getting the same results," that "the people in Washington are not doing what they are supposed to" and are "beholden to special interests and taking lobbyist money and not doing what's best for Montana" while criticizing the media for ignoring him.
He called on Montana's historical distinction as the first state to send a woman, Jeanette Rankin, as a representative to Washington in 1916 and asked them to do the same for the first Libertarian.
That didn't happen. But Wicks said on his Facebook page this evening, "Next go around we'll be ready to go further."