Movie Review: Pirates of the Caribbean: Dead Men Tell No Tales
Johnny Depp lost at sea in the latest installment of a depleted franchise.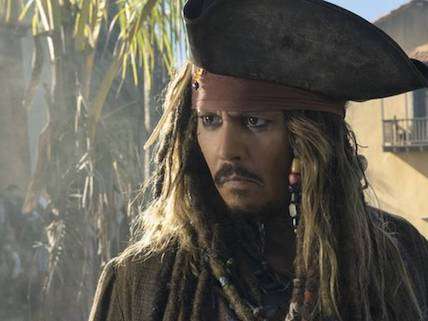 Can it really be said that dead men tell no tales? Even the long-deceased might have an indignant response to the latest entry in the never-frickin'-ending Pirates of the Caribbean franchise. Well, the news isn't all bad, I suppose: English actress Kaya Scodelario, an ornament of the Maze Runner films, here lends her tilted smile and twinkly spirit to a colorless love story undeserving of her lively presence. As good news goes, though, she's about it.
A serious problem for Dead Men Tell No Tales is the number of key Pirates personnel who have jumped ship. Founding director Gore Verbinski is long gone, of course, now replaced by Joachim Rønning and Espen Sandberg, Norwegian helmers of the Oscar-nominated Kon-Tiki. Cinematographer Dariusz Wolski is absent for the first time, as are screenwriters Ted Elliott and Terry Rossio. (Rossio did take a first pass at the script, but it was judged inadequate, and he was replaced by veteran script-doctor Jeff Nathanson.)
Also among the missing, it might be said, is series star Johnny Depp – Captain Jack Sparrow himself – who over the course of 14 years of playing this character has run out of new things to do with his performance, and is now pretty much emailing it in.
The story, substantially incoherent, can be related only in outline. The MacGuffin this time around is the "Trident of Poseidon," an ancient artifact that has the power to "control the sea." Keen in pursuit of this item is young Henry Turner (Brenton Thwaites), the son of Will Turner (Orlando Bloom, back briefly from the first three Pirates films). Henry believes the Trident can free his father from bondage aboard Davy Jones's fearsome ghost ship, the Flying Dutchman. Jack Sparrow would like to lay hands on the Trident, too—he would use it to defeat his nemesis, Captain Salazar (Javier Bardem), a pirate-hunting Spanish navy officer whom Sparrow consigned to zombie perdition during a long-ago confrontation in the spooky Devil's Triangle. Salazar is now back on (and under) the bounding main; he wants the Trident in order to put an end to piracy altogether, and he also has an interest in Jack's magicky compass, which you may remember from the earlier films (or not, it doesn't matter).
Scodelario, playing a feisty young woman named Carina, is on hand to demonstrate that the filmmakers are down with this feminist thing, and of course to hook up with young Henry Turner. She encounters him imprisoned on the isle of Saint Martin, and tells him she can find the Trident with the aid of a diary she inherited from her father. When it is discovered that she is both smart and highly educated (she's an astronomer, which might come in handy on a nautical adventure), Carina is judged to be a witch and sentenced to death by hanging. (To emphasize what dark times these were for females, the filmmakers give us a passing shot of a shop sign that says No Dogs, No Women.)
Also behind bars on Saint Martin is Captain Jack, who passed out in an alcoholic stupor while robbing a bank and is now due to test out the island's newly acquired guillotine (and in the process provide the movie's funniest scene—which is followed by its most laborious, in which an entire building is hauled through the streets of a town). Soon, Jack and Carina and Turner are all on the run, pursued by Salazar and a reluctant subordinate, Captain Hector Barbossa (Geoffrey Rush in his fifth Pirates go-round, now outfitted with a poufy new wig). Another island is visited, a jungle is slogged through, and there's some witless horology banter among the dimwit sailors. (Ho-rology, get it?) The picture also offers a mini-moment with Paul McCartney (playing a beardy pirate telling a cute/bad joke), and a bald-headed sorceress who appears for very little reason. (She's played by Golshifteh Farahani, and the movie could have used more of her.)
There's a pretty clever shark attack and a pretty dumb ugly-woman interlude (she's offered up to the horrified Jack as an unwanted wife). There's also a flash of Jack's backstory, with semi-lookalike actor Anthony De La Torre playing the younger Sparrow, and the usual omni-overload of CGI, only some of which is successful. (Really, if we just wanted to watch money being thrown away, we could book our own flights to present-day Saint Martin's.) The undead Salazar's hair, which waves flowingly in the air as if he were underwater, is a lovely effect; but the rendering of his zombie crew, with patches of their spectral bodies missing as if simply erased, is a visual annoyance. It must also be said that the "bonus" scene at the end of the credits on this movie could be the laziest effort in the history of industrial hype.
And then there's Johnny Depp. Always such a personable actor, he's a sad figure here. Coming off a long string of under-performing movies, from Dark Shadows and The Lone Ranger to Mortdecai and Alice Through the Looking Glass, his financial and domestic travails are now a source of tabloid fodder, and he seems to have little heart left for his most famous character. Starved of yeasty lines and inventive action, he's reduced to going through the old Captain Jack motions—the fey, fluttery hand-waving, the elaborately unsteady gait, the Keithly mumbling. Could there really be a sixth installment of this depleted franchise under consideration? (Yes.) Could Depp really want (or need) to be in it? Can't he just say no? (Please.)