California Gov. Jerry Brown Calls Gas Tax Hike Foes 'Freeloaders'
His transportation package would almost double gas taxes while diverting money to public transit and parks.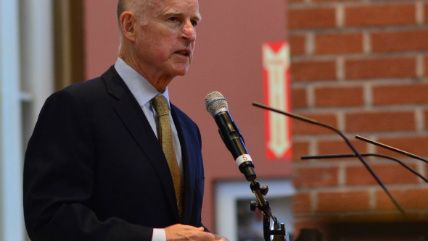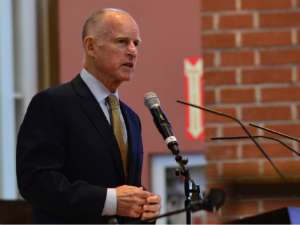 California's newly passed transportation package will nearly double drivers' gas taxes. Don't like that? Then Gov. Jerry Brown thinks you're a freeloader.
"The freeloaders—I've had enough of them," Brown announced in Orange County earlier this month. "Roads require money to fix." Without an increase in the gas tax, he argued, Californians might have to drive on gravel.
Anger has been building at the governor since he signed the tax hike into law in late April. (The levies are scheduled to come into effect in November.) Brown's state already has the seventh highest gas taxes in the nation, and that money pays for much more than road repair. About $100 million of gas tax revenue—2 percent of the total—is diverted straight into the general fund every year, and another 7 percent goes to public transit.
"California has plenty of money to fix our roads," says state Assemblyman Travis Allen (R-Huntington Beach), arguing that no increase would be necessary if the state would stop siphoning off revenue earmarked for road maintenance and repair.
Allen points out that about $1 billion a year of transportation revenue is diverted to the general fund. Almost all of that comes from "weight fees" imposed on heavier vehicles, money that is supposed to cover the damage they do to roadways.
Brown's transportation package raises the state's gas excise tax from 18 cents to 30 cents a gallon, and diesel excise taxes from 16 to 36 cents a gallon. A special sales tax on diesel would jump from 1.75 percent to 5.75 percent. Car registration fees would increase by at least $25 and as much as $175, depending on the value of a vehicle.
Where is the money going? At least $100 million a year will be spent trying to increase the number of trips taken by bicycle or on foot through California's Active Transportation Program. (How effective is the program? Since it was created in 2013, the number of Californians commuting by bike increased from 1 percent to just 1.1 percent.) Another $330 million will go to the Transit and Intercity Rail Capital Program, which funnels taxpayers' money to "transformative" transit projects such as California's high-speed rail system, currently running 50 percent over budget and seven years behind schedule.
Another $300 million is slated for the State Transit Assistance fund, which helps local agencies pay for streetcars and light rail systems. About $54 million would go to the Department of Parks and Recreation, and $17.3 million is headed toward the Department of Food and Agriculture.
These kinds of expenditures make the governor's rhetoric about road repair ring "hollow," Allen argues. "Fully 30 percent of funds will not be spent on roads." And there's no guarantee that still more of the transportation money won't be diverted into the general fund.
Allen wants to put Brown's transportation package on the November 2018 ballot for a yes-or-no vote by the people of California. Twice in this century, Californians have approved ballot initiatives intended to prevent gas tax revenue from being diverted to non-transportation-related uses.
Right now Allen's initiative is being reviewed by the state attorney general, who is expected to approval a title ballot summary by July 8. From there, Allen and his allies will have 150 days to gather the 365,000 signatures required for getting on the ballot.
This means signatures for Allen's initiative will be due in early December, about a month after Brown's gas taxes go into effect. Allen is optimistic about his proposal's chances. "Californians are just beginning to realize the magnitude of the cost they are going to be hit with, and they're outraged," he says.