Iowa Expands Medical Marijuana Access; Looks to Strike Deal With Minnesota for Quicker Access
Taking medical marijuana across state lines isn't any more illegal than transporting it within a state.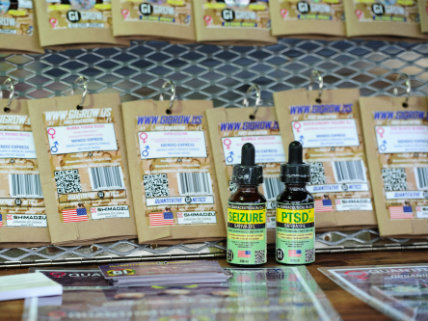 Iowa Gov. Terry Branstad on Monday signed a bill to expand access to medical marijuana in his state, but it might take as long as 18 months before patients with cancer and other diseases can get the drug in Iowa, as the state has to find growers and license distributors.
In the meantime, Iowans might be able to travel to Minnesota to obtain medical marijuana, under a proposed agreement that would be the first of its kind in the country.
"Iowa is trying to provide an innovative path to help patients obtain relief while the state gets its own system up and running," says Kate Bell, an attorney with Marijuana Policy Project, a national pro-legalization nonprofit.
A component of the bill signed by Branstad directs state official in Iowa to contact Minnesota's Department of Health with the intention of opening a sharing agreement between the two states. Iowa Speaker of the House Linda Upmeyer (R-District 54) told the Associated Press last week that a deal between the two states could allow Iowans to have access to medical marijuana while the state is going through the process of setting up its own network of growers and distributors.
"It's providing access to Iowans and doing it as quickly as we can," Upmeyer told the AP. "I just want to be sure if we have a tough time finding a grower, we have another source available."
Minnesota would have to agree. A spokesman for the Minnesota Department of Health's medical cannabis program told Reason that the state legislature would have to change the rules to allow Iowans to access the drug in Minnesota. Minnesota Speaker of the House Kurt Daudt (R-District 31A) told the AP that he sees the potential for a sharing agreement with Iowa that would be "mutually beneficial thing" because it would allow manufacturers in Minnesota to find more customers.
If Minnesota changes its rules along the lines of what has been floated by Upmeyer, the bilateral agreement between the two states would be unique, but it would not be the first time that a state has allowed out-of-state residents access to medical marijuana. According to the Marijuana Policy Project, 14 of the 29 states with legal medical marijuana allow some form of "reciprocity" to accept out-of-state marijuana prescriptions. The MPP says it's important for states to include reciprocity agreements in their medical marijuana laws so patients can safely obtain the drug while visiting a different state or, as is the case in Iowa, while waiting for dispensaries to be licensed and become operational in their home states.
Despite the fact that medical marijuana is now legal in a majority of states, marijuana remains on the federal government's Schedule I list—a classification given to drugs with "no currently accepted medical use and a high potential for abuse," according to the Drug Enforcement Administration. There are concerns about a potential crackdown on state-level legalization efforts by the U.S. Department of Justice, particularly in the wake of Attorney General Jeff Sessions' comments last week encouraging prosecutors to seek harsher penalties for drug traffickers.
But moving medical marijuana from Minnesota to Iowa is unlikely to get you in any more trouble than if you'd been transporting it within Minnesota. That's because of a 2005 Supreme Court ruling (Gonzalez v. Raich) that gave Congress the authority to regulate even intra-state non-commercial cannabis activity.
"So the fact that it's interstate doesn't make it 'more illegal,'" Bell told Reason via email.
Since patients can go directly from one state to the other—without having to pass through any states where medical marijuana is illegal—there should be limited law enforcement issues, she said.
Since legalizing medical marijuana in 2015, Minnesota has seen steady growth in the number of patients accessing the drug. As of March 2017, there were more than 5,100 patients actively enrolled in the state's registry. The Minnesota Department of Health reports that 3,421 residents visited one of the state's four cannabis distribution centers in March, the most recent month for which data is available. That's the highest total for a single month so far, nearly five times the total from March 2016.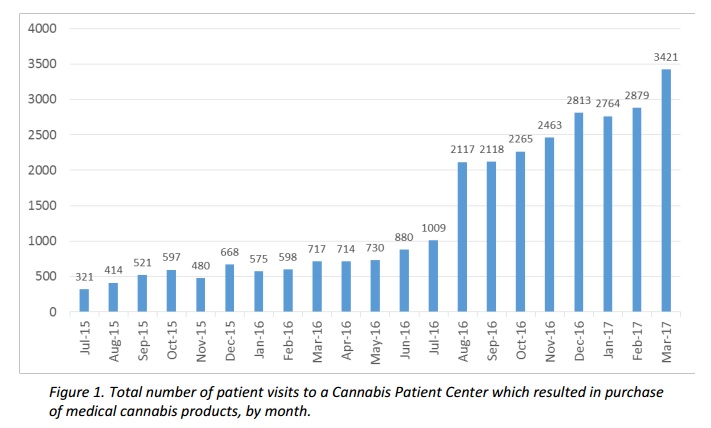 One of Minnesota's distribution centers is in Rochester, about 40 miles north of the Iowa state line.
Iowa's new rule does not add to the number of states with legal medical marijuana because Iowa had already legalized cannabis oil for the treatment of seizures in 2014. The law signed by Branstad on Monday expands access to include people suffering from cancer, chronic pain, and multiple sclerosis, among other conditions. Patients with terminal illnesses would also be allowed to access oil derived from cannabis. Patients must be over 18 years old, must have written permission from their doctor, and must register with the state. Only cannabis oils and other derivatives may be used, and they may not contain more than 3 percent tetrahydrocannabinol (THC), the main psychoactive compound found in marijuana.
Smoking marijuana is still illegal in Iowa, even if done for medical reasons. The same is true in Minnesota, where the drug is available only in oils, tinctures, and other non-smokable forms.
Branstad, in a statement issued after he signed the bill into law, said he had concerns about some parts of the bill, but not enough to warrant a veto. Instead, he urged state lawmakers to add additional rules prohibiting anyone with misdemeanor drug violations from working for Iowa's cannabis oil manufacturers or distributors.